Our endearing home, in a sustainable and resilient city
Singapore has continued to maintain high liveability standards. It ranked in the top quartile among 173 cities in the Economist Intelligence Unit's Global Liveability Index 2022. This ranking recognises Singapore's efforts to provide Singaporeans with a quality living environment which meets their needs.
Affordable and accessible housing
Supporting home ownership for Singaporeans remains a key priority. 80% of residents live in Housing & Development Board (HDB) flats, of whom 90% own their homes.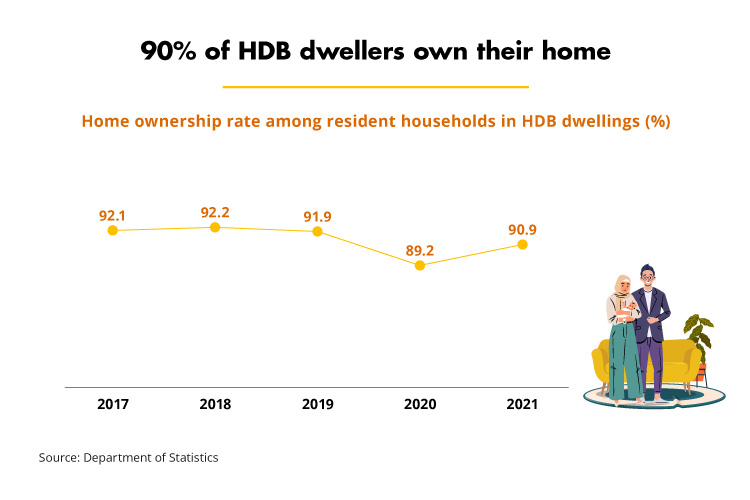 Managing housing delays
The COVID-19 pandemic affected global supply chains and manpower flows, which in turn disrupted the construction industry.
Since April 2020, extensive assistance has been in place to help Build-To-Order (BTO) flat contractors complete ongoing projects. Delays for most BTO projects were kept within six months to a year while flat keys were delivered to 9,400 and 14,500 flat buyers in 2020 and 2021 respectively.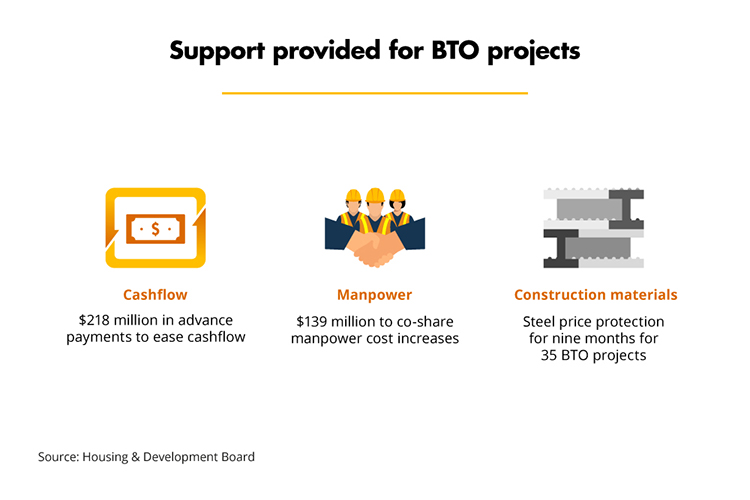 Flat buyers affected by the BTO construction delays received help with temporary housing where needed. The Parenthood Provisional Housing Scheme was finetuned to give priority to families in need of temporary housing. From June 2020 to May 2022, more than half (290 out of 510) of the available flats under the scheme were allocated to help families affected by the delays.
Read more: Family | Strengthening Our Supply Chain Resilience
Ensuring affordability and accessibility
HDB flat resale prices rose by 5% in 2020 and 13% in 2021, due to strong demand driven by marriage and family formation as well as changing social norms and aspirations which have led to a growing trend of smaller households.
Public housing has remained affordable due to the grants provided to eligible families buying their first home. Those buying BTO flats can receive up to $80,000 in housing grants on top of the subsidised flat price while resale flats buyers can receive up to $160,000 in grants.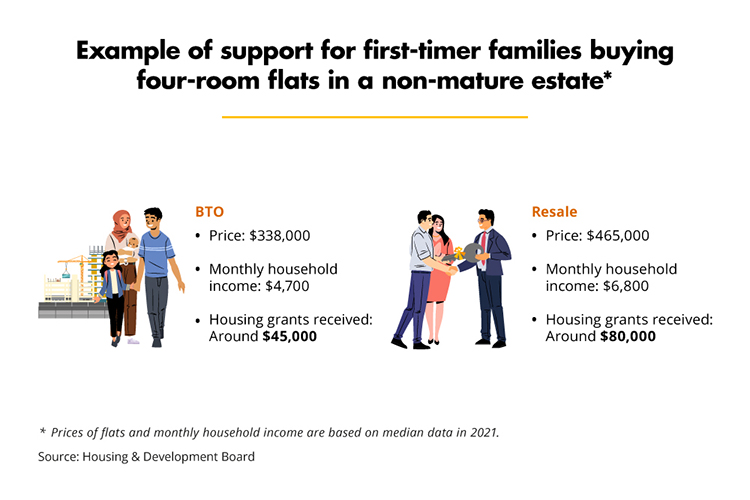 Median income first-timer applicant households who purchase a new four-room flat in a non-mature estate spend less than a quarter of their monthly income servicing their mortgage payments.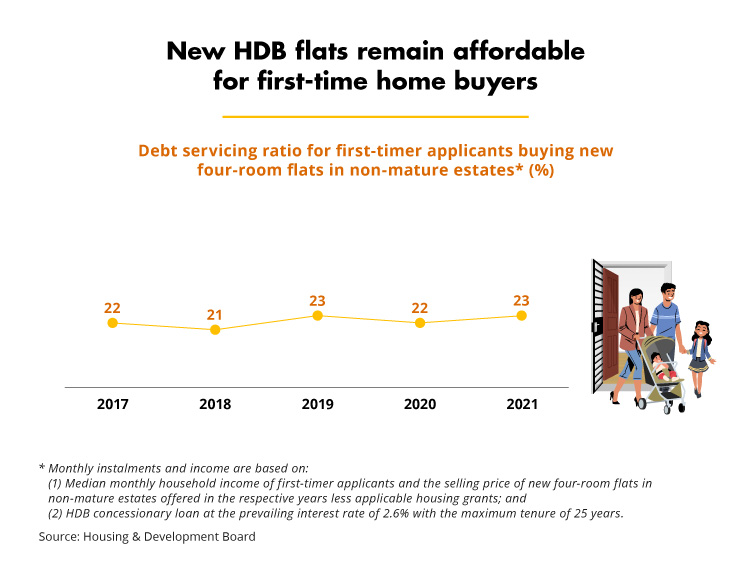 To meet the strong demand for housing, the BTO supply has been ramped up to 23,000 flats in 2022, with a further 23,000 flats in 2023. This is a 35% increase from the 17,000 flats launched in 2021.
Read more: Social Safety Nets
Lively districts, vibrant communities
We have been working with the community to enhance the vibrancy of Singapore's precincts.
Since 2017, six pilot Business Improvement Districts have engaged the community on more than 50 initiatives in areas such as public space activation, precinct branding and marketing, and events and programming. For example, the Marina Bay alliance organised a series of complimentary art workshops and trails under Marina Bay ARToday while Singapore River One organised the Singapore River Signatures which showcased top dishes in the precinct and encouraged the public to explore the diverse food and beverage offerings along the river.
In 2021, over 1,200 residents stepped forward to implement 16 Lively Places Fund projects that enlivened their neighbourhoods, allowed the community to bond, and spread care and support to their neighbours during the difficult time. Over 17,000 residents enjoyed group projects, such as setting up pet parks, book exchange corners, aquaponics community farms, as well as virtual mask-making and cook-a-long sessions.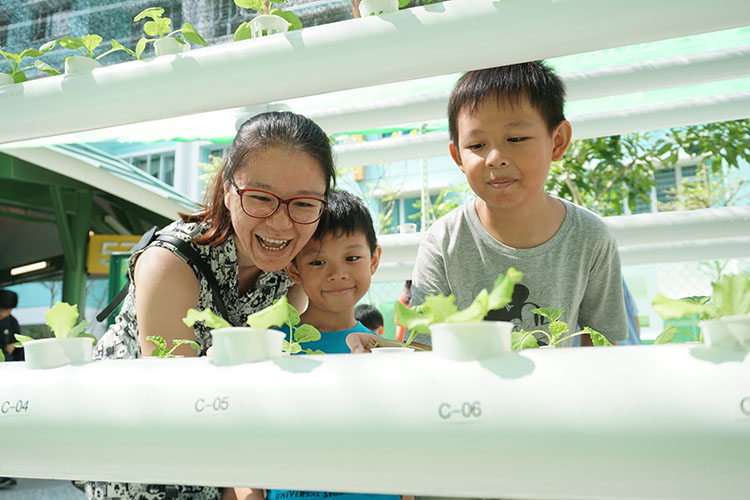 Read more: How to make a great place
Read more: Arts and Heritage | Building Our Future Together
Transforming Singapore into a city in nature
Singaporeans enjoy easy access to green spaces and nature. 93% of households live within a 10-minute walk from a park and have access to over 370 km of park connectors. This network of green spaces continues to be expanded.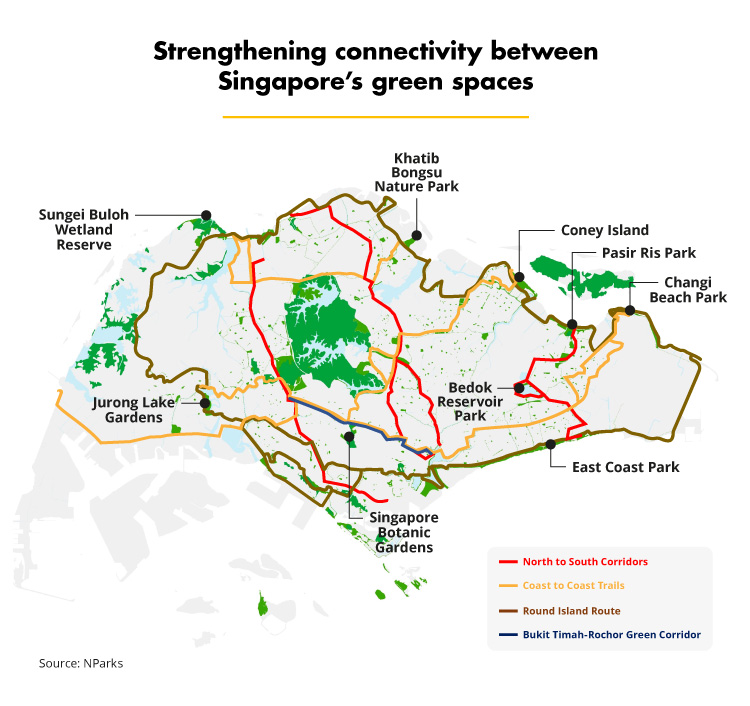 Read more: Transport
Despite being a small city-state, Singapore is rich in biodiversity. More is being done to conserve natural habitats and native species. To date, over 12 hectares of forest, marine, and coastal habitats have been restored.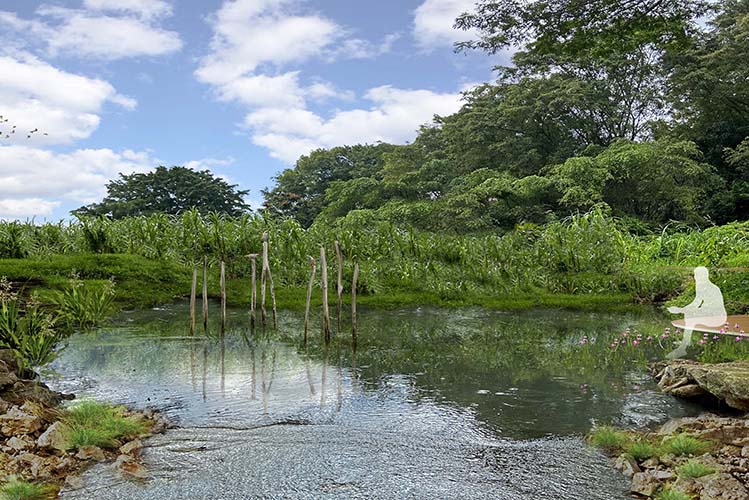 We have adopted a science-based approach toward biodiversity conservation, involving stakeholders such as the nature community, academic experts, and the public in our efforts. For example, the Ecological Profiling Exercise was launched in 2021 to study the ecological profile of green spaces across Singapore and to better understand their role in ecological connectivity. Through this, the Clementi Nature Corridor and Khatib Nature Corridor were identified as important ecological connectors that enhance the connectivity between core biodiversity sites. Findings from the profiling exercise will also be used to guide land use planning efforts.
Species Recovery Programme
The Species Recovery Programme aims to conserve native species under threat through efforts such as reintroducing and propagating them into their original habitats. By 2030, recovery efforts will be increased to 160 species of flora and fauna.
Singaporeans can now enjoy once-rare species of flora and fauna in our gardens, parks, and streetscapes. This includes the Singapore Kopsia and the Cinnamon Bush Frog which inhabit the Singapore Botanic Gardens' Rain Forest.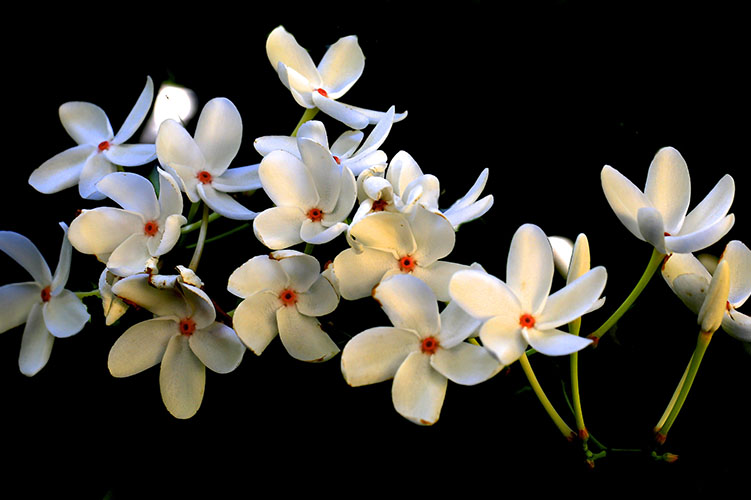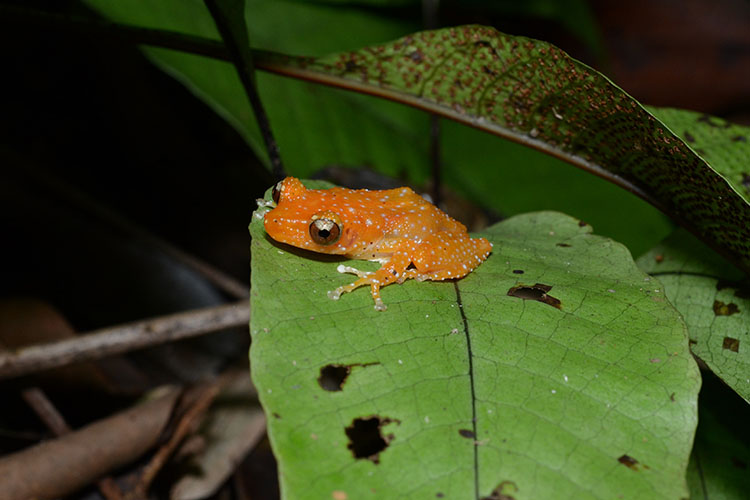 Smart and sustainable living
We are also greening living spaces. Under the Green Towns Programme, existing HDB towns will become more sustainable. For example:
Solar panels have been installed on top of more than 2,900 HDB blocks, equivalent to powering about 32,000 four-room flats with solar energy. We aim to install 540 megawatt-peak solar panels on as many HDB blocks as possible by 2030.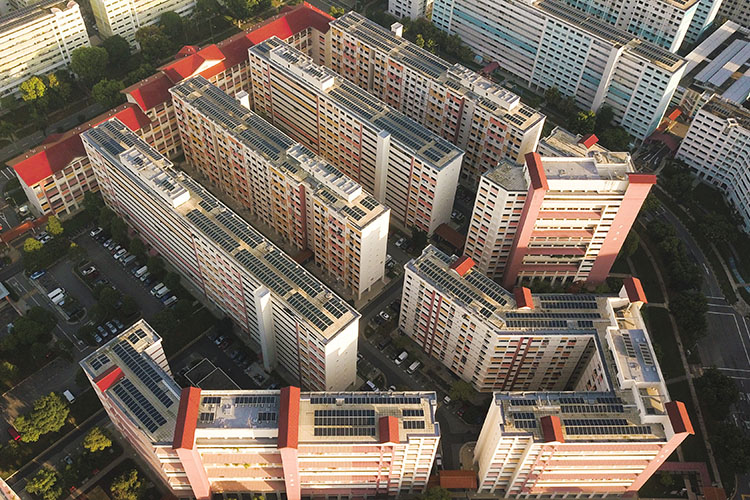 Smart LED lightings have been installed at 81 blocks in three estates, Ang Mo Kio (Teck Ghee), Bukit Batok, and Punggol, and will be rolled out to more than 9,000 existing blocks progressively from the end of 2022. This further reduces energy consumption by up to 60%.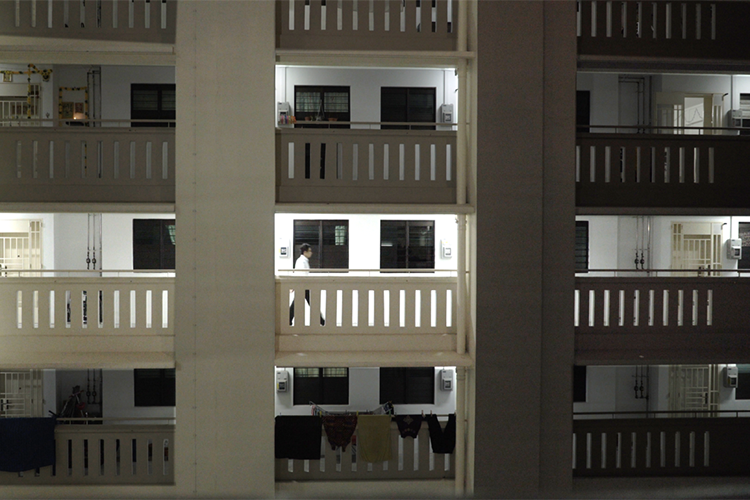 Read more: Environment and Sustainability
Strengthening public health defences
The pandemic has focused attention on the cleanliness of public spaces and good personal hygiene to prevent disease transmission. Cleaning efforts were stepped up in partnership with the community. Satisfaction with the cleanliness of Singapore's public spaces has remained high at 92% in 2021.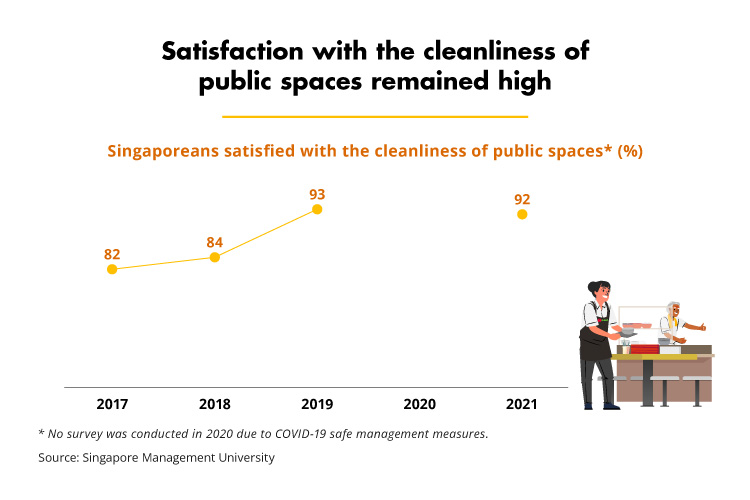 Under the Environmental Sanitation Regime, which was progressively implemented from July 2021, high-risk premises such as eldercare and school facilities, coffeeshops, food courts, and shopping malls are required to adhere to higher sanitation standards. For example, coffeeshops are required to carry out thorough cleaning quarterly, on top of routine cleaning, to ensure high standards of cleanliness. As at October 2022, Singaporeans can enjoy higher sanitation standards at about 6,400 premises that have implemented the regime.
Singaporeans play an important role in keeping our public spaces clean. With the launch of the Clean Tables Campaign in February 2021, the national average Tray and Crockery Return Rate in June 2022 has reached 89% at hawker centres, 90% at coffeeshops, and 92% at food courts respectively.
Read more: Health and Wellness
A small island with great potential
Singapore's urban transformation is always a work in progress. We will continue to partner the community to enliven public spaces, conserve built heritage, and cultivate community stewardship in building a distinctive city and endearing home that every Singaporean has a stake in and feels proud of.