Singaporeans can expect to live long and in good health. Our life expectancy is amongst the best in the world, at 81.4 and 85.7 years for males and females respectively in 2019. Our Health Adjusted Life Expectancy at birth, which is the number of years a person is expected to live in good health, is also one of the highest in the world at 72.6 years for males and 75.8 years for females in 2017. The mortality rates due to cancer, stroke, and heart diseases have also reduced over the years. However, about one in three residents aged 40 to 69 years has hypertension, one in seven has diabetes, and two in five have high cholesterol. We will need to strengthen our efforts to tackle these chronic conditions and continue to build a strong health ecosystem that empowers Singaporeans to live healthy lives.
Supporting Singaporeans to stay healthy
More Singaporeans are proactively investing in their own health by going for health screenings and leading more active lifestyles:
Singaporeans are staying active with the ActiveSG network, with more than half a million booking ActiveSG facilities and programmes in 2019. Singaporeans also have a wide variety of physical activity programmes to choose from in the community. For example, Move It programmes, including Sundays@The Park and Sunrise in the City, hosted more than 1,600 free workout sessions per week for about 147,000 participants in 2019. This was up from an initial 240 sessions per week in 2016. Amidst COVID-19, the Government piloted virtual exercise sessions for residents, while exploring ways to gradually restart some of the workout sessions in a safe way.
The National Steps ChallengeTM, a nationwide physical activity initiative that leverages the concept of gamification and wearables, has mobilised Singaporeans to keep active. Season 5, which ran from October 2019 to April 2020, garnered 913,000 sign-ups.
Singaporeans can access their personal health records and e-services from public healthcare institutions through HealthHub. This makes it more convenient for them to take charge of their health and that of their loved ones. 1.2 million people now use HealthHub every month.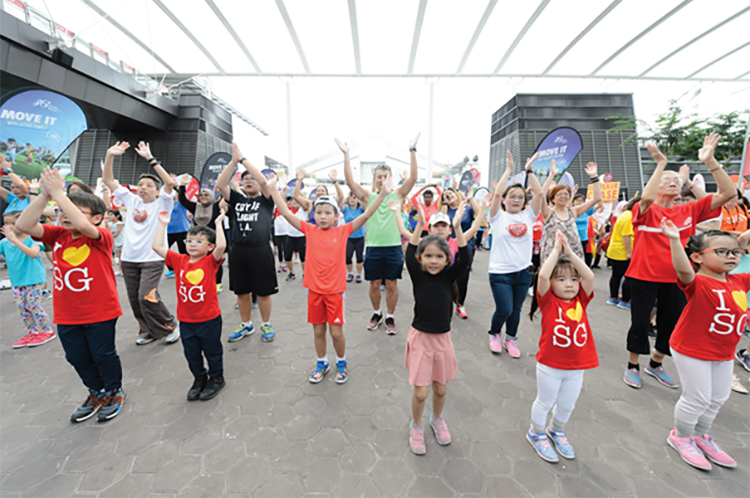 Read more: Government and Regulations
Singaporeans now have more healthy eating options:
One in two stalls in hawker centres and coffee shops serves at least one healthier option on its menu, making it easier for the 60% of Singaporeans who usually eat out for lunch or dinner to adopt a healthier diet.
The Healthier Choice Symbol (HCS) programme has increased its market share from 18% in 2016 to 28% in 2019, and Singaporeans can choose from over 3,500 HCS products across 100 food categories.
Revised on 6th January 2021
Singaporeans are benefitting from more affordable preventive health measures:
More than 65,000 Singaporeans benefited from the enhanced Screen for Life (SFL) programme, which comprises subsidised health screening and follow-up treatment, in the 18 months following the enhancement of SFL subsidies in September 2017. This is almost 30 times higher than the number of Singaporeans who had undergone screening under SFL in the 18 months prior to September 2017.
Project Silver Screen, which provides subsidised functional screening for seniors, has also benefited more than 71,000 seniors.
Since 1 November 2020, eligible Singaporean adults enjoy subsidies for recommended vaccinations under the National Adult Immunisation Schedule at Community Health Assist Scheme (CHAS) General Practitioner (GP) clinics and polyclinics.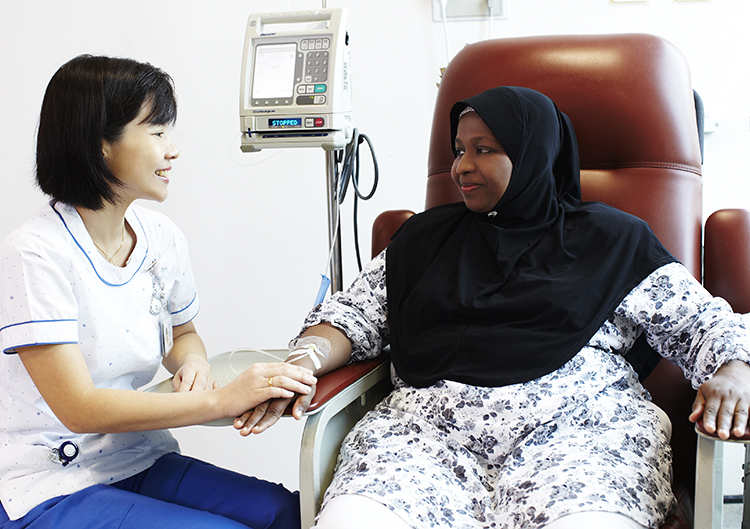 A strong healthcare system to care for Singaporeans
Singaporeans are enjoying greater access to quality care as we continue to build up our healthcare capacity and capability:
Sengkang General and Community Hospitals were opened in 2018, providing inpatient and specialist outpatient services for the growing population in the Northeast region. The hospitals will add 1,400 beds in total when fully opened.
Two new polyclinics in Pioneer and Punggol, and three redeveloped ones in Bedok, Ang Mo Kio, and Yishun, provide residents with improved access to care within the community and keep median waiting times for consultation at polyclinics stable at 10 minutes. 14 of our polyclinics are also equipped with capabilities to provide dementia and/or mental health services, allowing patients to access these services within the community.
The National Centre for Infectious Disease was established in September 2019, enhancing our capabilities in infectious disease management during the COVID-19 pandemic.
Read more: Emerging Stronger as One
Singaporeans are given greater assurance for affordable healthcare costs:
CHAS was extended to all Singaporeans with chronic conditions last year. Today, 200,000 more Singaporeans with the CHAS green card can enjoy subsidies for treatment at participating CHAS clinics. Further support services are available at GP clinics who are members of the Primary Care Networks scheme.
Almost one million Pioneers and Merdeka Generation seniors have received over $2.5 billion in benefits since the packages were introduced in 2014 and 2019 respectively.
Partnering seniors towards active ageing
Our seniors today have more support to help them lead active and meaningful lives, and age well with confidence:

More than 650 community nodes provide seniors with community support and access to regular active ageing programmes under the Community Network for Seniors initiative, in conjunction with the Silver Generation Office.
3,000 Silver Generation (SG) Ambassadors have made more than one million engagements to reach out to Singaporeans aged 60 years and older. The SG Ambassadors seek to understand seniors' needs and to connect them to the community nodes and appropriate programmes, including befriending services for seniors living alone and care services for vulnerable seniors.
For seniors who require more support and care services, we have added 3,900 nursing home beds, 4,100 day care places, and 3,400 home care places since 2015, to cater to their spectrum of needs and to support them to age-in-place.
Read more: Retirement
Healthy living for a happier tomorrow
As care needs evolve, Singaporeans can be assured of access to quality and affordable healthcare services. We will continue to transform and strengthen our health systems in a sustainable way for the long term and build a resilient and future-ready healthcare sector. Singaporeans can also look forward to greater support to lead healthier lifestyles, adopt healthier diets, and incorporate healthy living into our daily lives. After all, for a happier tomorrow, our healthy living should begin today.