Emerging stronger as a resilient, inclusive, and sustainable transport hub
Despite challenges brought about by COVID-19, we have made good progress on the Land Transport Master Plan 2040. We target to have a convenient, well-connected, and fast transport network to enable residents to commute to work within 45 minutes during peak periods and get to their nearest neighbourhood centre within 20 minutes ("45-minute city and 20-minute towns"). We are also fostering a gracious and caring commuting culture, with healthy lives and safe journeys for all.
Maintaining high-quality transport services during COVID-19
Whole-day public transport ridership numbers fell to around 25% of pre-COVID-19 levels during the Circuit Breaker from April to June 2020 and has since recovered to about 83% as at September 2022. Commuter satisfaction with public transport remained high, even though the proportion of commuters satisfied with public transport services fell from 99.4% in 2019 to 92.0% in 2021.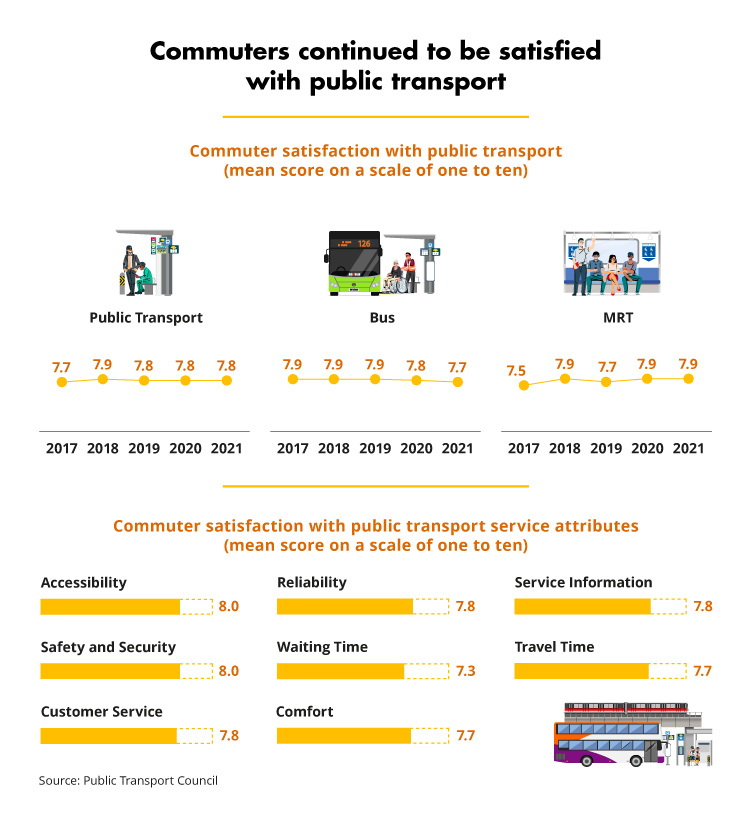 Commuters benefit from over $2 billion in annual subsidies borne by taxpayers to cover the operating costs of public transport, with every journey taken subsidised by more than $1. About half of all Singapore residents also benefit from concessionary fares, which are up to 70% lower than adult fares.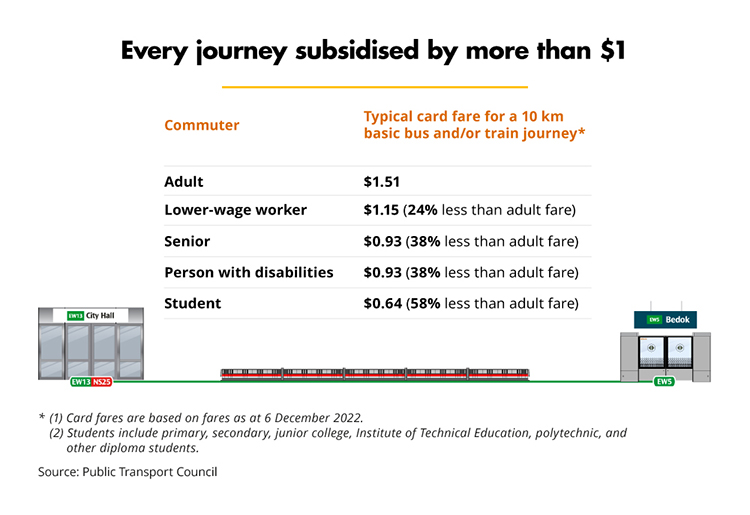 Commuter satisfaction with Point-to-Point (P2P) transport also remained high. In 2021, P2P transport received a mean satisfaction score of 8.4 (out of 10) in 2021, slightly higher than the 2019 score of 8.1. Across service attributes, commuters were most satisfied with the safety of P2P transport.
Accessible transport for all
Commuter satisfaction was generally high amongst persons with disabilities and their caregivers, with 84.6% satisfied with public transport services in 2021. We continue to work with the community to provide greater support to commuters with diverse needs.
Commuters with visual challenges benefit from bigger signages with better contrast, larger font sizes, and clearer symbols at Thomson-East Coast Line stations. These will continue to be rolled out to all new MRT stations.
Since 2019, Dementia Go-To Points at MRT stations and bus interchanges have been helping commuters with dementia reunite with their loved ones more quickly if they lose their way on public transport. As at December 2022, all MRT stations and bus interchanges have been listed as Dementia Go-To Points. A listing of these points is available here.
Dementia Go-To Points
MRT station staff have been receiving training to better identify and assist people with dementia. One staff who put her skills to good use was station manager Ms Suriani Lestution Ja'afar. In 2021, observing that Mr Wong Mun Leong, 77, appeared lost and showed signs of dementia, Ms Suriani brought him to the staff room to be cared for while working with the Public Transport Security Command to locate his next-of-kin. Thanks to her efforts, Mr Wong was reunited with his family after six hours.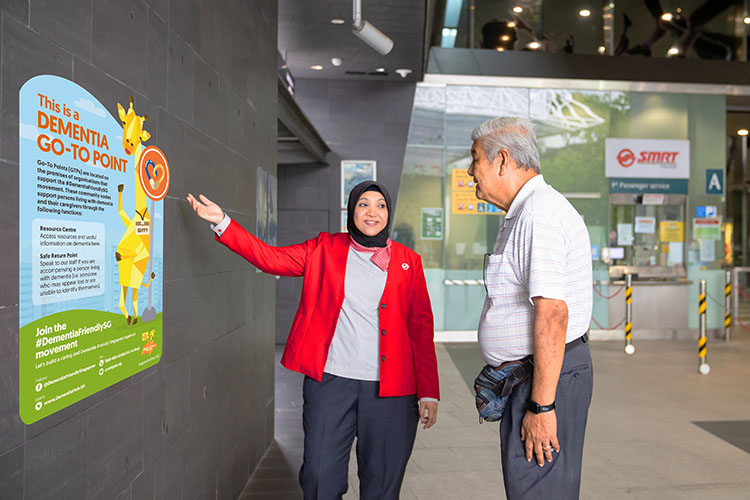 Since January 2021, Heart Zone community spaces have been added to five bus interchanges and one MRT station for commuters to assist others who need help on their public transport journeys. There were 10 Heart Zones at bus interchanges and MRT stations across the island as at September 2022.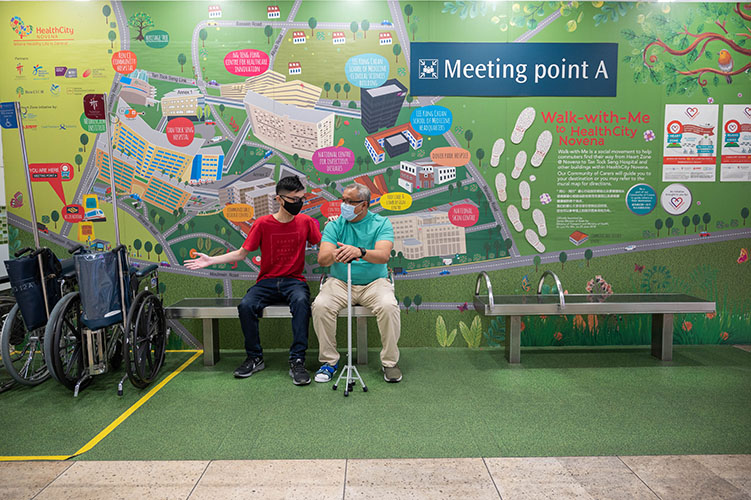 As at September 2022, 26 Silver Zones have been completed to enhance road safety for senior pedestrians through reduced speed limits and traffic calming measures. The measures include narrower and meandering lanes, more prominent road markings, raised crossings, and speed humps. Another 24 Silver Zones will be implemented by 2025.
As at August 2022, audio tactile devices have been implemented at 83 pedestrian crossings to help persons with visual impairments navigate independently.
As at September 2022, there were more than 1,000 volunteer Caring Commuter Champions trained on various disabilities and assistive tools to render help to commuters with special needs.
Read more: Social Safety Nets | Building Our Future Together
Accelerating the green movement for our land transport system
We are committed to significantly reducing land transport emissions, aligned with Singapore's net-zero target. To do so, we will press on with efforts to promote walking, cycling, and riding with public transport. As at 2021, more than three in four of all journeys during peak hours were completed by walking, cycling, and using public transport. Walk-Cycle-Ride journeys are also becoming more convenient. The proportion of such peak hour journeys completed within 45 minutes has increased from 66% in 2019 to 71% in 2021.
Over the last two years, the Islandwide Cycling Network has increased by 40 km to 500 km in 2022. There are also 27,000 bicycle parking lots across MRT stations and bus interchanges islandwide.
By 2030, we will have increased our rail network by 50% from 2021 levels, to reach a total of 360 km. We have opened Stages 1 to 3 of the Thomson-East Coast Line between 2020 and 2022, expanding the rail network by 30 km. When fully opened, the Thomson-East Coast Line will enhance rail connectivity between the northern, central, and eastern parts of Singapore – a commuter can save up to 25 minutes travelling from Springleaf estate to Great World City. Construction of the Jurong Region Line, Cross Island Line, and Circle Line 6 are also well underway.
Singaporeans can enjoy seamless Walk-Cycle-Ride journeys along four Transit Priority Corridors (TPCs) spanning 5.9 km. These TPCs are roads integrated with bus lanes, wider footpaths, and dedicated cycling paths. By 2030, there will be an additional 60 km of TPCs, including the longest corridor which will be located along the North-South Corridor.
Our ambition to electrify the vehicle population is also gaining momentum.
In the first eight months of 2022, electric cars accounted for 9.7% of new car registrations, more than twice of last year's 3.8%. Hybrid cars accounted for 39% of new car registrations during the same period. These trends put Singapore in good stead towards having all new car registrations be of cleaner energy models from 2030 onwards.
As at August 2022, there were around 960 electric taxis and private hire cars while 60 electric public buses have been deployed. With half our public bus and taxi fleets going electric by 2030, commuters can look forward to quieter and more environmentally friendly journeys.
For motorists, a key factor in considering a switch to electric vehicles is access to a nearby charging point. It is therefore important to ensure a comprehensive network of charging points.
There were about 3,400 charging points islandwide as at August 2022, 1,000 more than a year ago. We are working towards deploying charging points at over 2,000 Housing & Development Board carparks by 2025.
Singaporeans can use the MyTransport.SG application to locate over 1,300 public charging points in around 200 locations such as public carparks, malls, and petrol stations.
Read more: Environment and Sustainability
Connectivity with the world
The pandemic decimated international passenger travel. Since the gradual easing of border measures in 2022, we have seen a recovery of passenger volumes at our air and sea transport nodes. With further reopening globally, recovery is expected to strengthen.
Changi Airport's passenger volumes dropped to less than 20% of pre-COVID-19 levels in 2020 but has recovered to around 60% as at August 2022. We have since reopened Terminals 2 and 4. Changi Airport was recognised in 2022 as the "Best Airport" for the 16th time by DestinAsian Readers' Choice Awards and the "Best International Airport in the World" for the 10th time by the Travel + Leisure US World's Best Awards Survey.
Regional ferry and cruise passenger volumes declined to 15% and 23% of their pre-COVID-19 levels respectively in 2020. As at August 2022, regional ferry and cruise passenger volumes have recovered to 36% and 40% of pre-COVID-19 levels.
To secure our capacity for future growth, we have restarted work on Terminal 5, following a comprehensive review to enhance its resilience and sustainability. Construction works for the Johor Bahru-Singapore Rapid Transit System Link are also ongoing, as we work with our Malaysian counterparts to commence services by 2026.
Reopening our borders, carefully and safely
Throughout the pandemic, we continued to ensure that Singapore remained connected to the world while safeguarding both lives and livelihoods. We took a calibrated approach of launching Vaccinated Travel Lanes (VTLs) and Quarantine-Free Travel for Vaccinated Travellers. With these schemes, Singaporeans were able to unite with their loved ones and family members.
The first VTLs with Germany and Brunei commenced on 8 September 2021, to allow fully vaccinated travellers from these two countries to enter Singapore without quarantine requirements. As we gained more confidence and experience managing the VTLs, we expanded the scheme to include 32 countries and regions.
In March 2022, we shifted from the VTL scheme to a framework offering quarantine-free travel for vaccinated travellers.
Read more: Infrastructure and Logistics
A future-ready transport system
Our transport system is a part of the daily lived experience of all Singaporeans. Everyone has a part to play in choosing an environmentally sustainable way of getting around, including walking, cycling, and taking public transport. At the same time, we have invested consistently to improve connectivity within Singapore and to the world. It is important that we continue to do so, to ensure that our transport system is reliable, resilient, and sustainable by design, to serve the needs of Singapore and Singaporeans.