Securing Singapore's interests
Uncertainty lies ahead in a world that is more complex and volatile. Small states like Singapore value the rules-based multilateral order where all sovereign states have equal rights and disputes can be resolved peacefully according to international law and agreed rules. To safeguard our interests, we embrace multilateralism and strengthen our relationships with regional and global partners while upholding the rule of law and robust legal systems at home.
Defending Singapore and Singaporeans
The Government has continued to strengthen ties with our defence partners, building up our defence capabilities, training overseas, and cooperating on strategic issues critical to our security.
Within the immediate region, Singapore and Indonesia signed a Joint Statement in January 2022 to reaffirm both governments' agreement to bring into force the 2007 Defence Cooperation Agreement and its Implementing Arrangement. This will strengthen cooperation by facilitating the discussion of new areas of defence cooperation between both countries' defence establishments. It also provides clarity on the arrangements for the Singapore Armed Forces' training in the Indonesian archipelagic and territorial waters and airspace, with full respect for Indonesia's sovereignty over its territory while preserving Singapore's rights.
With the United States (US), we concluded a Memorandum of Understanding concerning cooperation in cyberspace with the US Department of Defense in August 2021. The Memorandum of Understanding formalises cyberspace cooperation between both countries' defence establishments and facilitates information sharing and capability building efforts.

With China, the Republic of Singapore Navy conducted two contactless joint naval exercises with the People's Liberation Army Navy in 2021. The two navies conducted a series of drills practising the Code for Unplanned Encounters at Sea in international waters and worked together to respond to a simulated joint search and rescue mission. Such exercises enhance mutual understanding and strengthen friendships between both countries.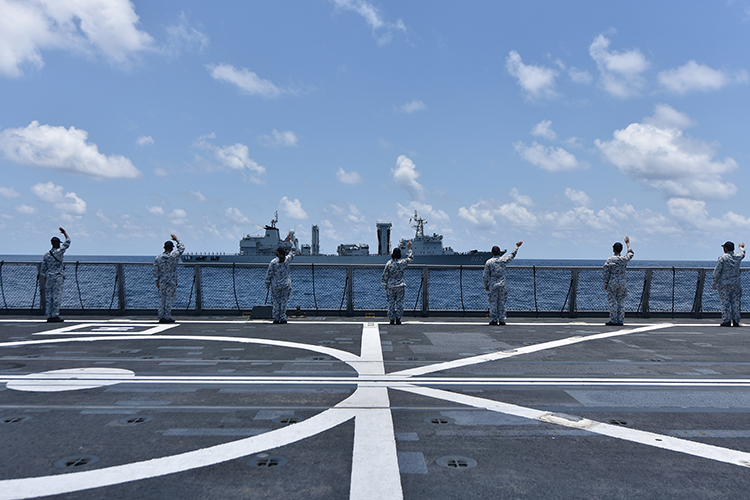 We have worked on enhancing international cooperation to maintain regional peace and stability and address transnational security challenges, including threats from terrorism and in cyberspace.
In 2021, we set up the Counter-Terrorism Information Facility and the 15th Association of Southeast Asian Nations (ASEAN) Defence Ministers' Meeting (ADMM) approved the establishment of the ADMM Cybersecurity and Information Centre of Excellence in Singapore. These will facilitate information sharing and greater cooperation among countries against common security threats. The Counter-Terrorism Information Facility enables countries to jointly monitor and analyse regional terrorist threats, adding to our early warning capabilities. Similarly, the ADMM Cybersecurity and Information Centre of Excellence contributes to ASEAN's understanding of the potential threats in the region through research, training, and personnel exchanges.
In 2022, Singapore hosted the Shangri-La Dialogue as an in-person event after a two-year hiatus due to the pandemic. The dialogue serves as the premier defence and security conference in the Asia-Pacific region. It provides a valuable platform for the exchange of defence and security perspectives and for constructive dialogue between defence officials from countries such as the US and China.
Read more: External and Homeland Security | Cyber and Data Security
Working with the international community
The COVID-19 pandemic continued to preoccupy many countries. The emergence of new variants is a sobering reminder that no one is safe until everyone is safe. Singapore has been a staunch supporter of regional and multilateral efforts to respond to the pandemic. For example, Singapore contributed:
722,400 vaccine doses under mutually beneficial dose sharing arrangements with Australia, Thailand, and Brunei, as well as 342,400 doses of Singapore's vaccine allocation under the COVAX initiative and COVID-19 ASEAN Response Fund;
Medical supplies such as oxygen concentrators and ventilators, diagnostic tests, Polymerase Chain Reaction machines, and face masks to more than 10 countries and the ASEAN Regional Reserve of Medical Supplies; and
$6.67 million to the COVAX Advance Market Commitment and $134,900 to the COVID-19 ASEAN Response Fund.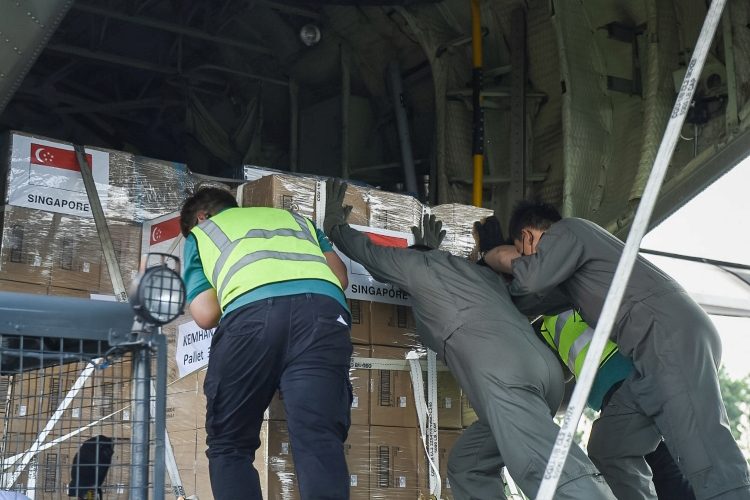 Singapore has also provided humanitarian assistance to countries in need.
We contributed to the Singapore Red Cross' fundraising for disaster relief and recovery efforts in Malaysia, Philippines, Afghanistan, Sri Lanka, and Ukraine.
We contributed a humanitarian assistance package comprising ambulances, fire engines, firefighting and rescue equipment, mine detectors, and medical supplies, in response to a request from Ukraine.
Singapore is committed to combating climate change. We have stepped up capacity building with like-minded partners, aligned with the United Nations Sustainable Development Goals.
Under the Singapore Cooperation Programme, we have worked to promote sustainable development and share climate mitigation strategies with developing countries through efforts such as a dedicated Climate Action Package. Despite the pandemic, the programme has conducted 37 courses on sustainability and climate action for over 1000 mid to senior level government officials from 119 countries in the past two years.
Read more: Environment and Sustainability | Business Environment
Strengthening the rule of law and access to justice
Singapore continues to undertake legal reforms to strengthen the rule of law and enhance access to justice. Singapore was ranked seventh for justice and fourth for rule of law in the International Institute for Management Development's World Competitiveness Yearbook 2022.
The dedicated Protection from Harassment Court was established in June 2021 to deal with harassment matters and falsehoods. The Court provides effective and expedient relief to victims by allowing certain types of cases to be heard via simplified proceedings. Between June 2021 and June 2022, 650 applications for civil remedies were made in the Court. Of which, slightly more than nine in 10 tapped on the simplified proceedings.
Following a universal revision of the Acts of Parliament, the 2020 Revised Edition of Acts came into force in December 2021. The Revised Edition comprises 510 Acts of Parliament. It modernises the statute book with plain English, ensuring that our laws are readily accessible and easily understood.
The Public Defender's Office has been set up in December 2022, institutionalising public defence within the criminal justice system. The office will be staffed by full-time officers to deliver quality legal representation to vulnerable persons.
The Public Defender's Office will also work in partnership with the Criminal Legal Aid Scheme to co-deliver criminal defence aid. Income coverage will be expanded up to the 35th percentile of households and offences widened to cover all criminal offences with specific exceptions. These exceptions include offences which are not punishable by death, regulatory offences, gambling and betting, terrorism, organised and syndicated crime, and private prosecutions. This is expected to increase the number of Singapore residents receiving criminal legal aid by more than 50%.
Ensuring access to justice during the pandemic
The pandemic created challenges to ensuring access to justice for Singaporeans. For example, in 2021, the number of monthly online queries and registrations for mediation services doubled to 5,000 and 2,000 respectively from 2019. This accelerated the roll-out of digital tools and services.
Legislation was introduced to ensure that court proceedings could continue with the use of technology. For example, judges can hear cases remotely from outside a courtroom while witnesses can give evidence from overseas.
With online means testing and statement taking for various subject matters, including Letters of Administration and Probate matters, applicants no longer have to travel to the Ministry of Law (MinLaw) Services Centre to do so.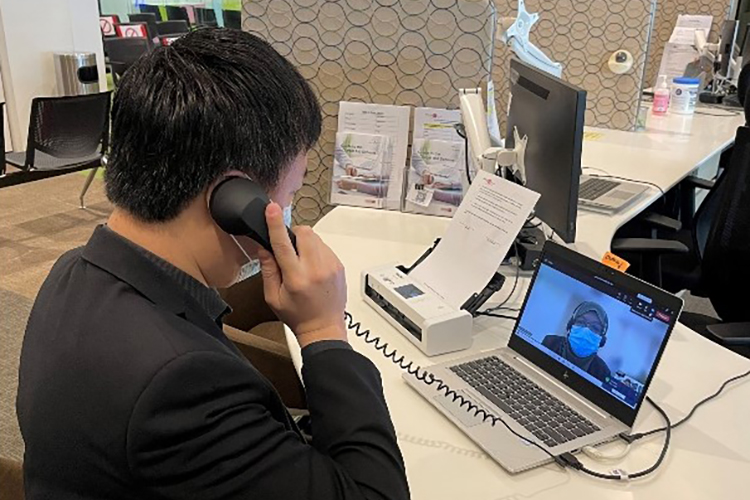 Services such as applying for legal aid and addressing case-related matters on individual insolvency or community mediation are accessible through video conferencing counters at community centres at Nee Soon Central, Kampong Chai Chee, and Frontier, in addition to the MinLaw Services Centre.
Those seeking legal advice can do so safely and securely via telephone and video conferencing at various Social Service Offices, Family Service Centres, and prisons.
Read more: Social Safety Nets
Supporting Singaporeans living abroad
Singaporeans overseas have 24-hour access to consular assistance.
Over the course of the pandemic, we have helped to bring home more than 4,600 Singaporeans. We launched initiatives such as the Death and Critical Illness Emergency Visits scheme with Malaysia in May 2021 to facilitate cross-border family visits during emergencies.
Dedicated vaccination channels were made available for those overseas to receive their vaccinations in Singapore when they were not readily available in most countries. Between September 2021 and April 2022, 73 Singaporeans returned to receive their vaccinations.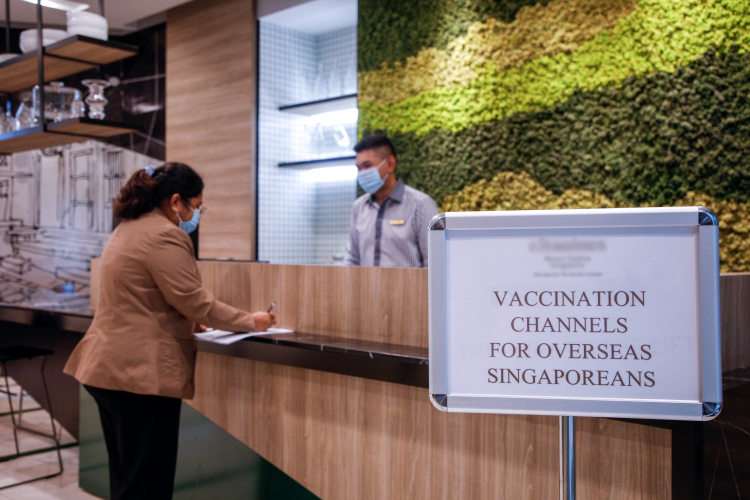 Beyond COVID-19, Singaporeans have continued to receive consular assistance overseas. With the help of our 50 overseas missions, we handled more than 15,000 cases in 2020 and more than 11,000 cases in 2021. We facilitated the return of more than 70 unaccompanied Singaporean minors, seniors, and persons with mobility issues from Johor Bahru. This included an 81-year-old Singaporean who was half-paralysed and wheelchair-bound due to a stroke. After his family sought consular assistance, we arranged for him and his caregiver to be ferried across the Causeway back to Singapore.
Read more: Government and Regulations
Standing firm for peace, sovereignty, and rule of law
Faced with an uncertain and rapidly changing external environment, the Government will continue to defend Singapore's interests, enlarge our strategic space, and uphold the rule of law to serve the needs of all Singaporeans.