Singaporeans at the heart of our population policies
Singapore's total population decreased slightly by 0.3% from 2019 to 2020, driven by a decrease in non-residents. The citizen population grew at a steady pace of 0.6% through more citizen births and selective immigration. Meanwhile, the size of the permanent resident (PR) population has remained stable over the past five years.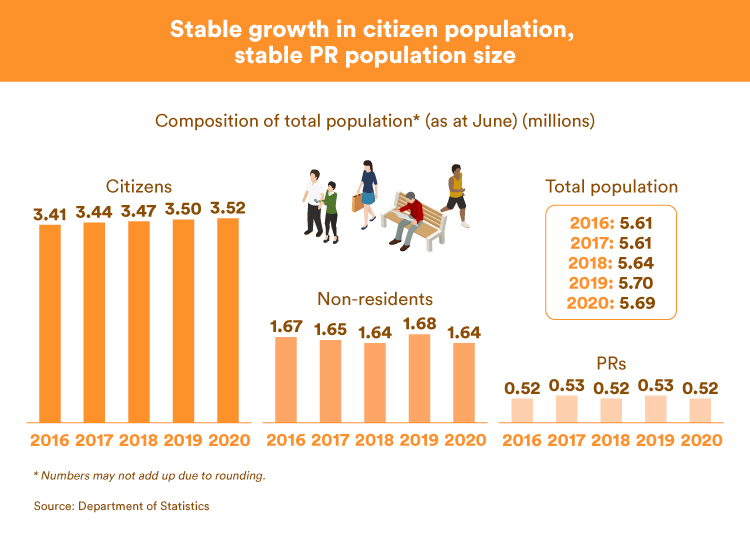 Supporting more marriages and stronger families
More Singaporeans are starting families. More citizens got married between 2015 and 2019 than between 2010 and 2014.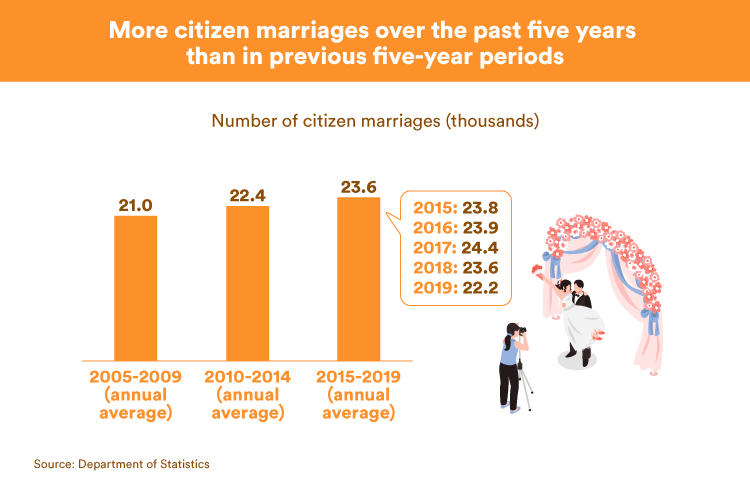 Singapore welcomed 32,844 citizen births in 2019. More citizen babies were born between 2015 and 2019 than between 2010 and 2014.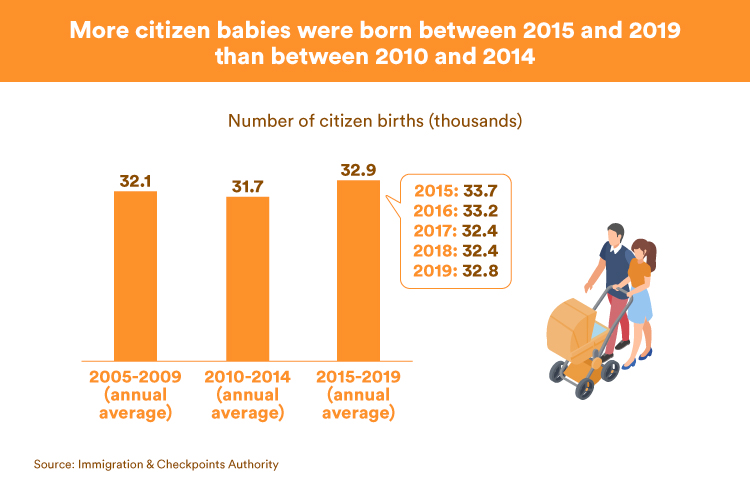 Nonetheless, resident total fertility rate remained below the replacement rate of 2.1 and declined slightly in 2018 and 2019 to 1.14. The median age of citizen mothers at first birth has also increased from 28.5 years in 2000 to 30.6 years in 2019.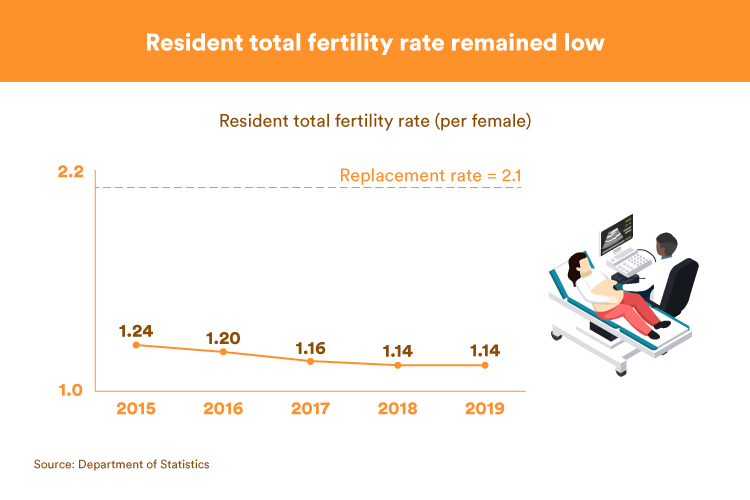 Singapore is made for families
Singaporeans can look forward to raising a family in an achievable, enjoyable, and celebrated way. Through close partnership among the Government, community partners, employers, and the larger society, Singaporeans are supported at every stage of their marriage and parenthood journey.
Enhanced support measures in 2019 include making quality preschools and healthcare services more affordable and accessible for parents of young children and facilitating home ownership for young couples.
80% of preschoolers can have a place in affordable and quality preschools by 2025.
First-timer families purchasing a new Housing & Development Board flat can receive up to $80,000 in housing grants. For resale flats, first-timer families can receive up to $160,000 in housing grants.
Since 1 November 2020, every Singaporean child enjoys free nationally recommended childhood vaccinations and developmental screenings at all Community Health Assist Scheme clinics and polyclinics. Over 32,000 children will benefit every year.
Read more: Education | Housing and Amenities | Health and Wellness
Many couples cite stronger work-life support as critical to their marriage and parenthood aspirations. There is now more support than before to allow parents to better manage their work and family responsibilities. Employers and co-workers are also showing more support in cultivating family-friendly workplaces. For example:
To help families achieve better work-life harmony, fathers now have up to eight weeks of leave in their child's first year – double the amount of leave they had in 2014. More than half of eligible fathers use their paternity leave each year, up from 37% in 2014.
To further improve work-life harmony, a Citizens' Panel comprising 55 Singaporeans was convened in 2019. Initiatives recommended by the panel, to promote flexible work arrangements and to improve human resource practices and social norms, are in the pipeline.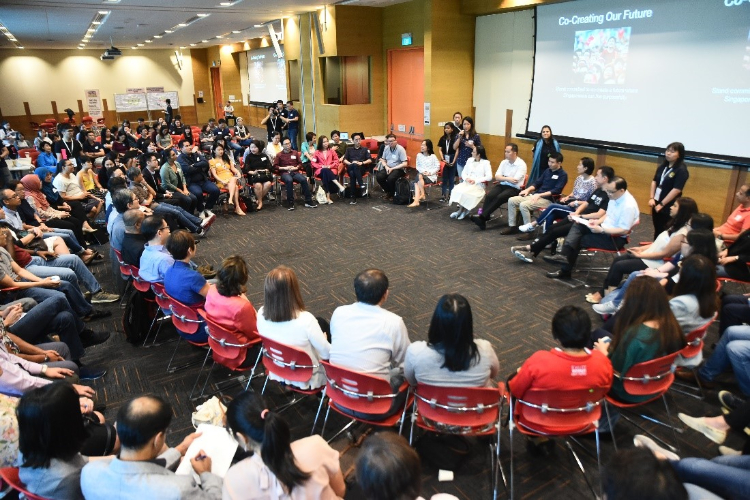 Greater community partnership to support marriage and parenthood
Marriage and parenthood are personal decisions, but they are also influenced by our culture and society. The Families for Life (FFL) movement aims to bring together like-minded groups of individuals and organisations to build and strengthen family bonds. More than 185,000 families have taken part in one or more FFL activities, events, or programmes since 2014.
Various community partners have stepped up to implement initiatives that help to foster a pro-family mindset and to strengthen marriages and families, such as "Dads for Life" and "Mums for Life" driven by the Centre for Fathering. FFL campaigns such as "I Still Do" promote love and commitment among couples, while "Celebrating Our Grands!" promotes inter-generational respect and bonding, and "My Family Weekend" encourages families to set aside dedicated time to bond.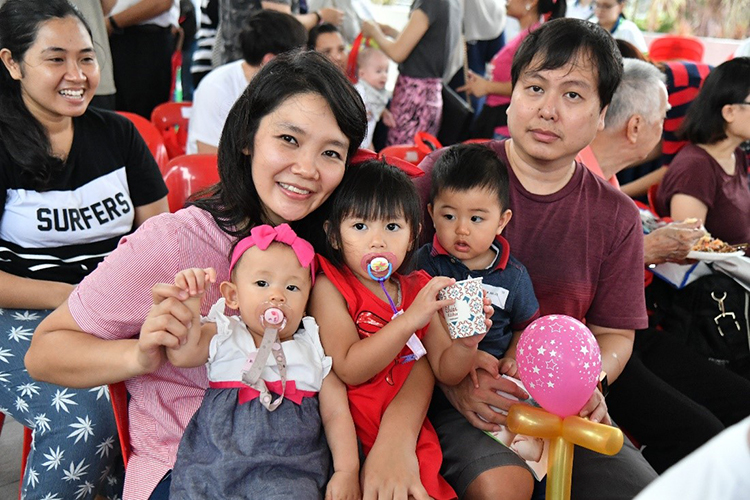 Evidence-based parenting programmes, such as the Positive Parenting Programme (Triple P) and the Signposts Programme, equip parents with parenting skills and help them to build stronger relationships with their children. These programmes are currently available to parents of children in 286 primary and secondary schools free-of-charge, with Triple P also available online. More than 20,000 parents have attended the programmes since their introduction in 2014.
FFL also reached out to families during the circuit breaker period on social media with the #FFLShareTheCare online video series, which saw a total reach exceeding 10 million. The series supported families juggling work from home and caring for their loved ones, with topics such as parenting, home-based learning, and caring for infants. FFL volunteers also contributed ideas and videos on family bonding activities for the series.
Read more: Emerging Stronger as One | Singapore Together