Global trade is enabled by connectivity, bringing together people, goods, and ideas. COVID-19 disrupted global supply chains – with overseas port congestion and closures, as well as vessel delays. Importantly, our air and sea ports remained open throughout the pandemic, cementing Singapore's status as a key transhipment hub in keeping global supply chains functioning and ensuring the flow of essential supplies.
Singapore's sea port has links to more than 600 ports in over 120 countries. In 2021, our port was recognised as the "Best Global Seaport" for the first time at the Asian Freight, Logistics and Supply Chain Awards. Our port received the award again in 2022.
We handled healthy volumes of air and sea cargo:
Container throughput at our sea port reached a new high of 37.5 million 20-foot equivalent units (TEUs) in 2021.
Air cargo volumes largely recovered to pre-COVID-19 levels by 2021 with 1.95 million tonnes.
Safeguarding our connectivity and keeping supplies flowing
Throughout the pandemic, the Government worked closely with port operators and unions to implement contactless operations, prioritise aviation and maritime frontline workers for vaccination, and devise crew change protocols for maritime vessels and foreign air crew laying over in Singapore.
Pivoting to support national needs
The sharp decline in passenger flights resulted in a significant loss of cargo capacity that is typically carried in the bellyhold of passenger aircraft. To ensure the flow of essential goods such as fresh foods, personal protective equipment, medical supplies, and pharmaceuticals, passenger airlines operated Passenger Aircraft for Cargo Conveyance services. The Singapore Airlines Group worked with aviation industry partners to retrofit four of its aircraft to carry cargo in the passenger cabin.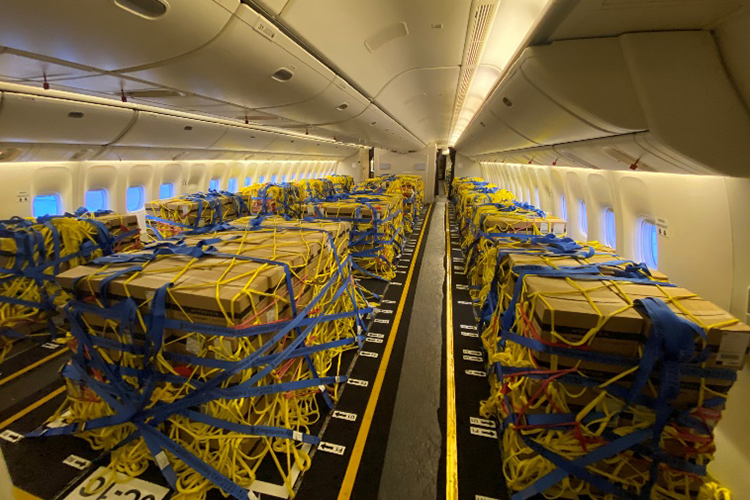 The hard-hit aviation sector received significant assistance under various government support packages between 2020 and 2022. These included the Aviation Sector Assistance Package ($112 million), One Aviation Support Package ($870 million), and One Aviation Resilience Package ($500 million). Through these, aviation companies received manpower support, cost reliefs, and support for public health safeguards and industry transformation.
The maritime sector received more than $36 million in support through the MaritimeSG Together Package. The package provided relief for the operators of ferry terminals and services which experienced a sharp decline in passenger volumes due to the pandemic. The package also supported our seafarers facing difficulties in securing shipboard employment due to border control measures and crew change restrictions.
Read more: Strengthening Our Supply Chain Resilience | Economy and Labour Market
Building aviation and maritime hubs of the future
For the longer term, we need to build sufficient capacity ahead of demand and future-proof our infrastructure. This will keep us competitive.
We have pressed on with the construction of Tuas Port. The first two berths commenced operations on schedule in 2021. When completed in the 2040s, Tuas Port will have a handling capacity of 65 million TEUs a year, almost double the volume handled in 2021 (37.5 million TEUs).
The Singapore Trade Data Exchange (SGTraDex), a national data sharing digital infrastructure for the supply chain ecosystem, started operations in June 2022 with more than 70 participants representing stakeholders across the supply chain ecosystem such as bunker suppliers and hauliers. SGTraDex addresses long-standing inefficiencies by allowing the systems and parties in the ecosystem to easily exchange data in a trusted and secure environment. It is focused on three initial use cases: trade finance fraud detection, container flow node decongestion, and bunker optimisation.
Digitalising air cargo handling
The Government supported SPEEDCARGO in the development of the world's first artificial intelligence powered robotic air cargo system, to automate laborious operations and assist workers in cargo space planning and placement.
SPEEDCARGO's CargoEye and CargoMind solutions are now being trialled at Changi Airport by logistics companies such as dnata, Swissport, and Ethihad Cargo. CargoEye uses image processing to enable ground handlers to seamlessly process incoming cargo and digitally verify cargo records, while CargoMind uses the data to optimise the build-up of cargo pallets for various parameters such as space utilisation, revenue maximisation, and shipment prioritisation.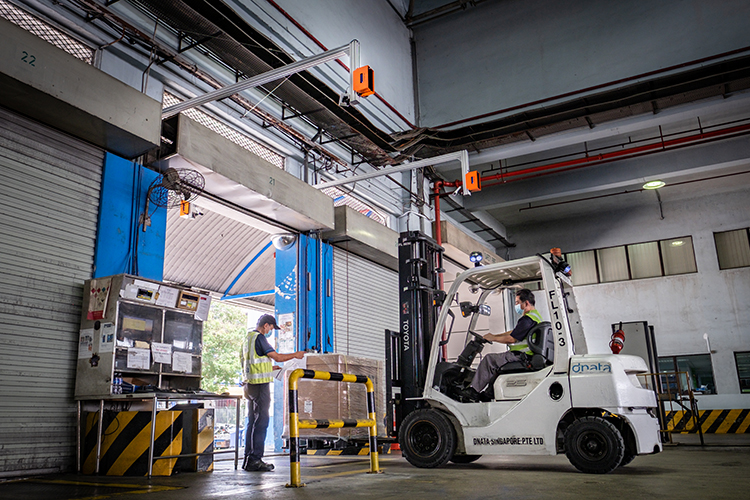 Read more: Transport | Business Environment
Digital connectivity to the world
Singapore is regarded as one of the leading smart cities in the world. In the International Institute for Management Development (IMD) – Singapore University of Technology and Design Smart City Index 2021, Singapore ranked top for the third consecutive year.
We scored well for most components of the index, especially in areas like health and safety, work and education opportunities, and government efficiency. Respondents also rated us highly for information accessibility, free public Wi-Fi, internet speed and reliability, and public services online such as health appointments and traffic information.
There were a few areas for improvement, such as e-payment adoption, environmental sustainability, and the overall trust in digital technology. The Government has been working on these areas.
Singapore ranked first for the technological infrastructure sub-factor in IMD's World Competitiveness Yearbook 2022, maintaining the position since 2019. The ranking is driven by our internet bandwidth speed, public sentiments on communications technology, availability of qualified engineers, and cybersecurity of enterprises.
Singapore as the centre of key undersea cables
As Southeast Asia's submarine cable hub, Singapore is the most connected country in the region with 26 submarine cables connected to global financial hubs in Asia, Europe, Middle East, and North America. This boosts our digital connectivity and international data flows for local businesses and consumers.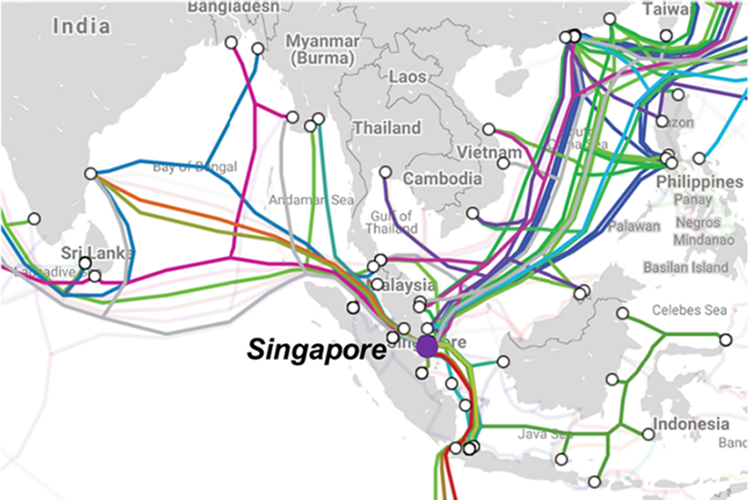 5G deployment, innovation and adoption
Singapore's 5G network is on track for the roll-out of three standalone networks. Singtel announced that it has achieved over 95% standalone 5G nationwide coverage in July 2022, while M1 has reported 75% standalone 5G nationwide coverage in March 2022.
Businesses and public agencies have been exploring 5G commercialisation and adoption opportunities. Notably, since October 2021, businesses and agencies have had access to 5G open testbeds at Maritime Drone Estate, Singapore Science Park, PIXEL, and Sentosa to develop, adopt, and commercialise 5G solutions.
Singapore is extending its standalone 5G network coverage to the sea with the world's first public and largest 5G maritime testbed. This testbed is intended to trial, innovate, and commercialise maritime use cases such as remote assisted pilotage advisory, maritime autonomous surface ships, shore-to-ship delivery, and telemedicine.
The Building and Construction Authority and Gammon Pte Ltd, the builder of the North-South Link Project in Sentosa, trialled the use of drones, augmented reality (AR), and autonomous robots for the remote tracking of construction work.
The National Environment Agency partnered Nanyang Technological University to trial an autonomous environmental service vehicle for road sweeping.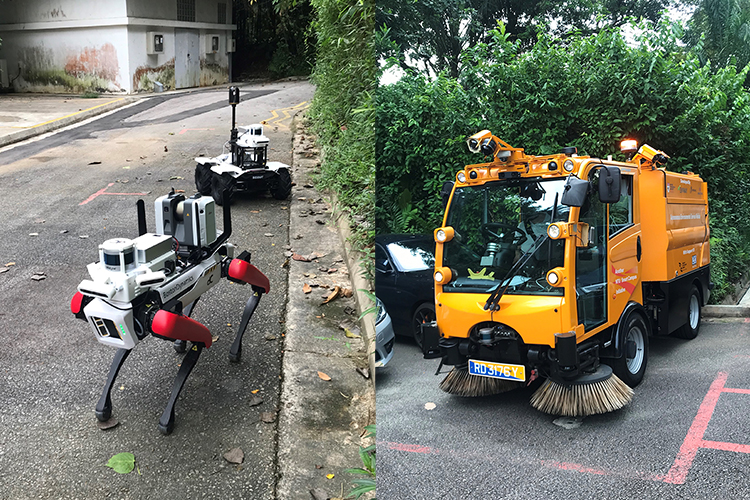 Three new 5G projects were launched in 2022 with support from the $30 million 5G Innovation grant. The projects, conducted in collaboration with the National University Health System, Infinite Studios and Keppel Offshore Marine, look at spearheading AR and extended reality in entertainment experiences, surgeries, and shipyard operations.
Singapore's first 5G industry 4.0 trial at IBM's manufacturing sites
Some early industry trials in 5G have enjoyed strong commercial interest and deployment overseas, showcasing Singapore as a leading innovation hub for 5G use case implementation.
The Infocomm Media Development Authority partnered IBM, Samsung, and M1 for trials on how AR could leverage 5G to speed up assembly processes and automate inspection processes in manufacturing. The trials indicated the solution could save training costs by up to 20%, improve training efficiency by up to 50%, and improve overall productivity. This has led to the AR solution being deployed by IBM globally, starting with its Poughkeepsie New York plant.
Read more: Economic Opportunities | Cyber and Data Security
The world at our fingertips
Strong connectivity, both physical and digital, is essential to facilitate global trade and ensure that supplies and data flow through Singapore. The infrastructure and systems for this connectivity must be planned and developed many years in advance. We will continue to plan ahead, invest in increasing capacity, and strengthen our connectivity to keep Singapore competitive and allow us to access opportunities all over the world.