A sustainable, climate-resilient, and resource-efficient Singapore
Climate change poses one of the largest challenges globally and Singapore is particularly vulnerable as an island nation. We have pledged to do more, making plans to advance Singapore's climate change and sustainability goals.
Singapore Green Plan 2030
Launched in February 2021, the Singapore Green Plan 2030 charts the path to a cleaner and greener nation for future generations. Working together with Singaporeans, we have made good progress towards our Green Plan targets and initiatives. Such whole-of-nation efforts will accelerate our sustainability journey.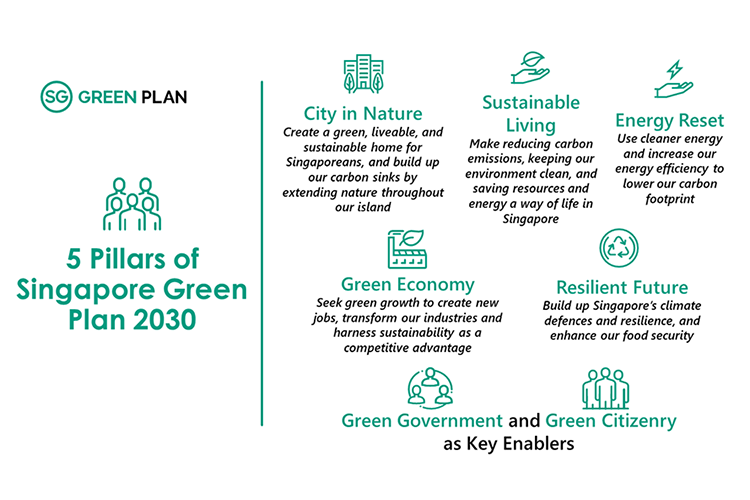 Those who have ideas for community projects that advance environmental sustainability can tap on the SG Eco Fund. From November 2020 to April 2022, we have funded 105 ground-up projects which promote sustainable living, including zero waste initiatives and community farms.
In schools, the Eco Stewardship Programme is nurturing a generation of citizens prepared to take responsibility and action. Environmental and climate change education has been integrated into the curriculum at various levels.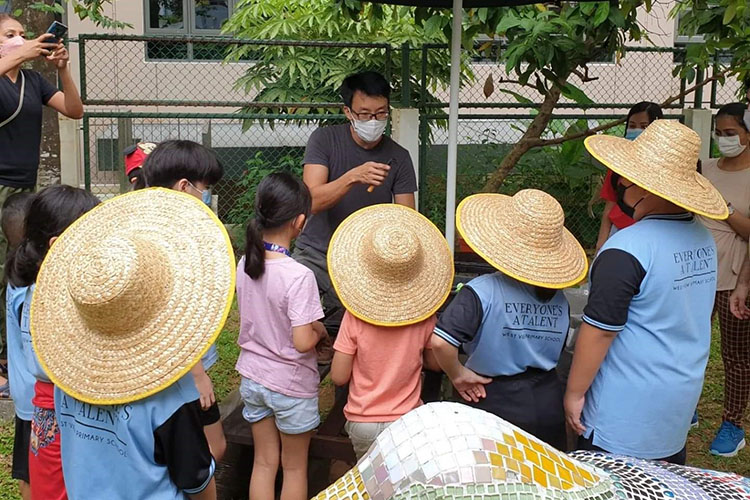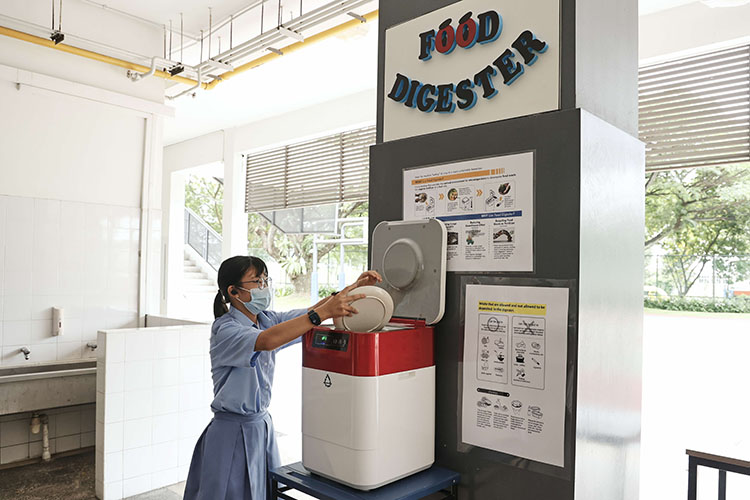 Read more: Education | Building Our Future Together
Building climate resilience
Combating climate change
We have commenced coastal protection studies at the City-East Coast and North-West Coast and embarked on the development of the Coastal-Inland Flood Model to assess flood risks holistically. These will inform our plans to protect Singapore from the rising sea levels.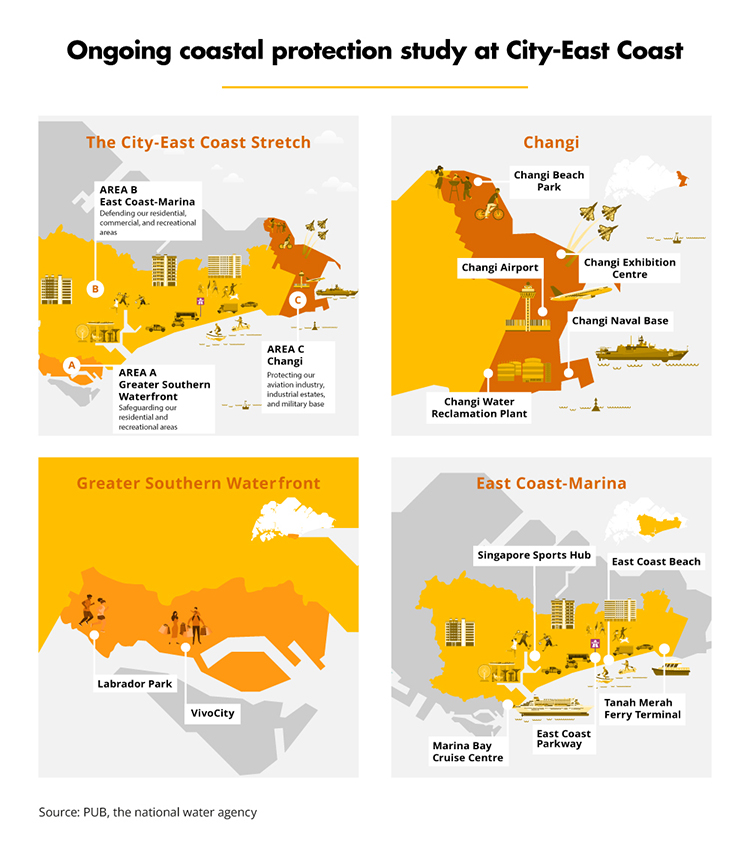 To mitigate floods, the drainage system has been improved over the last few decades. Flood prone areas have reduced significantly from 3,200 hectares in the 1970s to about 27 hectares today. We have also expanded our communication channels and fleet of flood response vehicles to provide timely information and assistance to the public during flooding incidents.
To address urban heat, we are piloting the use of cool paints on about 130 Housing & Development Board (HDB) blocks in Tampines. Past trials have shown its effectiveness in reducing surrounding temperatures by up to two degrees Celsius. Under the OneMillionTrees movement, more than 450,000 trees have been planted with the community islandwide since April 2020. The movement contributes to our carbon sequestration capacity by sequestering an estimated 78,000 tonnes of carbon dioxide. This capacity will increase over time as the trees grow and mature.
Towards a low-carbon future
In consultation with citizens and businesses, Singapore's climate ambition has been raised to achieve net-zero carbon emissions by 2050. The carbon tax will be raised progressively to $25 per tonne of carbon dioxide equivalent (tCO2e), in 2024 and 2025, and $45 per tCO2e in 2026 and 2027, with a view to reach $50 to $80 per tCO2e by 2030. The carbon tax serves two objectives. Firstly, it helps individuals and organisations internalise the true cost of their emissions. Secondly, the tax revenue supports our decarbonisation journey, including emission reduction measures.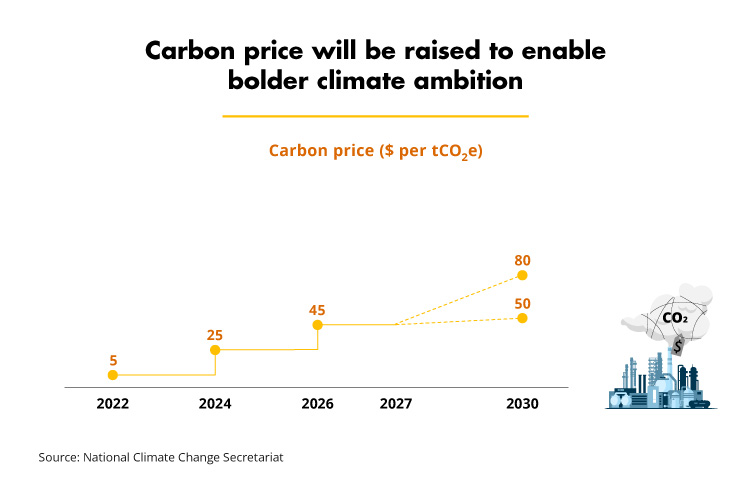 We are working closely with businesses to decarbonise the economy. For example:
In November 2021, we released the Sustainable Jurong Island report which outlines plans to transform Jurong Island into a sustainable energy and chemicals park. The plans aspire for the energy & chemicals sector to increase its output of sustainable products by four times from 2019 levels and achieve more than six million tonnes of carbon abatement per annum from low-carbon solutions by 2050.
We are also accelerating solar deployment. The Tengeh Reservoir floating solar farm, one of the world's largest inland solar farms, has been operational since July 2021. It generates sufficient energy to power all five of our water treatment plants – equivalent to powering about 16,000 four-room HDB flats.
Read more: Government and Regulations | Economic Opportunities
Strengthening resource resilience
Ensuring water resilience
Water demand in Singapore is about 440 million gallons per day. Household water consumption increased from 141 litres per capita per day (LPCD) in 2019 to 158 LPCD in 2021, due to people spending more time at home and an increased emphasis on hygiene arising from the COVID-19 pandemic. For the non-domestic sector, water consumption is expected to pick up with the economic recovery, after a 6% drop from 2019 to 2021 due to lower economic activity during the pandemic. By 2065, Singapore's total water demand could almost double, with the non-domestic sector accounting for the majority of the growth.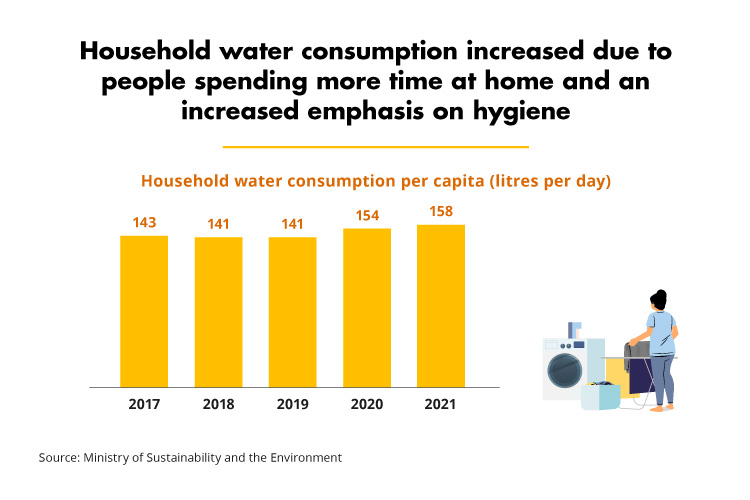 We continue to drive water conservation efforts and develop weather-resilient sources:
Smart water meters are being progressively implemented at 300,000 residential, commercial, and industrial premises to help households and businesses conserve water. As at July 2022, some 3,000 households had access to daily and hourly water consumption data through the MySmartWaterMeter portal. The portal also provides alerts on suspected leaks and water-saving tips. Based on the smart water meter trials conducted in Punggol and Yuhua in 2016 and 2018 respectively, the participating households were able to achieve average water savings of about 5% due to early leak detection and the adoption of good water-saving habits.
Singapore's fourth and fifth desalination plants, Keppel Marina East and Jurong Island Desalination Plants, were officially opened in February 2021 and April 2022 respectively. The Keppel Marina East Desalination Plant was recognised as "Desalination Plant of the Year" at the Global Water Awards 2021 for its innovative dual-mode capability to treat both seawater and freshwater.
Strengthening water security
Jurong Island Desalination Plant is approximately 5% more energy-efficient compared to conventional desalination plants as it is co-located with an existing power plant. This allows the desalination plant to harness synergies and share infrastructure with the power plant.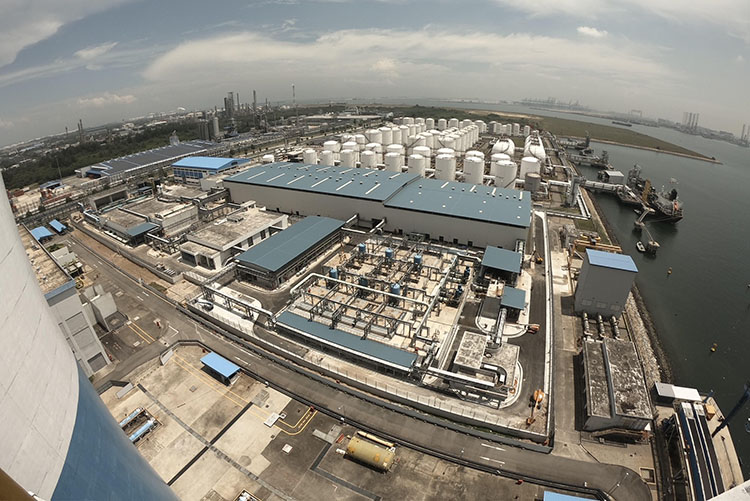 Bolstering our food resilience
Food security is a critical issue for Singapore. With global food supply chains being highly interlinked, Singapore, like many other countries, faces disruptions from time to time due to climate change, disease outbreaks, and geopolitical developments. To mitigate food supply risks, we employ a multi-pronged food security approach that involves source diversification and growing food locally:
We have a wide food import network. In 2021, more than 90% of the food supply was imported from about 180 countries and regions, up from 172 countries and regions in 2019.
Our "30 by 30" goal aims to build the capability and capacity of the agri-food industry to produce 30% of our nutritional needs locally and sustainably by 2030. This is up from less than 10% today. Local production has been rising steadily through the years. There are currently about 260 food farms producing commonly consumed items such as eggs, seafood, and leafy vegetables.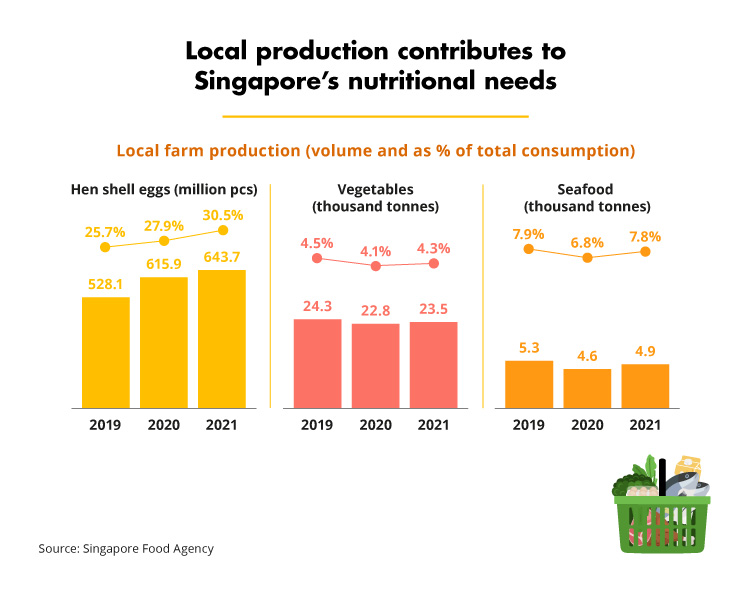 We have put in place strategies to anchor productive, innovative, and sustainable agri-food players in Singapore. For example:
More spaces have been made available for local food production. From February 2018 to March 2022, more than 43 hectares of farmland were tendered successfully to 19 companies for agri-food production while 16 multi-storey carpark rooftops were made available for urban farming.
As at March 2022, the Agriculture Productivity Fund has disbursed $30 million and contributed to increased production of fish by 700 tonnes and leafy vegetables by more than 1,700 tonnes.
Read more: Singapore Food Statistics 2021
Read more: Infrastructure and Logistics | Strengthening Our Supply Chain Resilience
We continue to work with Singaporeans towards realising the vision of being a Zero Waste Nation.
In 2021, waste disposed was the highest in the past five years with six out of 14 waste streams seeing double-digit percentage increases year-on-year. While 2020 was an anomalous year with lower waste generation and recycling rates due to the impact of COVID-19, the resumption of activities and changes in lifestyles have led to the use of more disposable items and packaging materials. This has been matched with a corresponding increase in waste recycled, with 26% more waste recycled in 2021 compared to 2020.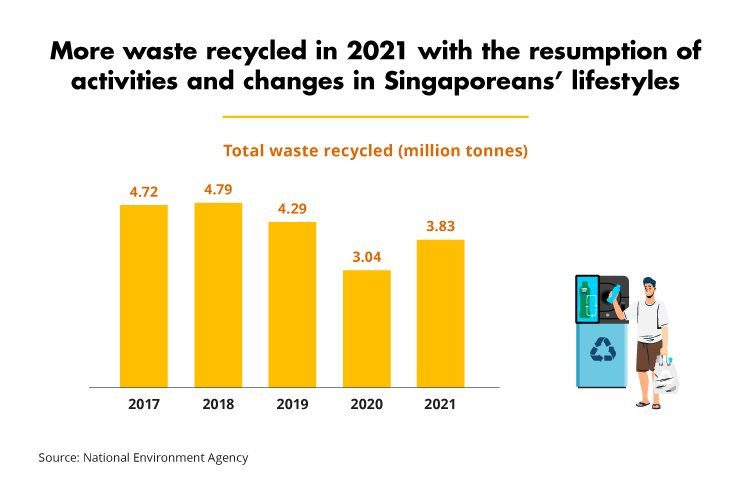 Our overall recycling rate increased from 52% in 2020 to 55% in 2021. To meet our target of 70% overall recycling rate by 2030, we are ramping up our efforts to improve recycling:
An Extended Producer Responsibility system has been established to recover valuable resources from e-waste and to ensure the proper handling of hazardous substances from it that may harm the environment and public health. More than 600 e-waste collection points have been deployed islandwide as at October 2022 to make recycling e-waste more convenient. The system has collected more than 7,300 tonnes of consumer e-waste since its implementation in July 2021, about 13% of the consumer electrical and electronic equipment supplied in 2021.
Operators of more than 100 premises, including industrial buildings, commercial buildings, and hawker centres, have been supporting efforts to minimise food waste or convert food waste to energy or other products such as animal feed, compost, and non-potable water. In 2021, about 154,000 tonnes of food waste were recycled. From 2024, it will be mandatory for the operators of commercial and industrial premises that generate large amounts of food waste to segregate their food waste for treatment.
More than 11 million plastic drink bottles and aluminium drink cans have been collected by reverse vending machines as at June 2022 under RecycleNSave. Initiatives such as this encourage recycling and aggregate a clean stream of recyclables that can be more easily recycled. A proposed beverage container return scheme, to be implemented by mid-2024, is expected to significantly increase the recycling rate of beverage containers.
To reduce the contamination of recycling bins, transparent recycling bin trials were launched at selected HDB blocks in Bukit Batok, Bedok, and Upper Changi. Transparent recycling bins enable people to see what is inside the recycling bin, deterring improper use of the bins.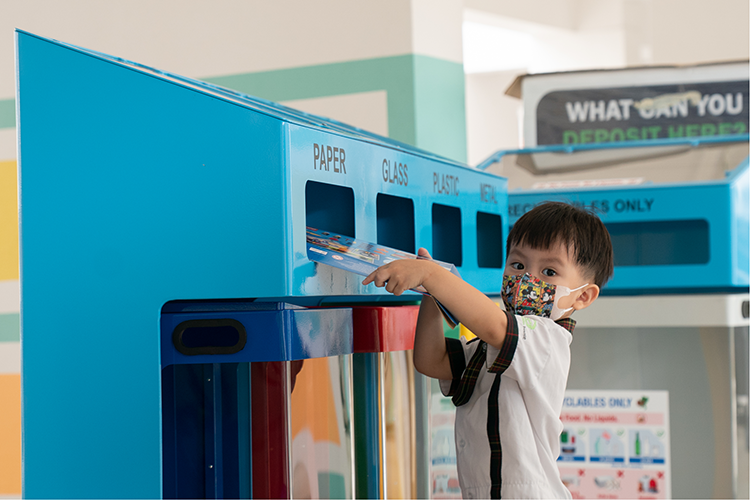 Read more: Waste and Recycling Statistics 2021
Read more: Housing and Amenities
A city of green possibilities
The Government will continue to partner all stakeholders as we strive towards a greener and better future, propelled by clean energy, sustainable consumption, and innovative sustainability solutions. We can all do our part by adjusting our lifestyles and participating in green initiatives. Our collective action will make a difference.