Ageing with purpose and dignity
Our seniors live, work, and socialise among us.
More senior residents have secured employment
Over the last decade, more senior residents aged 55 years and older are employed.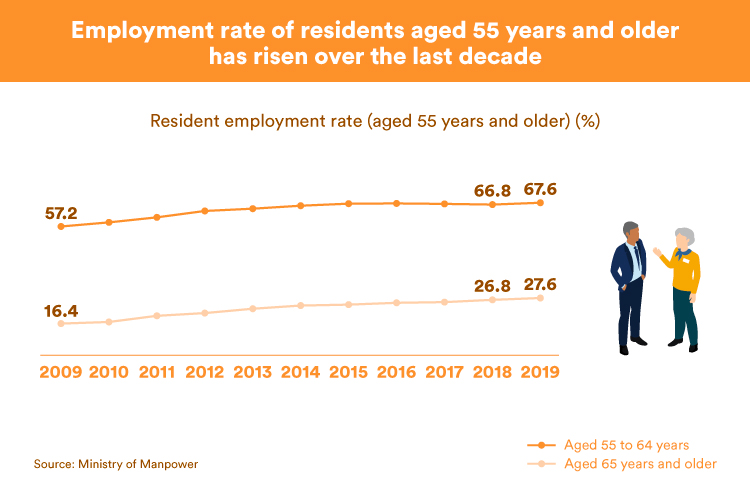 Singaporeans may work as long as they are willing and able
Based on a 2018 Ministry of Communications and Information poll, 49% of retirees would have preferred to continue working on a part-time or full-time basis. Now, eligible older Singaporeans who wish to remain employed longer can work until the re-employment age of 67 and are protected from being dismissed due to age up to the statutory retirement age of 62.
By 2030, the retirement age will be gradually increased to 65 years and Singaporeans can choose to be re-employed until the age of 70. Additionally, to enable senior workers to earn more and save more for retirement, the Central Provident Fund (CPF) contribution rates for workers aged above 55 to 70 years will be raised over the next decade. The pace of the increase will depend on economic conditions.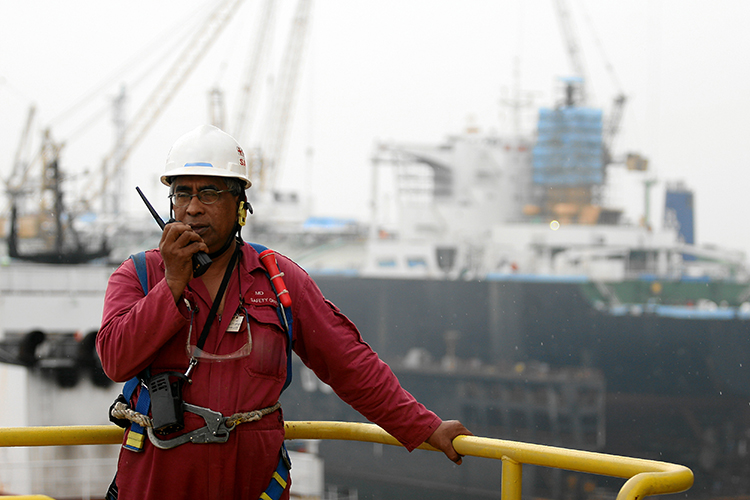 Employers are supported to hire and retain senior workers
Employers receive government support to hire and retain senior workers. The Special Employment Credit, which provides wage offsets to employers employing older Singaporeans, has paid out over $3.9 billion since 2011, benefitting 200,000 employers and 700,000 senior workers. The Senior Employment Credit will replace the Special Employment Credit after 31 Dec 2020. Under the Senior Employment Credit, employers will continue to receive wage offsets when they employ Singaporeans aged 55 years and older who are earning up to $4,000 per month.
Through the Adapt and Grow initiative, more than 6,100 jobseekers aged 55 years and older were placed in employment in 2019, 14% more than in 2018.
Read more: Quality Jobs
Holistic support for Singaporeans in retirement
In 2019, 61% of active CPF members were able to meet the Required Retirement Sum (RRS) at the age of 55, up from 57% in 2017. RRS attainment refers to meeting the Full Retirement Sum in cash for members who do not own a property, or the Basic Retirement Sum in cash for those who own a property. The RRS attainment at the age of 55 is expected to continue growing with increasing wages and rising labour force participation rates.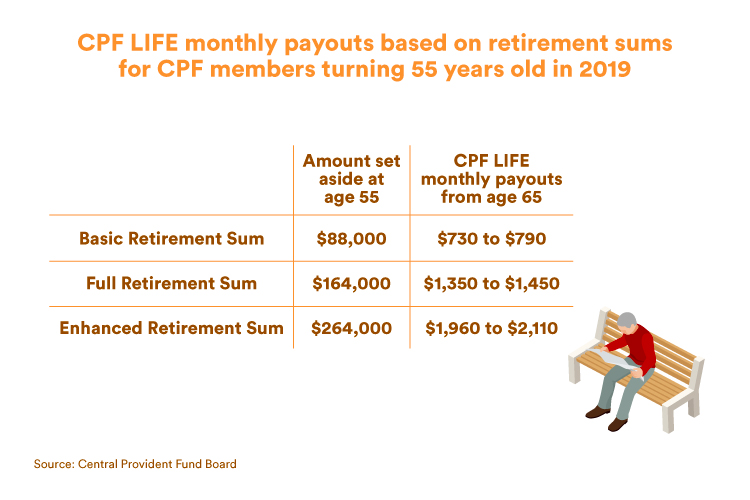 More details on the monthly payouts can be found here.
CPF MediSave helps to pay for medical expenses and insurance premiums, including MediShield Life, which protects members against large hospital bills for life, regardless of age or health condition. If needed, seniors can also supplement retirement incomes by monetising their houses.
Additional help for those who need it
Since 2007, $6.8 billion has been paid out under the Workfare Income Supplement scheme to 890,000 eligible lower-wage Singaporeans to help them supplement their income and save for retirement. With enhancements in 2020, around 440,000 lower-wage Singaporeans will receive up to $4,000 per year to supplement their income and CPF savings.
About $1.3 billion has been paid out to more than 180,000 seniors since Silver Support (SS) was introduced in 2016. Around 150,000 senior Singaporeans, who had low incomes during their working years and now have little or no family support, receive SS payouts to supplement their retirement incomes. SS will be enhanced from 2021, with quarterly payouts increasing by 20%. The qualifying criteria will also be expanded, benefitting an additional 100,000 seniors. The SS scheme complements the Workfare Income Supplement which provides wage support for working Singaporeans. Both work together to help address the needs of lower-income Singaporeans during their working years and in retirement.
Read more: Social Safety Nets
Active ageing and volunteering
Retirees have many ways to remain active and healthy, through working, learning, keeping physically fit, and being socially connected:
The National Seniors' Health Programme has engaged over 45,000 seniors in the community through health talks and exercise programmes as at December 2019, to emphasise prevention and promote health and wellness.
As at December 2019, over 40,000 participants have benefitted from more than 1,000 subsidised short courses and intergenerational learning programmes offered under the National Silver Academy, which promotes active learning among seniors.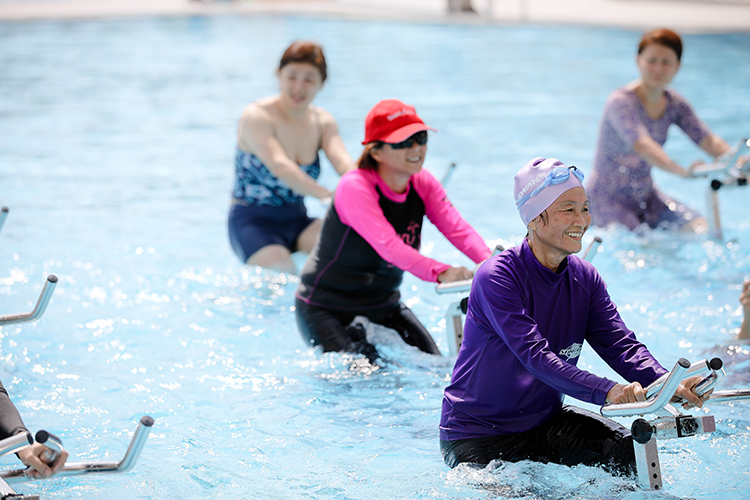 Read more: Health and Wellness
In 2018, more than one in five Singaporeans aged 50 years and older volunteered and contributed over 160 hours on average, up from 113 hours in 2012. Seniors who wish to remain active can participate in various volunteer opportunities:
As at December 2019, over 7,900 senior volunteers have been recruited through programmes supported by the $40 million Silver Volunteer Fund (SVF). SVF was established in 2016 as part of the National Seniors' Volunteerism Movement to support community-based organisations and healthcare clusters in creating more volunteer opportunities for seniors, such as befriending, care navigation, and mentoring of youths and other seniors.
In September 2019, RSVP Singapore became a strategic partner to grow senior volunteerism. Over the next five years, RSVP Singapore will scale up its "Retire with a Purpose" initiative, which reaches out to senior workers aged 50 years and older at their workplaces and provides them with volunteer training and matching to suitable opportunities.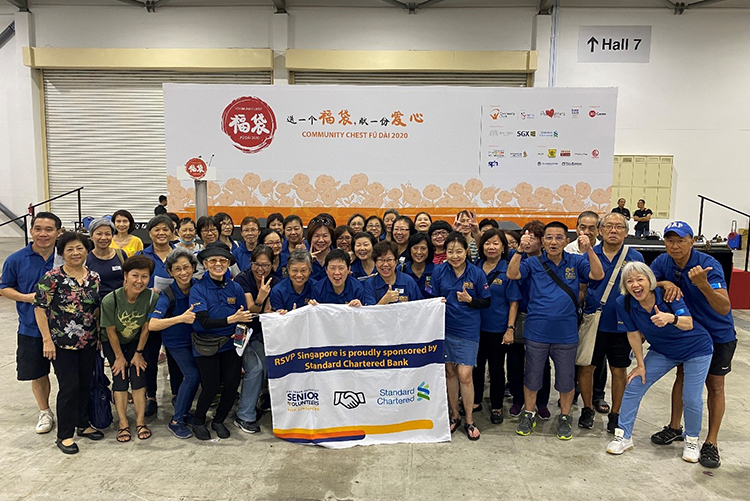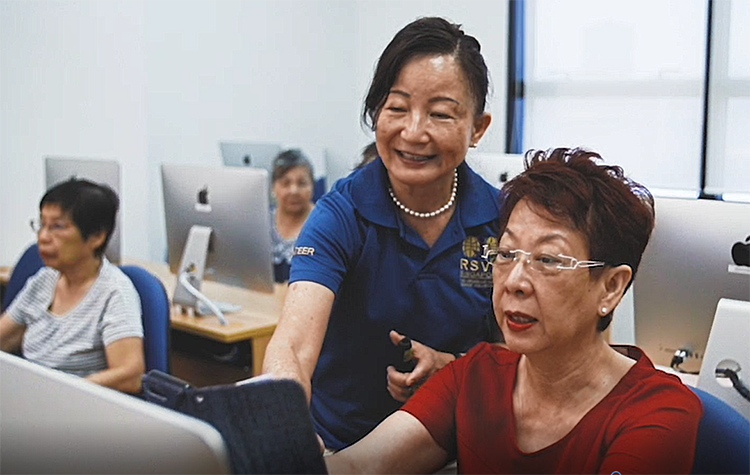 Read more: Singapore Together