Successful ageing with purpose and dignity
Singaporeans are living and staying healthier for longer. The number of Singaporeans aged 65 years and older is expected to reach 900,000 by 2030, with the number of centenarians having doubled from 700 in June 2010 to 1,500 in June 2020.
Various engagements, through focus group discussions and surveys, found that Singaporeans generally had a positive outlook towards life. However, there remain some concerns as they age. These include areas on health, job and financial security, and social connections.
Most respondents indicated that it was important to know how to stay healthy, and that remaining active at work or in the community helped with a more positive perception towards ageing. Those who were employed or volunteering were less likely to describe themselves as old. Most seniors also expressed that they would like to continue working.
This calls for a holistic approach to build a Singapore that meets the needs of Singaporeans of all ages. This means individuals contributing meaningfully, at work or in the community, staying healthy, and building up resources for retirement.
Enabling a vibrant workforce
The employment rate of seniors rose at a faster pace in 2021 to above pre-pandemic levels, buoyed by continued efforts to raise their employability.
The retirement and re-employment ages have been raised to 63 and 68 respectively since July 2022.
As at May 2022, more than $300 million of Senior Employment Credit has been disbursed, benefitting 93,000 employers and 430,000 senior workers.
As at July 2022, more than 5,400 firms have successfully applied for the Senior Worker Early Adopter Grant to implement retirement and re-employment ages above the prevailing statutory ages. This is expected to benefit more than 46,000 senior workers.
Similarly, more than 4,300 firms have successfully applied for the Part-time Re-employment Grant as at July 2022, committing them to offer part-time re-employment to eligible senior workers who request for it. This is expected to benefit over 38,000 senior workers.
Nonetheless, we recognise that age discrimination was the most common form of discrimination faced by employees according to the Fair Employment Practices Survey 2021. We have taken steps to nurture age-friendly workplaces. For example:
More than 7,000 companies have adopted the Tripartite Standard on Age-Friendly Workplace Practices as at September 2022, a three-fold increase from March 2020. This signifies more employers taking steps to be progressive and inclusive. The standard specifies desirable age-friendly workplace practices including treating all workers fairly regardless of age and providing senior workers with support in areas such as training and workplace health programmes.
Read more: Quality Jobs | Economy and Labour Market
Staying connected in the community
We want to support seniors to age in place, independently within their own homes, while staying connected to their loved ones and society through support networks that embody the kampung spirit.
Supporting seniors during the pandemic
Many seniors were acutely affected by the COVID-19 pandemic. The people, private, and public sectors all stepped forward to support them.
For example, in late February 2020 before the Circuit Breaker, the Silver Generation Office (SGO)'s ambassadors reached out to about 27,000 vulnerable seniors to help them cope with the situation. This included reminding them to stay home, educating them on precautionary measures, and connecting them with relevant support and services for their daily living needs.
When the Circuit Breaker began, food packs were distributed to more than 30,000 vulnerable seniors who lived alone, to help them avoid exposure to the virus. As safe management measures subsequently tightened, the office switched to tele-engagements to continue ensuring the well-being of about 21,000 vulnerable seniors.
Read more: #SGOCares: Behind-the-scenes of SGO COVID-19 Outreach
Meaningful engagement with technology has become key to a person's quality of life. Seniors need to be digitally literate so that they can access services, participate in the community, and stay connected with their loved ones.
Since the launch of SG Digital Office in 2020, Digital Ambassadors have trained more than 190,000 seniors in basic digital skills such as using a smartphone to access government services and to communicate and transact online.
The Mobile Access for Seniors scheme was introduced in June 2020 to support lower-income seniors who could not afford mobile digital access. More than 9,000 seniors have benefitted from subsidised smartphone and mobile plans as at September 2022.
The SG Cyber Safe Seniors Programme provides seniors with tips on good cyber hygiene practices to stay safe online. As at October 2022, more than 45,000 seniors have been engaged under the programme.
The Digital for Life movement was launched in 2021 to galvanise support from the people, private and public sectors on ground-up initiatives to help Singaporeans gain confidence in going digital. For example, at the Majestic Smart Seniors Applied Centre managed by RSVP Singapore, seniors learn to identify and avoid scams and protect their digital identity, through curated modules and webinars conducted in partnership with Google.
Seniors can also access an array of online resources in the four official languages.
Beyond these efforts, seniors who are unable or may need more time to transit to digital services can visit ServiceSG centres at various heartland locations.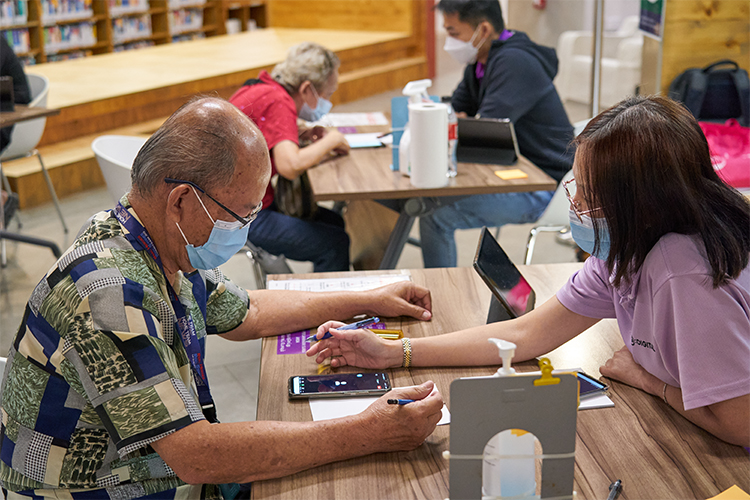 Read more: Government and Regulations | Cyber and Data Security
Seniors today have different needs and aspirations. We are ensuring that there are sufficient opportunities and support to empower them to age well.
Based on Population Census 2020, 11.2% of seniors faced difficulty in performing basic activities and might require assistance to carry out everyday tasks. To cater to seniors' healthcare needs, the capacity and range of eldercare services have expanded over the years.
Home care capacity has more than tripled, expanding from 3,800 places in 2011 to around 12,000 places in 2021.
Day care places have increased close to four-fold from 2,100 in 2011 to 8,300 in 2021.
Nursing home capacity has also expanded from about 9,600 beds in 2011 to 17,000 beds in 2021, an 80% increase.
As at June 2022, 119 Active Ageing Centres provide active ageing programmes, befriending and buddying, and referrals to care services for seniors in the community.
Read more: I Feel Young SG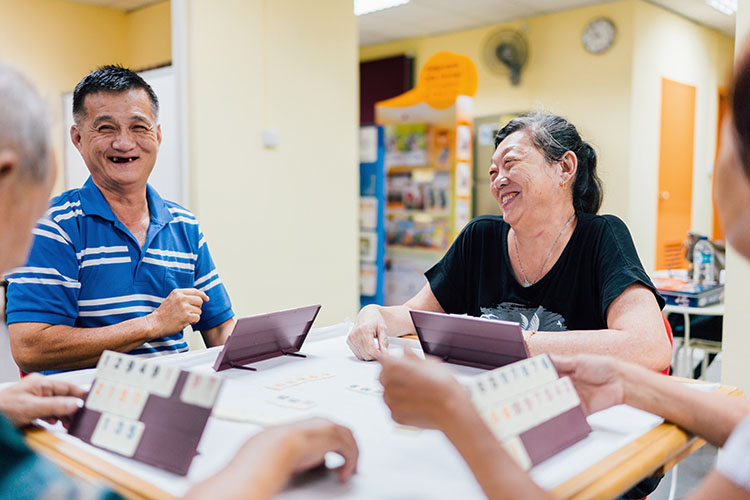 We have also increased the support for caregivers of seniors.
Launched in October 2019, the Home Caregiving Grant provides monthly cash payouts to defray caregiving costs for those with at least permanent moderate disability. As at September 2022, the grant has supported more than 45,000 beneficiaries.
In February 2022, the Seniors' Mobility and Enabling Fund was expanded to cover the purchase of customised and specialised devices, as well as the replacements of used devices. More than 103,000 seniors have benefitted from the fund as at September 2022.
Read more: Health and Wellness
Singaporeans have adopted good financial behaviours to build up their financial security as they age. Based on the MoneySense National Financial Capability Survey 2021:
Seven in 10 indicated they maintained at least three months of expenses as emergency savings;
About three in five indicated they preferred saving money for the long term, compared with spending money; and
Nine in 10 indicated they avoided borrowing and saved actively.
With rising income and labour force participation, Singaporeans in general have also been able to earn and save more for old age. In 2021, about seven in 10 active Central Provident Fund (CPF) members were able to set aside the Basic Retirement Sum at the age of 55, compared to only four in 10 a decade ago. This was so even as the Basic Retirement Sum had been adjusted to keep pace with inflation and the standard of living.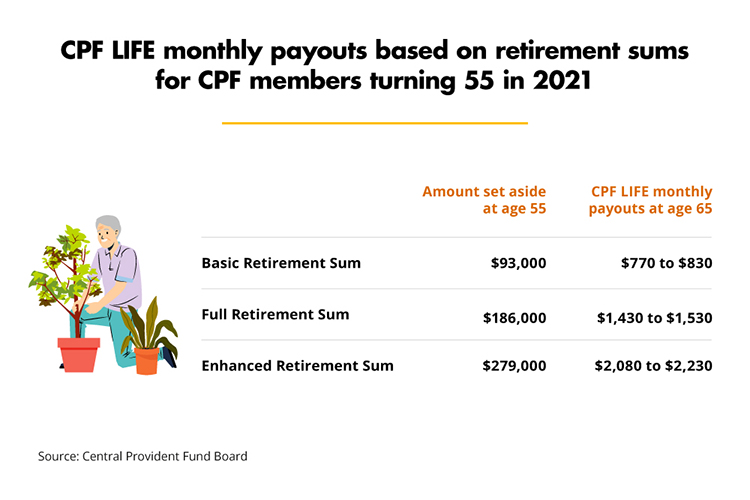 Read more: CPF Retirement payouts and withdrawals
More Singaporeans are taking steps to enhance their retirement security. In 2021:
294,000 members made additional top-ups to their own or their loved ones' savings, amounting to $4.8 billion. More than half did so for the first time.
117,000 out of 440,000 eligible seniors received government matched CPF top-ups totalling $68 million, for cash top-ups made under the Matched Retirement Savings Scheme.
A retirement planning guide has also been developed to help Singaporeans reach their retirement goals.
Read more: Be Ready with CPF
At the same time, the Government has continued to provide targeted support to improve retirement adequacy for vulnerable groups. For example:
The Workfare Income Supplement scheme encourages lower-income Singaporeans to work and build up their CPF savings, by supplementing their income through cash payments and CPF contributions. Since 2007, over $8.6 billion has been paid out to 964,000 Singaporeans.
The Silver Support Scheme provides quarterly cash supplements to seniors who had lower incomes during their working years and now have little or no family support. Close to 250,000 seniors received payouts amounting to $600 million in 2021.
In 2019, the Tripartite Workgroup on Older Workers recommended raising the CPF contribution rates for seniors aged 55 to 70 years over the next decade. The first increase was implemented in 2022, with the next increase slated for 2023. When the increase is fully implemented around 2030, a 55-year-old CPF member currently earning the median income can expect monthly retirement payouts to be boosted by around 10%.
Read more: Quality Jobs | Social Safety Nets
As a society, we must rethink our attitudes towards ageing and see longevity as opportunity. Singapore will be a place where everyone, including seniors, can continually learn, grow, and achieve their fullest potential. Together with employers, unions, training institutions, and Singaporeans of all ages, the Government will continue to support seniors to have longer careers, contribute meaningfully to society, and age confidently.