Learn for life
To give all Singaporeans the opportunity to develop to their fullest potential, we will ensure that:
Every child has access to quality education regardless of background; and
Singaporeans can choose from multiple pathways and select one that is more suited for their learning needs and aspirations.
Over 90% of children are enrolled in preschool by the age of 5. Since 2016, the number of full-day preschool places has increased by more than 30%. The Government is committed to ensuring that every parent who wants a preschool place for their child will be able to have one.
Preschool has become more affordable with enhanced preschool subsidies. Today, median-income families earning around $7,500 per month pay $210 per month for a child enrolled in an Anchor Operator preschool, compared to up to $370 per month in 2019. Lower-income families pay as little as $3 per month. All parents can therefore give their child a good start in life at quality preschools.
Read more: Family
We continue to invest in our children's education throughout their primary and secondary school years.
In primary school, students receive a well-rounded education, gaining a strong foundation in literacy, numeracy, socio-emotional competencies, and 21st century skills. After school, students who need care enjoy a safe and nurturing environment to learn and play at school-based Student Care Centres (SCC). With an SCC in every primary school, total enrolment increased from 3,000 in 2012 to 27,000 in 2020. Student care is also more affordable with subsidy enhancements in 2020, benefitting about 9,000 children. Today, families earning $3,500 per month pay $177 per month at a median-fee SCC, compared to up to $237 per month in 2019.
Students now have more opportunities to enter secondary schools through the expanded Direct School Admission (DSA) scheme, which assesses them based on diverse talents beyond academic merit. In 2020, 8.7% of the Secondary 1 cohort entered their secondary school through DSA.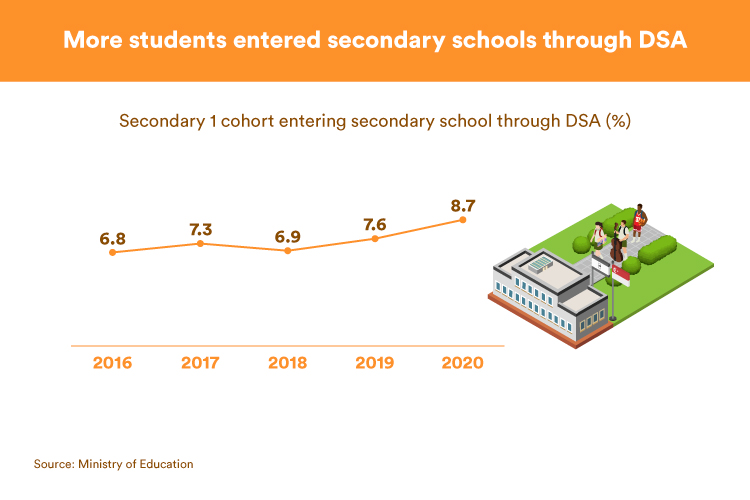 In secondary schools, students can take subjects at a more demanding level, according to their strengths and interests through Subject-Based Banding (SBB). About 35% of Secondary 1 students in the Normal (Academic) course and 65% of Secondary 1 students in the Normal (Technical) course have done so in 2020. Outcomes have been positive, with Normal (Academic) SBB students performing comparably to their Express course counterparts at the O-Level examinations. We will build on this to introduce Full SBB and phase out streaming in schools by 2024.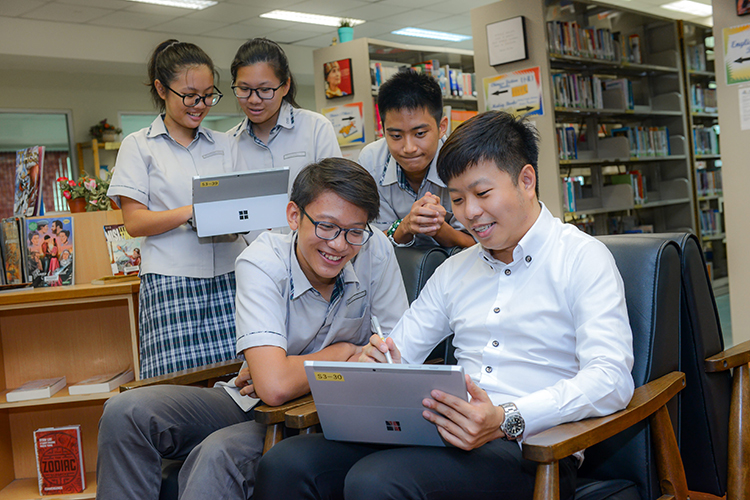 With holistic support from schools, more students progress to post-secondary education institutions. In 2014, 96% of the Primary 1 cohort did so, up from 91% in 2005. For students from the lowest socio-economic quintile, this increased from 84% to 93% in the same period. At the post-secondary stage, there are now more diverse pathways and options for students:
A higher proportion of each cohort (71%) now progress to publicly funded diplomas at polytechnics and the Institute of Technical Education (ITE) and to publicly funded degrees at Autonomous Universities.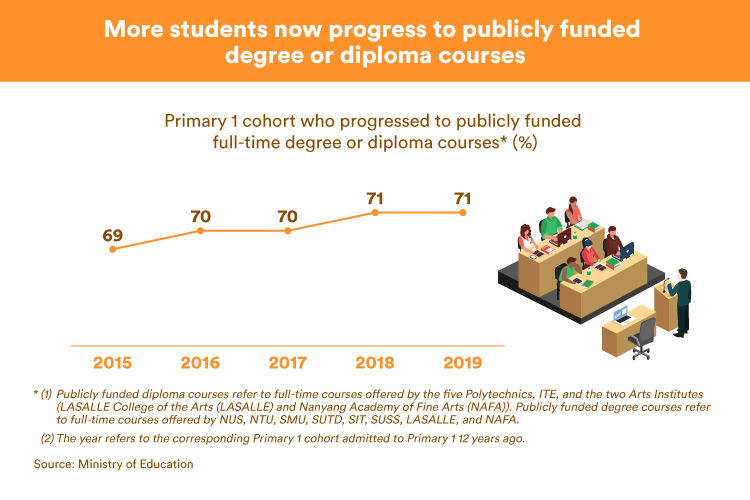 The Polytechnic Foundation Programme and the Direct-Entry-Scheme to Polytechnic Programme offer through-train pathways to polytechnics, catering to one in four Normal (Academic) course students.
The Early Admissions Exercises (EAE) for ITE and polytechnics enable students to apply to courses based on their aptitudes and interests. In academic year (AY) 2019, about 10% of ITE students and 20% of polytechnic students were admitted through EAE.
SkillsFuture Work-Study Programmes allow students to pursue work-study post-diploma and degree pathways. About 2,200 Singaporeans participated in them in 2019, up from 150 in 2015.
The Singapore University of Social Sciences was established in 2017 to expand applied degree pathways.
Education at Institutes of Higher Learning (IHLs) remains affordable, with the enhancements of bursaries for full-time and part-time students in AY2020. From AY2020, full-time Singaporean polytechnic students on the highest bursary tier pay only $150 per year, down from $550, while full-time Singaporean undergraduates in general degree programmes pay $2,000 per year, down from $4,200. Students can tap on government loans, which are interest-free for the duration of their studies, to pay any remaining fees. Altogether, more than 70,000 full-time IHL students benefit from government bursaries every year.
SkillsFuture supports Singaporeans in lifelong learning and skills mastery, so they stay relevant and competitive amidst structural changes in the economy. We have built up IHLs as the third pillar of our skills ecosystem, alongside employers and private training institutes. IHLs now offer short modular courses in emerging areas, including those under the SkillsFuture Series. The Skills Frameworks help individuals to make informed decisions on Continuing Education and Training (CET), career development, and skills upgrading.
As at 31 December 2019, 500,000 individuals and 14,000 enterprises have benefitted from SkillsFuture initiatives. Around 37,000 individuals were enrolled in subsidised CET full qualification programmes at IHLs. In 2019, 86% of trainees surveyed said they could perform their work better after training.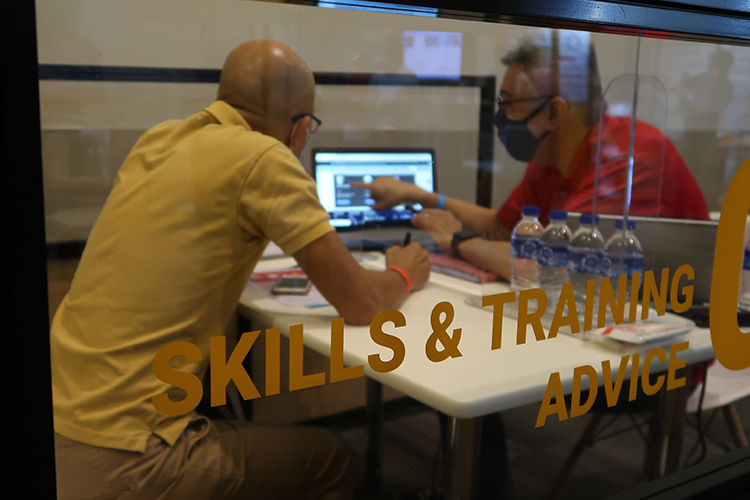 Read more: Quality Jobs
Every Singaporean can access quality and affordable education, with multiple pathways, to develop to their fullest potential. Together with the Next Bound of SkillsFuture, these initiatives support our people to access jobs, traineeships, and training opportunities. Amidst the COVID-19 pandemic, we will also continue to evolve our education system to ensure that all Singaporeans are equipped with the knowledge, skills, and values to progress in life and navigate the world ahead.