Equipping Singaporeans for the future
Equipping Singaporeans to confidently navigate a complex and changing world starts from ensuring that every child has access to quality education, regardless of background. Through multiple education pathways, Singaporeans have opportunities to acquire the knowledge, skills, and perspectives they need throughout life.
The Government is committed to improving the quality, affordability, and accessibility of preschools. We are on track to provide government-supported preschool places for 80% of children by around 2025, via the Anchor Operator and Partner Operator schemes and Ministry of Education (MOE) Kindergartens. As at March 2022, over 60% of children were enrolled in government-supported preschools, up from 50% in 2017. Demand has also shifted towards full-day preschool programmes, with 152,000 children enrolled in full-day preschools in 2021. This was a 30% increase from 2017.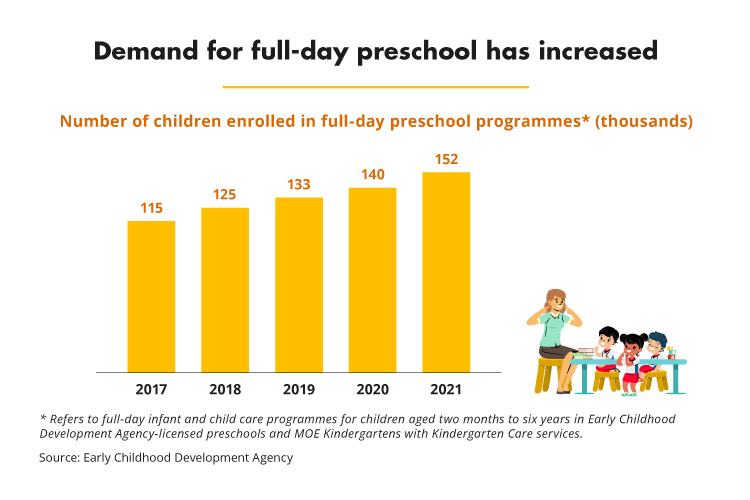 Preschool education has become more affordable. In 2020, means-tested subsidies were enhanced across all eligible income tiers and the gross monthly household income ceiling for the subsidies was raised from $7,500 to $12,000. Around 92,000 families received such subsidies in 2021, up from about 48,000 in 2019. The fee caps at all government-supported preschools will be lowered from January 2023.
As at December 2021, about 5,900 children with developmental needs were supported through a range of government-funded early intervention programmes. The Government will continue to increase the number of places in such programmes to meet the growing demand. In addition, about 4,300 children from lower-income families have benefited from KidSTART since 2016. The programme aims to give children from these families a good start in life through upstream support. It will be progressively expanded nationwide from 2023 to benefit more families.
Read more: Family
Students benefit from a high-quality and holistic education and have consistently performed well internationally. For example, Singapore's students across all socio-economic backgrounds outperformed their Organisation for Economic Co-operation and Development (OECD) peers in the Programme for International Student Assessment (PISA) 2018 study. Notably, students from lower socio-economic backgrounds outperformed the average OECD student in the PISA core domains of reading, mathematics, and science. Our students also performed well in 21st Century Competencies like global competence and creative problem solving. The study, however, also highlighted areas for improvement. Compared to their OECD peers, fewer of our students reported having a growth mindset (60%; OECD average: 63%) and more expressed a fear of failure (72%; OECD average: 56%).
We will continue to work with parents and the community to help students develop holistically, shift away from an over-emphasis on academic results, adopt a growth mindset, and take greater ownership of their own learning.
The new Primary School Leaving Examination (PSLE) scoring system, implemented in 2021, aims to reduce the fine differentiation of examination results and encourages students to focus on their own learning instead of how they compare to others. Under the new scoring system, more students from the 2021 PSLE cohort who were posted to the Normal courses had the opportunity to study at least one subject at a more demanding level at Secondary 1. The majority, around 85% of eligible students, chose to take up the offer.
Mid-year examinations for all primary and secondary levels will be removed by 2023. This will reduce excessive focus on testing and academic results and offer students more time and space to develop 21st Century Competencies.
Full Subject-Based Banding (Full SBB) is being progressively rolled out to secondary schools and will be fully implemented in 2024. As at January 2022, 59 schools have implemented Full SBB. Under Full SBB, students have greater flexibility to take a wider variety of subjects at different subject levels, based on their strengths, interests, and learning needs. They also have more opportunities to interact and develop friendships with schoolmates of different backgrounds and learner profiles. Students from the Full SBB pilot schools have been observed to develop a wider network of friends and a stronger growth mindset.
Riding on the momentum of full home-based learning during the pandemic, technology has been embraced more widely to enhance teaching and learning.
A refreshed Character and Citizenship Education curriculum has been progressively introduced to schools since 2021, with greater emphasis on contemporary issues, cyber wellness, and mental health education and support.
Schools have also set aside dedicated time each term for teachers to check in on their students' well-being. In addition, all schools have introduced peer support structures where all students are taught to look out for one another and to encourage peers to seek help when needed. Schools appoint and train at least 5% of students as peer support leaders.
Despite travel limitations, students were able to develop cross-cultural awareness through internationalisation programmes conducted locally and virtual student exchanges. As at September 2022, seven in 10 schools had partnerships with overseas schools. We are working towards every school having at least one overseas partnership for student exchanges so that our students build more connections with the region and the world.
Students from disadvantaged backgrounds continued to receive improved wraparound support, including after-school support, school resourcing, and community partnerships under UPLIFT (Uplifting Pupils in Life and Inspiring Families Taskforce). Through these efforts, about eight in 10 students with attendance issues in 2020 improved their attendance to 90% or better in 2021.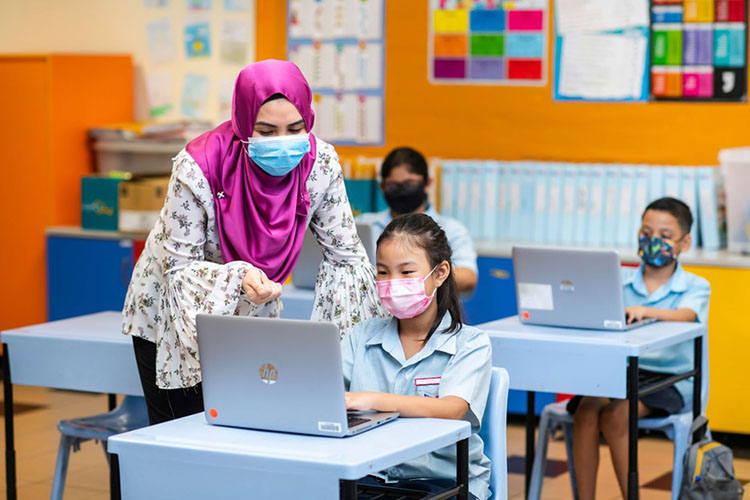 Read more: Social Safety Nets
In 2021, 97% of the Primary 1 cohort progressed to post-secondary education programmes. For students from the lowest socio-economic status quintile, this was 94%.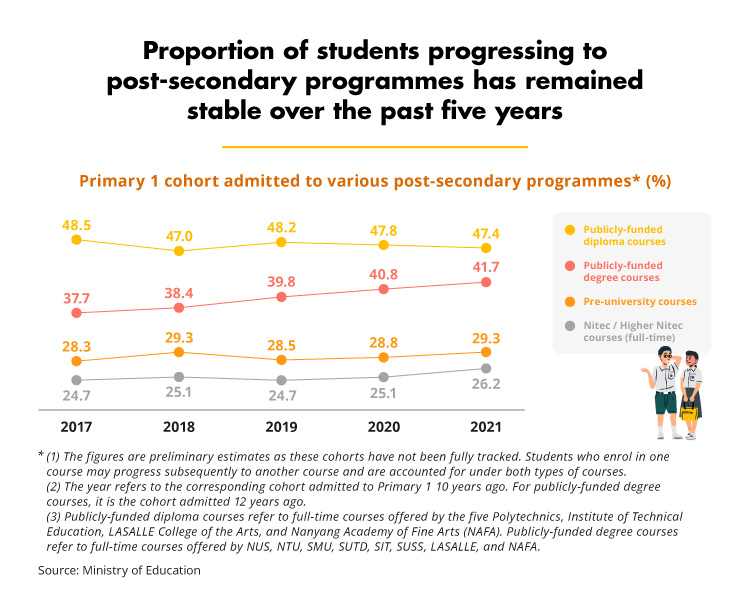 Students have greater means to chart their learning through various post-secondary pathways.
Common Entry Programmes (CEPs) were expanded in 2019, allowing polytechnic students to select from 17 CEPs and explore their interests over one to two semesters before selecting their specialisation. In 2021, over 4,000 students, or around 30% of the intake in clusters with CEPs, were admitted via CEPs. Student feedback has been positive, with nine in 10 students indicating that CEPs enabled them to discover their interests and strengths before deciding on their diploma course.
Starting from Academic Year 2022, selected National Institute of Technical Education (ITE) Certificate (Nitec) and Higher Nitec programmes are being streamlined into three-year programmes, from four years originally. Students also benefit from two linked industry attachments to develop deeper industry-relevant skills for employment. All courses will transit to the three-year curricular structure by 2026.
ITE graduates have more opportunities to upgrade their skills through ITE's diploma offerings. Since 2019, over 1,600 students have been admitted to ITE's Work-Study Diploma and Technical Diploma programmes. More than half of the Work-Study Diploma trainees continued employment with their partner companies upon graduation.
Education at publicly-funded Institutes of Higher Learning (IHLs) remains affordable with heavy subsidies at all levels – over 90% of the cost of education for ITE, about 85% for Polytechnics, and about 75% for undergraduates in Autonomous Universities. Financial assistance schemes have also been made available for those in need. More than 70,000 full-time IHL students benefit from government bursaries every year.
Read more: Education Statistics Digest 2022
More working Singaporeans are taking up training to acquire new skills. Since SkillsFuture was launched in 2015, the overall training participation rate among the resident labour force has increased from 35.5% to 49.9% in 2021. 96% of trainees surveyed in the 2021 Training Quality and Outcomes Management Survey indicated they could perform their work better after receiving training.
The pandemic and concerns over the economic situation increased interest in learning and training. For example:
Over 247,000 Singaporeans used their SkillsFuture Credit in 2021 – the highest since 2015.
The proportion of trainees who participated in online training more than doubled, from 26% in 2019 to 58% in 2021.
The pandemic gave additional momentum to ongoing SkillsFuture efforts. About 660,000 individuals and 24,000 enterprises benefited from SkillsFuture-supported initiatives in 2021.
As part of COVID-19 support measures, close to 27,000 individuals enrolled in the SGUnited Skills and SGUnited Mid-Career Pathways Programme – Company Training as at April 2022.
From 2020 to 2021, 245,000 training places were supported under the Enhanced Training Support Package to better prepare Singaporeans for emerging roles and capabilities as the economy recovers.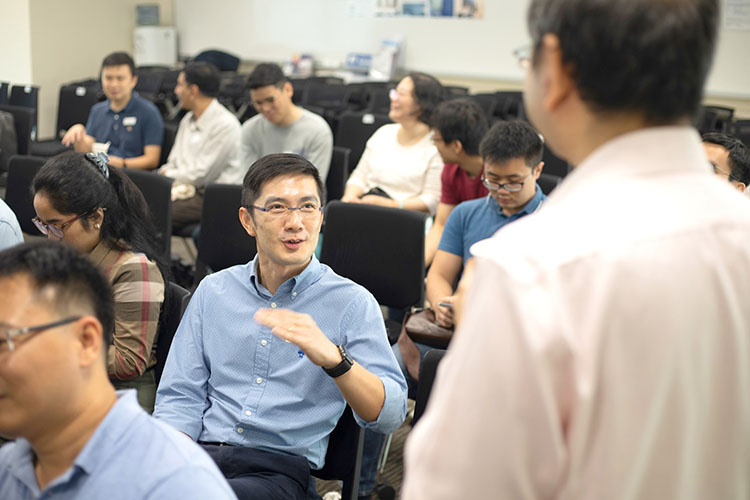 Read more: Quality Jobs
A nation of lifelong learners
As a society, we must continue to broaden the definition of success beyond academic and material achievement and include how we help improve the lives of others. The Government will continue to partner parents and the community to support every child's development, including their values and social-emotional well-being.
Education and learning must also continue even after one graduates from school and starts work. As Singapore's economy grows and transforms, Singaporeans must adapt by upskilling and reskilling throughout life. The Government will support them in this journey and work with industry partners to strengthen the ecosystem for lifelong learning so that Singaporeans are well-equipped for the future.