Singapore's social compact
Singapore's social compact is anchored in individual and family responsibility, and support from the community and the Government. This compact broadly comprises five enablers:
Education as a social enabler
Extensive subsidies for healthcare and housing
Support to keep Singaporeans employable and uplift wages for the lower-income and broad middle
Support for retirement needs
Social and community assistance for the lower-income and vulnerable groups
Broad-based social investments, additional support through ComCare
Each year, the Government invests more than 30% of its Budget to provide highly affordable education (from early childhood to tertiary and continuing education), health services, and public housing to Singaporeans. These build individual and social capital, mitigate differences in family circumstances, and provide multiple pathways to education and jobs.
Other than broad-based subsidies and transfers which benefit the majority, more targeted assistance is provided to the lower-income, the vulnerable, and those with specific needs. For instance, lower-income families are supported by the Community Care Endowment Fund (ComCare), which is a key part of our social safety net, alongside other schemes such as the Public Rental Scheme, MediFund, and the MOE Financial Assistance Scheme.
Read more: Education | Health and Wellness | Housing and Amenities
There were 39,197 households that received ComCare support in Financial Year (FY) 2019 and the trend has remained fairly stable in the last few years.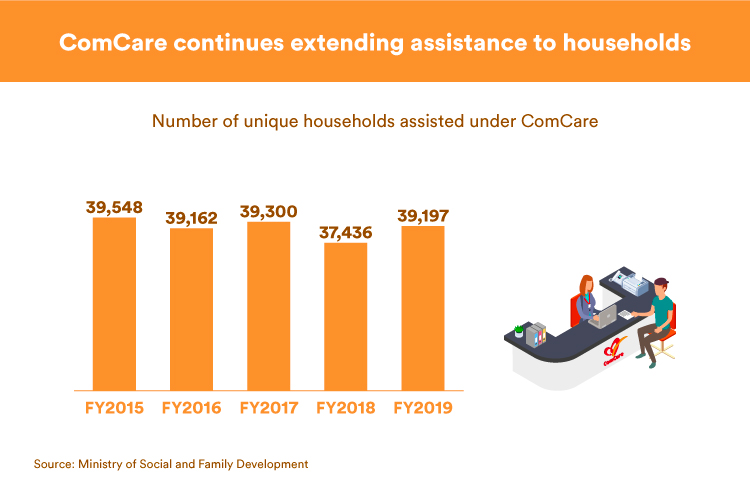 During the COVID-19 pandemic and the economic downturn caused by it, affected Singaporeans were also able to access additional support, such as the Temporary Relief Fund, the COVID-19 Support Grant, and the Community Development Council Vouchers Scheme.
Read more: Emerging Stronger as One
Targeted assistance through KidSTART
Lower-income families with children aged six years and younger can benefit from upstream support through KidSTART.
Parents and parents-to-be receive guidance on child development, coordinated and holistic family support, and updates on the developmental progress of their child through home visits in the community via KidSTART Groups or at the preschools.
Since 2016, about 1,000 children have benefited from KidSTART. Parents feel better supported and more confident in their parenting and engagement skills. Health and development issues are detected earlier among KidSTART children. They have also enrolled earlier in preschool. KidSTART will be expanded to more regions to benefit 5,000 more children and their families over the next three years.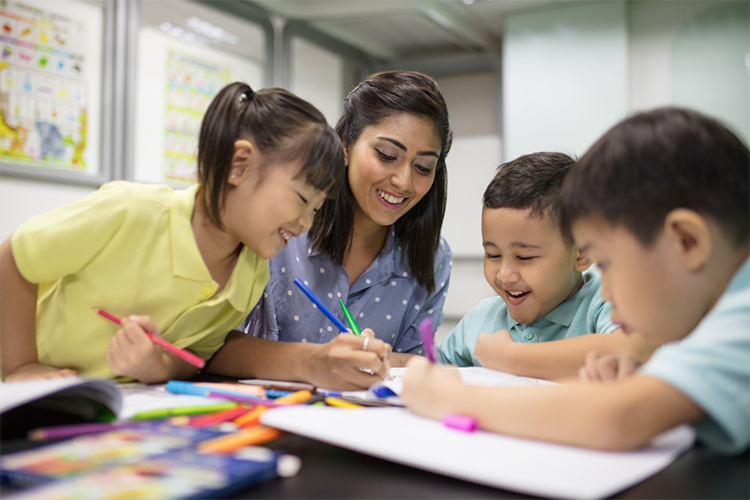 Strengthening social service delivery
Families facing complex issues receive more comprehensive, convenient, and coordinated support:
Lower-income and vulnerable families are now able to receive comprehensive support provided by more than 3,200 trained frontline officers across 14 public agencies, as at August 2020.
Lower-income and vulnerable families have received services with greater convenience, without having to visit multiple agencies or submit the same documents multiple times. Since 2019, families have been able to receive employment support, housing advice, and legal advice at all 24 Social Service Offices (SSOs), either in-person through co-located facilities or through video-conferencing.
Since 2018, families needing support from different agencies have been able to receive more coordinated care with the roll-out of a set of Case Master Action Planning guidelines to help agencies align their interventions and escalate cases, where necessary.
Homework Café
Rental flat families with children at Boon Lay, Jalan Kukoh, Kembangan-Chai Chee, and Marsiling receive proactive, holistic, and customised support through the Community Link (ComLink) initiative.
Each ComLink location has a workgroup led by the local Grassroots Advisor and comprising social service agencies, schools, preschools, public agencies, and grassroots volunteers serving in that area.
The workgroups meet regularly to provide intensive case support to families. They also curate programmes customised to the families' needs and bring in partners and resources to support these programmes. The Thye Hua Kwan Family Service Centre (THK FSC) and SSO workgroup located at Boon Lay is one such example.
Noticing the growing demand for tuition services in Boon Lay, they roped in partners, including the South West Community Development Council and the Nanyang Technological University, to set up a Homework Café.
The Homework Café has been providing online tuition to 31 students during the COVID-19 period, conducted by low bono tutors from the social enterprise The Learners Collaborative School. THK FSC also provides students emotional support and organises fun activities.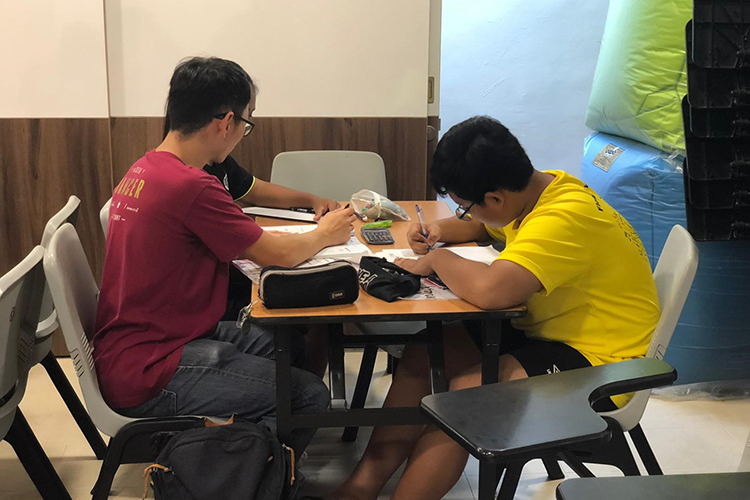 Helping those in need requires a whole-of-society effort. In 2018, the national volunteerism rate was 29% and Institutions of a Public Character received tax-deductible donations of more than $1 billion. Community partners play an important role:
The Partners Engaging and Empowering Rough Sleepers (PEERS) Network are community groups who befriend, engage, and shelter rough sleepers. Through the PEERS Network and their partnership with community partners, over 600 rough sleepers are now being sheltered in Safe Sound Sleeping Places while social agencies assist with their longer-term housing plans. The PEERS Network has 26 partners and is actively expanding.
Since its launch in September 2019, companies and individuals have raised over $800,000 under the "Growing Together with KidSTART" initiative. The initiative provides families in the programme with essential items, such as milk and diapers, transport for children to attend preschool or KidSTART programmes, learning resources, and Child Development Account top-ups. These companies and individuals are also fostering deeper and more sustained giving relationships with KidSTART children and families through regular volunteering and sustained contributions.
Read more: Singapore Together
Support for persons with disabilities
We have implemented various initiatives under successive Enabling Masterplans to maximise the potential of persons with disabilities and empower them to participate meaningfully in society. Disability services across agencies have also been consolidated under SG Enable, with effect from October 2020, to better serve persons with disabilities. As the single touchpoint for disability services across life stages and needs, SG Enable:
Provides referral services for disability schemes;
Administers grants, services, and programmes for persons with disabilities and their caregivers;
Enhances employability and employment options; and
Drives public education and outreach efforts.
With more customised and affordable early intervention services made available in 2019, children with developmental needs and their families now pay between 30% to 70% less than before. At least 4,500 children are benefitting from this. Most of the students who attend Special Student Care Centres now pay 30% to 80% less, with the fees reduced since July 2020.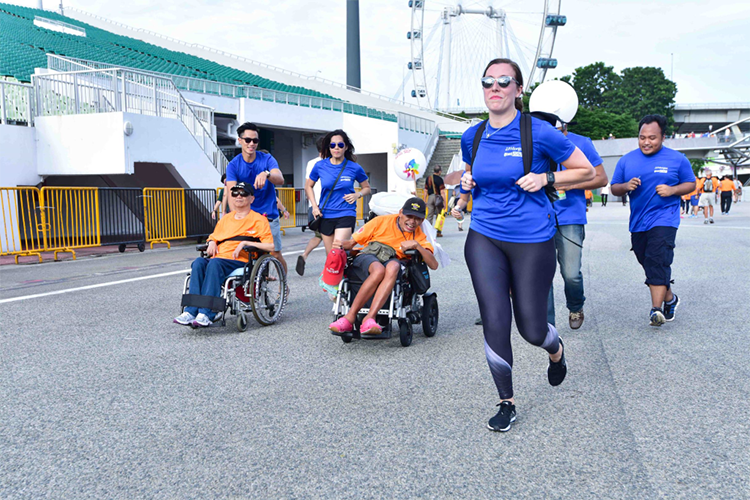 Read more: Quality Jobs | Government and Regulations
Regardless of their starting points, all Singaporeans are supported at various life stages, from birth to schooling years to working years and beyond, to ensure no one is left behind.
We have progressed together, with real incomes for lower- and middle-income workers growing slightly faster than higher-income workers over the past decade.
The fruits of Singapore's success are also shared in an equitable way via a progressive system of tax and transfers. Those who are better off contribute more, and those less well-off get more in transfers. In 2019, lower-income households continued to receive nearly $4 in benefits for every dollar of tax they paid, while middle-income households received about $2 for every dollar of tax they paid.
In 2019, households in one- to two-room flats continued to receive more than double the transfers from the Government compared to other households. On average, this was about $10,500 per household member.
After accounting for taxes and transfers, Singapore's Gini coefficient for 2019 fell from 0.452 to 0.398.