Seizing opportunities, energising enterprises
As Singapore transits towards COVID-19 resilience, new economic forces have emerged globally. Businesses are positioning themselves to adapt and seize opportunities in the face of these changing forces, to grow locally and internationally. The Government is committed to helping them do so.
Enhancing Singapore's connectivity and relevance
The pandemic has posed challenges to our businesses' internationalisation efforts with border closures and travel restrictions. It has also accelerated the push to deepen Singapore's linkages with the world, particularly Asia.
For example, Singapore's total merchandise trade with Asian partners saw a 13.0% increase from $738 million in 2018 to $834 million in 2021. In particular, merchandise trade with ASEAN expanded by 6.4% over the same period, making our recovery substantially faster than with the rest of the world at 2.6%.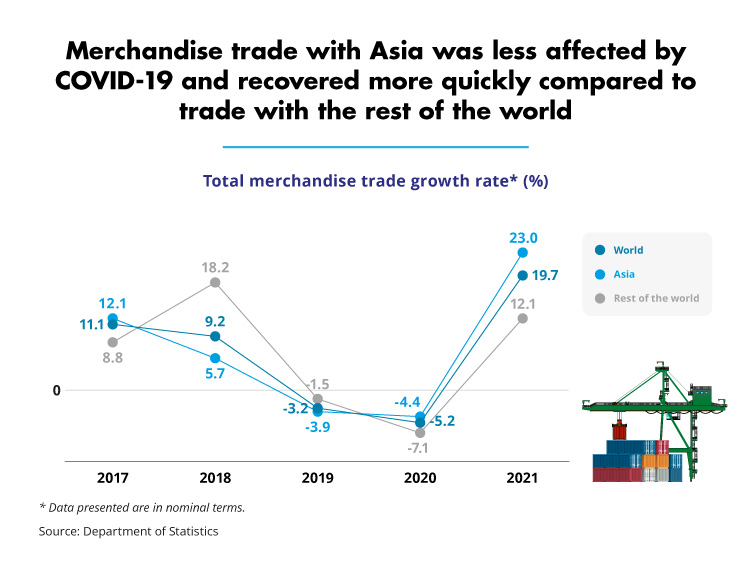 Asia remained the top region for Direct Investment Abroad (DIA), making up 50.5% of Singapore's DIA as at end 2020. In turn, ASEAN (18.4%) and China (14.4%) accounted for more than half of Singapore's DIA in Asia.
Businesses continued to pursue their international ambitions. In 2021, 1,600 enterprises received support such as in-market facilitation, advisory services, and internationalisation tools. Of note, more than 300 overseas projects were facilitated in the same period. These projects helped the enterprises secure new business and establish new partnerships and markets. For example, the eco-tourism company, Big Tiny, was introduced to Australian authorities to help the company expand into three new states, doubling its portfolio of Australian properties to more than 100.
We are growing a strong core of innovative Singapore Global Traders who have the potential to command global scale and partner enterprises in going international through the Global Trader Programme. There are over 400 global traders in Singapore today that generated over US$1.6 trillion in international trade flows in 2021. These include traders in the energy, agri-commodities, and metals sectors. Singapore is also the world's largest natural rubber trading hub, managing about 80% of global trade.
Read more: Economic Survey of Singapore 2021
Read more: Infrastructure and Logistics | Strengthening Our Supply Chain Resilience
The digital economy remains a strong source of economic growth. Many businesses have rapidly digitalised their activities to capitalise on the opportunities brought about by COVID-19. For example, the proportion of firms adopting digital technologies increased from 74% in 2018 to 91% in 2021. These firms have adopted at least one digital solution from nine categories of digital technologies - cybersecurity, cloud, e-payment, e-commerce, data analytics, artificial intelligence, internet of things, blockchain, and immersive media.
The Government continues to support businesses to give them the confidence to go digital and reap the benefits.
More than 85,000 small and medium enterprises (SMEs) have leveraged solutions and services under SMEs Go Digital as at June 2022. These included SMEs that benefitted from solutions such as remote working tools, visitor management systems, and teleconsultations, to ensure business continuity during the pandemic.
The Chief Technology Officer-as-a-Service (CTO-as-a-Service), a one-stop platform for SMEs to access digitalisation resources at their convenience, was introduced in 2021. As at September 2022, more than 10,000 SMEs have used CTO-as-a-Service to access resources and support. This included over 500 SMEs that have engaged digital consultants.
More than 60% of hawker stalls have adopted e-payments with assistance from Hawkers Go Digital as at September 2022. This translates to more than 11,000 stallholders.
One in two hawkers are on online ordering platforms
During the pandemic, many hawkers faced poor business due to safe management measures and changes in consumer habits. The Alliance for Action (AfA) on Online Ordering for Hawkers collaborated with online ordering platforms to develop an integrated interface to manage orders across all platforms. As at September 2022, 17 hawker centres have adopted the solution. The AfA also set up Digital Support for Hawkers groups at 26 hawker centres to provide peer support for the less digitally savvy hawkers. These efforts saw an increase from 34% to 47% of hawkers subscribing to at least one online ordering platform in 2021.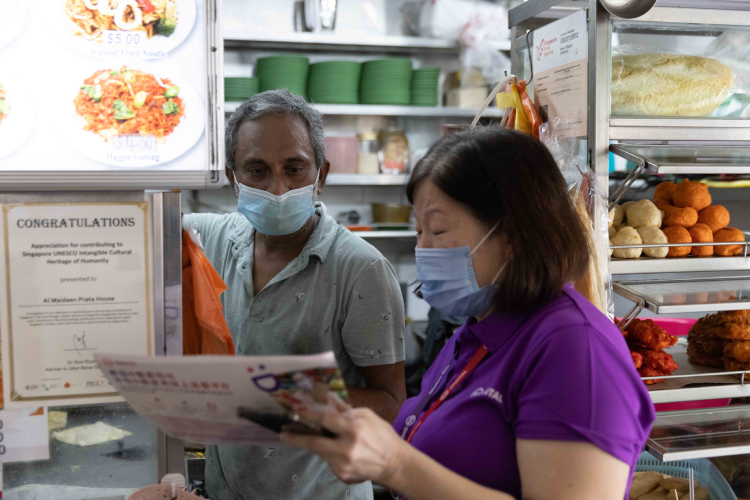 Since the launch of Heartlands Go Digital in October 2020, the programme supported more than 9,000 enterprises in digital adoption, storefront enhancement, and marketing to remain competitive. The number of heartland businesses that have gone online rose from 36% to 65% as at August 2022. Nearly nine in 10 heartland businesses accept e-payments.
Breaking boundaries of brick-and-mortar retail stores
Heng Foh Tong is a family-run traditional Chinese medicine hall that has expanded beyond their brick-and-mortar retail store into an international business online. The heartland business set up their own e-commerce site and integrated e-payments. The 65-year-old shop also underwent a shopfront refresh, and the business owners upgraded their digital marketing capabilities through the Visual Merchandising programme under Heartlands Go Digital. Online sales now make up 20% of the shop's revenue. Heng Foh Tong observed a 10% uptick in footfall to its physical store and a 20% increase in revenue, compared to before COVID-19.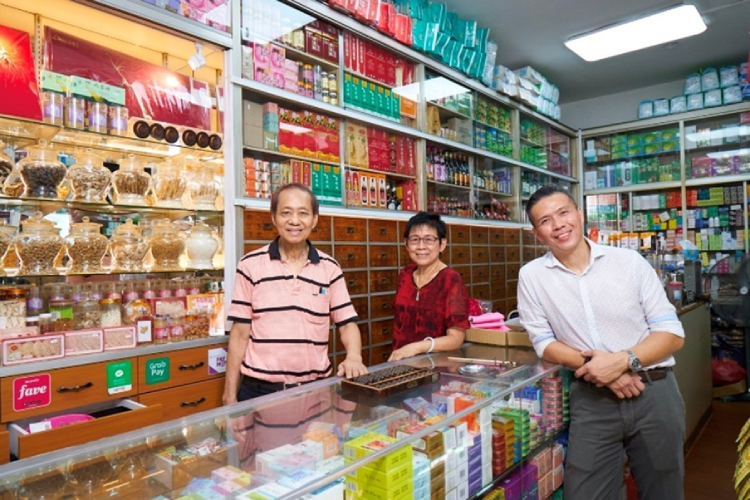 Read more: Building Our Future Together | Cyber and Data Security
Strengthening our innovation capabilities
Singapore is a global innovation node. Business expenditure on research and development (R&D) increased from $5.3 billion in 2016 to $6.6 billion in 2020, at a four-year compound annual growth rate of 5.6%. The private sector spent $1.73 for every dollar spent by the Government on R&D. In the same period, sales revenue from the commercialisation of R&D by businesses in Singapore reached $30.8 billion in 2020, compared to $29.3 billion in 2016. Singapore was also ranked seventh in the world by the World Intellectual Property Organisation's Global Innovation Index 2022.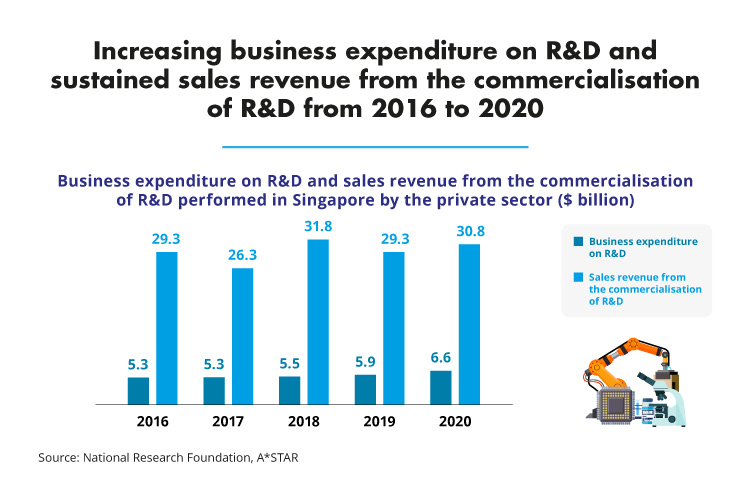 The $25 billion Research, Innovation and Enterprise (RIE) 2025 plan continues to build Singapore's capabilities to tackle a broad spectrum of national imperatives and enhance our economic competitiveness.
Sustained investments in biomedical sciences have nurtured a strong base of globally competitive research capabilities, talent, and networks. This has enabled Singapore to develop a quick and effective response to the COVID-19 outbreak. For example, the Fortitude diagnostic test kit was developed locally within three weeks to support COVID-19 testing in Singapore. Over seven million kits have been deployed to more than 45 countries.
Businesses receive support to leverage technology for innovation, so that they can develop new products and solutions. The Centres of Innovation provide SMEs with one-stop support including lab facilities, consultancy and training, and development and testing of technology projects. As at October 2022, nearly 300 innovation projects have been completed. Three more centres, launched in October 2022, will support up to 1,500 SMEs in the next five years.
Developing new products with the Centres of Innovation
Organic7days started out as a distributor for baby food. With the support of the Food Innovation & Resource Centre at Singapore Polytechnic, the company was able to conceptualise, develop, and mass produce locally flavoured, ready-to-eat baby food products, which are now carried by major retailers in Singapore.
Our startup landscape remained resilient and vibrant despite the pandemic. Based on the Global Startup Ecosystem Report 2022 by Startup Genome, Singapore performed well in three success factors of funding, talent & experience, and market reach, and was ranked 18th globally as a startup ecosystem.
In 2021, more than 2,300 tech startups were supported through Startup SG initiatives, gaining access to funding, incubation, and mentorship opportunities. This was a 10% increase compared to 2020.
Through SEEDS Capital, $48.6 million was invested into 46 early-stage tech startups in 2021, catalysing close to $334 million worth of private sector investments.
Supporting startups throughout their growth journey
PatSnap, a business specialising in patent data search and analytics, is a notable startup within Singapore's innovation and enterprise ecosystem. It achieved unicorn status, landing US$300 million in funding in March 2021. The startup received government support through its growth journey. For example, the Government supported PatSnap to develop and enhance its R&D centre in Singapore, which has served as the hub for the development of new innovations such as "Discovery", a product which combines business intelligence with intellectual property data.
Read more: National Survey of RIE 2020
Read more: Economy and Labour Market | Business Environment
Supporting businesses to capture growth areas in sustainability
Sustainability is a key priority of our economic strategy in the next bound of growth. We have been making steady progress in our commitment to transit to a robust, low-carbon green economy.
From 2017 to 2021, over $65 billion of green, social, sustainability, and sustainability-linked bonds and loans were issued in Singapore. The inaugural $2.4 billion sovereign green bond was issued under the Singapore Green Bond Framework in August 2022. The Government will issue up to $35 billion of green bonds by 2030 to finance public sector green infrastructure projects. This will help deepen market liquidity for green bonds, attract green issuers, capital and investors, and anchor Singapore as a green finance hub in Asia.
A total of US$1.9 billion under the Green Investments Programme has also been deployed from October 2019 to February 2022 to catalyse the growth of sustainable investment capabilities in Singapore and to support green efforts in the region.
Under the Enterprise Sustainability Programme, the Enterprise Financing Scheme – Green was launched in October 2021 to provide companies developing green technologies and solutions with better access to green financing. 19 local enterprises, such as solar energy developer Terrenus Energy and Durapower Group, have taken up close to $60 million in such loans.
Leveraging green financing to capture new opportunities in sustainability
Durapower Group was extended a green trade loan of $6 million, enabling the development and distribution of its high-tech energy storage solutions for the Tuas Port's automated guided vehicle fleet.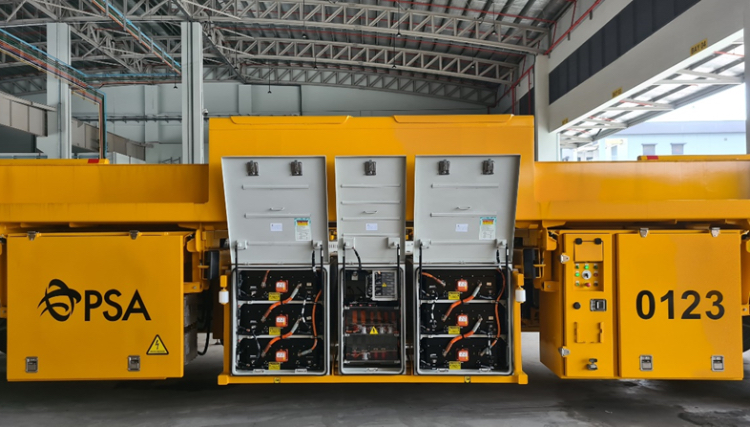 Read more: Environment and Sustainability
A vibrant innovation system, extensive connectivity to the region and the world, and a trusted regulatory system have positioned Singapore strongly to capture future opportunities. There are many exciting developments in emerging areas through internationalisation, digitalisation, innovation, and sustainability. The Government will continue to strengthen our partnership with tripartite partners and help Singaporeans compete strongly and fairly. At the same time, Singaporeans must take charge of their growth and seize these new opportunities.