A global city in uncertain times
Singapore is an open and connected economy that has benefitted from access to goods, talent, and ideas from around the world. This has enabled us to prosper and grow into a world-class city.
At the same time, we are vulnerable to the impact of global developments. The COVID-19 pandemic has laid bare the fragility of international supply chains. Restrictions on the movement of people, as well as stoppages to production and logistic flows, threatened to severely disrupt the supply of goods and services. As the pandemic abates, countries still face significant supply shocks stemming from a myriad of factors ranging from geopolitical tensions to climate change.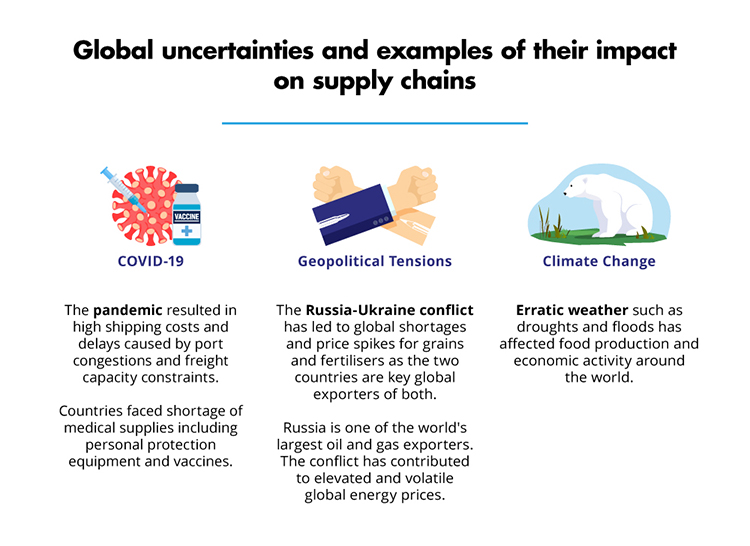 Being prepared for disruptions
Scarcity and supply shocks are not unfamiliar to Singapore. Much effort has been invested by the public and private sectors to strengthen the resilience and diversity of our supply chains and to build deep competencies within the country in this area.
First, we uphold Singapore's reputation as a reliable and trusted partner among businesses and the international community. Throughout the pandemic, Singapore was one of the few countries which did not impose export controls, even at the height of the pandemic when masks, respirators, and vaccines were scarce. We actively worked with like-minded countries to sustain the smooth and timely flow of goods and open supply chains.
Second, Singapore practises diversification to ensure a reliable supply of critical goods. This enables us to adapt when a source is disrupted and work together with a wide range of trusted partners to ensure supplies flow even under difficult circumstances.
Third, we continue to invest in new and existing connectivity infrastructure as we reinforce Singapore's status as a major logistics and trading hub. By expanding connections across the world for resources and markets with strong capabilities to sustain these connections at home, we can reduce the risk of disruptions and keep trade flows going.
Joint statement on action plans to facilitate the flow of goods and services
In May 2020, Singapore signed a joint statement with Australia, Canada, Republic of Korea, and New Zealand to reaffirm commitment to cross-border flows and concrete actions to alleviate the impact of COVID-19. The statement agreed on the following:
Expedite customs procedures and refrain from introducing export restrictions on essential items such as food and medical supplies. There was also agreement to ensure the continued operation of logistics networks via air, sea, and land freight.
Facilitate the resumption of essential cross-border travel, while balancing public health considerations in line with efforts to combat the pandemic.
Minimise the impact of COVID-19 on trade and investment and facilitate an inclusive and sustainable economic recovery from the pandemic.
Read more: Singapore reaffirms commitment to facilitate cross-border flows with Australia, Canada, Republic of Korea, and New Zealand
Read more: Legal and Diplomacy | Infrastructure and Logistics
In addition, measures are in place to help Singaporeans and businesses tide over the effects of temporary supply shocks.
Essential goods
The Government, in partnership with the private sector, stockpiles food and other essential items. For example:
Under the Rice Stockpile Scheme, rice importers are required to hold an inventory buffer equivalent to twice of their monthly imports. This helps to ensure an adequate supply of rice in the market even during supply disruptions. The items and target amounts for our food stockpiles are assessed and re-calibrated periodically, to ensure that they remain relevant and sufficient to address the anticipated risks in an increasingly uncertain environment. Since 2020, when we began to experience greater disruptions to our food supply chain, the Government has expanded our food stockpiles.
There is a national stockpile of drugs and medical supplies such as personal protective equipment and N95 masks. Besides the fight against COVID-19, the N95 mask stockpile was utilised in 2013 when the transboundary haze reached hazardous levels.
Power generation companies are required by law to stockpile at least 60 days of fuel. In response to the ongoing global energy crisis, temporary crisis management measures were put in place to safeguard energy security since October 2021. These included requiring the companies to maintain sufficient fuel stockpiles for power generation and establishing a standby liquefied natural gas facility which the companies can draw from if there are fuel disruptions. Essential construction supplies including sand and granite are also stockpiled.
Read more: Health and Wellness | Environment and Sustainability
People and capabilities
We have anchored essential production and research capabilities, as well as talent, in Singapore, giving us increased agility in times of supply disruptions. For example:
The Fortitude diagnostic test kit was developed locally within three weeks in 2020 and has been implemented across public and private hospitals as well as clinical labs since February 2020 to support COVID-19 testing in Singapore.
On top of sourcing for new suppliers and stockpiling, the domestic production of masks was ramped up from February 2020 to meet the needs of healthcare workers and the population. A*STAR partnered local textile company Ramatex, to develop and manufacture reusable masks. ST Engineering also started the local production of medical-grade surgical masks, in addition to existing N95 mask production.
Read more: Food supply chain resilience during and beyond the pandemic
Read more: Economic Opportunities | Business Environment
Financial
Over the decades, Singapore has built up a significant financial advantage, compared to other countries, which has provided the fiscal space to safeguard our interests.
For example, we were able to mount a timely and decisive response to COVID-19 because of Singapore's financial reserves. Between Financial Years 2020 and 2021, the Government spent $72.3 billion to protect jobs, provide social assistance, and maintain a multi-layered public health defence, including vaccinating Singaporeans. Up to $36.9 billion of this was funded from past reserves, enabling us to provide significant support without incurring a huge debt for future generations.
The investment returns of Singapore's reserves supplement the Government's annual budget through the Net Investment Returns Contribution (NIRC). NIRC will contribute an estimated $21.6 billion in Financial Year 2022, which is about 20% of the budget.
Read more: How do Singaporeans benefit from our reserves
Read more: Government and Regulations
We must contribute collectively to strengthen supply chain resilience. While the strategies above help to mitigate the risks and impact of supply shocks, it would not be practical to prevent disruptions entirely nor insulate ourselves fully.
As a nation, our resilience is reflected in how we collectively adapt to overcome new challenges, forge cohesiveness, help others in times of need, and emerge stronger from crisis.