Overcoming challenges as one
The COVID-19 pandemic has severely disrupted global economic activity, with significant impact on businesses and livelihoods. In 2020, Singapore's economy shrank by 4.1%, its worst full-year recession since independence.
Consumer-facing sectors such as retail, food services, and tourism-related sectors were badly affected by the border closures and cutback in domestic consumption amidst the implementation of safe management measures.
Outward-oriented sectors such as manufacturing and wholesale trade were affected by the fall in external demand and supply chain disruptions.
Businesses received support through an extensive range of schemes to help them weather the immediate impact of the pandemic and seize medium-to-longer-term opportunities in an endemic world.
More than $28.1 billion has been disbursed to 180,000 employers over eight tranches from 2020 to 2022 under the Jobs Support Scheme (JSS).
Jobs Support Scheme
JSS was introduced during the Unity Budget in February 2020 to provide wage support to employers to retain their local employees during the period of economic uncertainty due to the pandemic. It was subsequently enhanced to support businesses and workers during the Circuit Breaker and other periods of restrictions. Eligible employers received support of up to 75% of the first $4,600 in gross monthly wages paid to each local employee. JSS support levels were determined by the industry sector, with firms in sectors that were more affected by COVID-19 accorded higher support. The last tranche for JSS was distributed in March 2022. The scheme was effective in helping locals retain their jobs in sectors that were more severely affected by the pandemic and also helped to support local workers' wages. It was estimated to have saved around 165,000 local jobs between March and December 2020.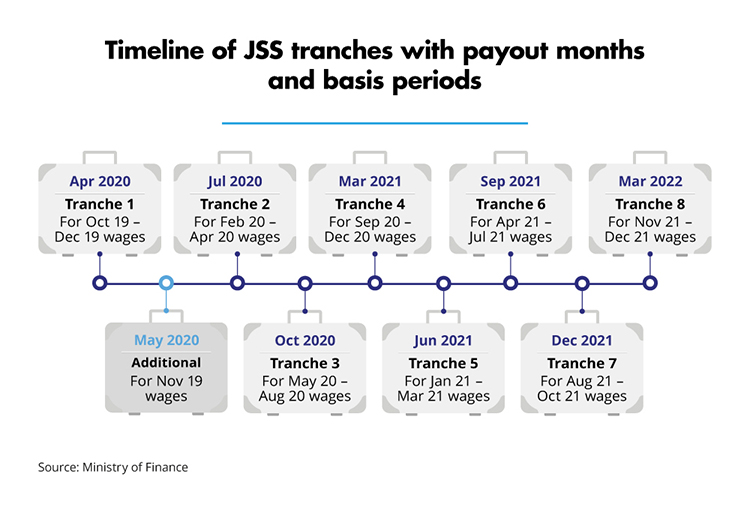 The Jobs Growth Incentive (JGI) provided salary support for eligible employers to expand local hiring, supporting 83,000 firms between September 2020 and February 2022. JGI has been extended till March 2023.
$8.6 billion worth of loans were extended to 12,600 enterprises in 2021, mainly under the Temporary Bridging Loan Programme and the Enterprise Financing Scheme – Trade Loan. These helped enterprises to manage immediate cashflow needs and support their trading activities.
Over 10,000 enterprises were supported through the E-Commerce and Food Delivery Booster Packages that were reintroduced in 2021, to enable them to go digital and sell online during the Phase 2 Heightened Alert period.
In 2021, more than 18,000 enterprises utilised the SkillsFuture Enterprise Credit to invest in enterprise and workforce transformation efforts, such as job redesign, career conversion programmes, and training aligned to the Skills Framework.
The Enhanced Training Support for small and medium enterprises (SMEs) offered additional funding support of up to 90% of course fees when SMEs send their employees for training. In 2021, 13,000 SMEs benefitted from the scheme, training more than 49,000 workers.
These measures alleviated the impact of the pandemic and kept businesses going. An analysis by the Monetary Authority of Singapore (MAS) found that the COVID-19 Budget measures over 2020 and 2021, buttressed by accommodative monetary policy, supported Singapore's real Gross Domestic Product (GDP) growth by 6.6 percentage points and 0.8 percentage points in 2020 and 2021 respectively.
Business formation remained strong. On average, more than 64,000 business entities were formed per year in 2020 and 2021, slightly higher than the 62,000 formed in 2019.
Read more: Assessment of the Impact of Key COVID-19 Budget Measures
Read more: Education | Social Safety Nets
Emerging strongly from the pandemic
The global economy has rebounded strongly from the COVID-19-induced contraction in 2020. Singapore's strong economic fundamentals and extensive connectivity to the world provided the ballast to ride out the storm encountered in 2020. In 2021, our economy expanded by 7.6% with growth mainly driven by manufacturing, finance and insurance, and wholesale trade sectors.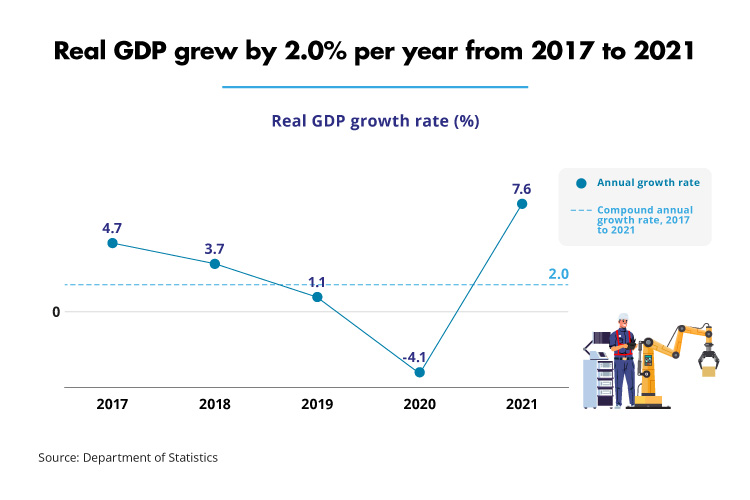 In tandem with the economic recovery, labour productivity, measured by real value-added per actual hour worked, rose by 5.2% in 2021. Labour market conditions also improved considerably compared to 2020. Total employment expanded by 1.1% (40,200) in 2021 and unemployment declined, backed by strong resident employment growth. Inflation in Singapore also rose alongside the economic recovery. MAS' Core Inflation measure picked up to 0.9% in 2021, from the mild deflation of 0.2% experienced in 2020.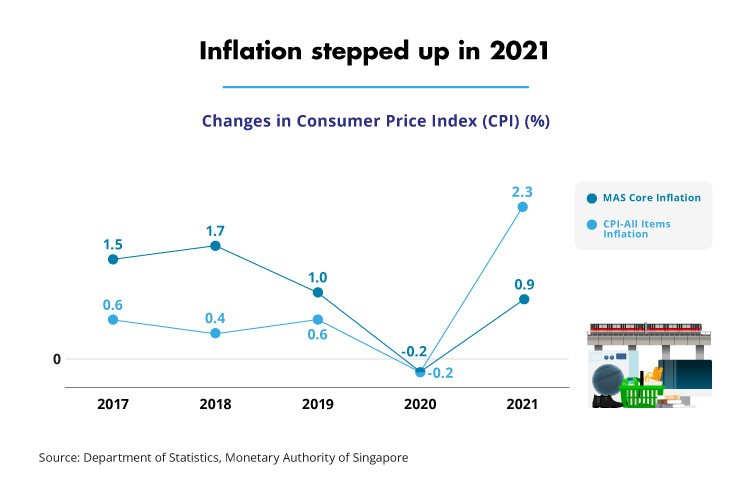 Inflationary pressures have since intensified in 2022. This reflects the sharp increases in key commodity prices and global supply chain disruptions, as well as a tightening domestic labour market. Inflation in Singapore has therefore picked up, with MAS Core Inflation projected to be around 4%. To slow the momentum of price increases, MAS began tightening monetary policy in October 2021.
Read more: Infrastructure and Logistics | Strengthening Our Supply Chain Resilience
Reinforcing Singapore's global attractiveness
Businesses continued to be confident in Singapore as a choice location for new investments and the expansion of business activities.
Despite the economic headwinds and border restrictions between 2020 and 2021, the Economic Development Board (EDB) attracted investment commitments amounting to $11.8 billion in fixed asset investments (FAI) and $5.2 billion in total business expenditure per annum in 2021. While investments from semiconductor and biotech companies accounted for more than half the commitments secured, new investments were seen across sectors such as agri-food, chemicals & materials, and electronics. In 2020, EDB recorded a 12-year high of $17.2 billion in FAI commitments.
These investments will translate into more opportunities for our people. For example, when the investment commitments in 2021 are fully implemented, they are expected to create over 17,000 new jobs in the coming years with a projected contribution of $16.8 billion in value-added per annum.
Continued performance in education, such as in the Programme for International Student Assessment study, and the ability to stimulate diversity in the workforce remain Singapore's strengths. In INSEAD's Global Talent Competitiveness Index 2022, Singapore clinched second position, behind Switzerland, and the top position in Asia-Pacific.
Read more: Economic Survey of Singapore 2021
Read more: Economic Opportunities
Building a future-ready workforce and industries
Since the launch of the 23 Industry Transformation Maps (ITMs) in 2016, we have made good progress. From 2016 to 2019:
Labour productivity grew by 2.7% per year, up from 2.3% in the preceding three years.
Real median income of full-time employed residents grew by 3.4% per year, up from 3.1% in the preceding three years.
While the pandemic disrupted the progress of the ITMs, it has accelerated trends such as digital transformation, risks to globalisation, and a focus on sustainability. The Future Economy Council is refreshing all 23 ITMs, under ITM 2025, to meet the accelerated changes brought about by COVID-19 and ensure that Singapore's economy adapts to stay ahead of the competition. As at October 2022, 12 refreshed ITMs have been launched.
We have continued to update our foreign workforce policies to ensure that businesses have access to complementary foreign manpower while keeping Singapore's reliance on foreign manpower sustainable. For example:
In the past few years, we have progressively raised the quality of Employment Pass (EP) and S Pass holders.
We have improved the processing time for all EP applications since August 2022 and restored the Fair Consideration Framework job advertising duration from 28 to 14 days since September 2022, to help companies be more responsive to business needs.
Further updates to the qualifying salaries and levies have been progressively implemented since September 2022. These benchmark EP and S Pass holders against the top one-third of local professionals, managers, executives, and technicians wages and associate professionals and technicians wages respectively.
A points-based Complementarity Assessment Framework (COMPASS) will take effect from September 2023. COMPASS will enable companies to select high-quality foreign professionals while improving workforce diversity and building a strong Singaporean core.
With the intensifying competition for talent across the world, we are in the midst of enhancing our work pass framework to better attract top talent and experienced tech professionals in areas with skills shortages.
A new Overseas Networks & Expertise Pass has been introduced for top talent across all sectors, comparable to the top 5% of EP holders. The pass will be open for applications in January 2023.
A new benchmark pegged to the top 10% of EP holders will be implemented from September 2023. EP applicants of this quality will continue to be exempted from the Fair Consideration Framework job advertising requirement and COMPASS.
A longer five-year duration EP will be offered to experienced professionals filling specific tech occupations on the COMPASS Shortage Occupation List from September 2023. This will give greater certainty to experienced tech professionals and the businesses hiring them, and allow Singapore to anchor tech capabilities while we develop our local pipeline.
Read more: Quality Jobs | Business Environment
Charting a new path forward
Against the backdrop of recovery, real GDP is expected to expand between 3.0% and 4.0% in 2022. Nonetheless, we face a rapidly evolving external environment. Major trends in technology, geopolitics, and climate change will fundamentally affect how Singapore makes a living going forward. Businesses, workers, unions, and the Government must work together to press on with economic transformation to ensure that all Singaporeans are empowered to seize new opportunities while being assured of support in difficult times. This spirit is the backbone to continued economic growth and an equitable and progressive society.