Alongside increased business activity, employment rebounded in 2021 from the COVID-19-induced contraction in 2020.
Unemployment rates improved but remained elevated in 2021, especially among residents aged 40 years and older. Retrenchments among residents fell substantially to 6,430 in 2021, after reaching an 11-year high of 14,380 in 2020. The overall employment rate of graduates from local Autonomous Universities, Polytechnics, and the Institute of Technical Education for 2020 and 2021 was also comparable to 2018 and 2019, cushioned by support measures such as the SGUnited Traineeships programme.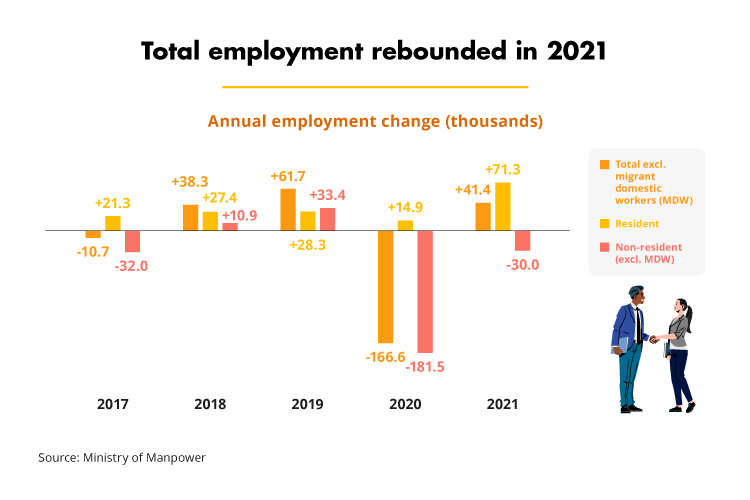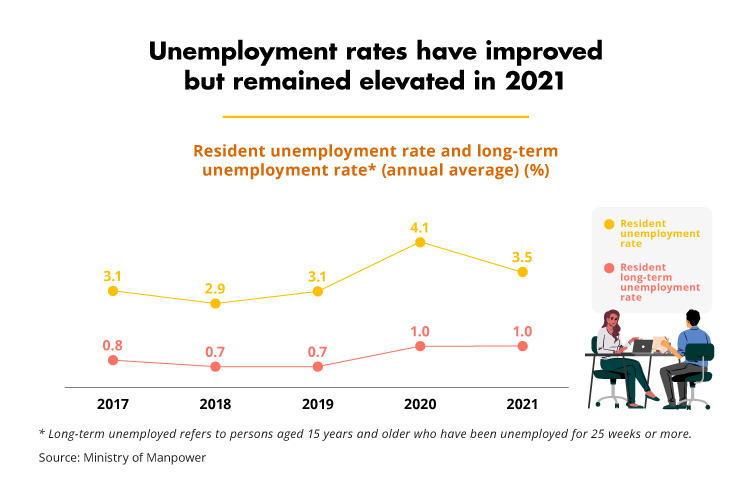 In 2021:
The share of professionals, managers, executives, and technicians (PMETs) among employed residents rose at a faster pace compared to previous years. More residents were hired into PMET roles, reflecting demand from sectors such as healthcare, financial and insurance services, and professional services.
Non-PMET employment declined as sectors with a higher share of non-PMETs such as administration and support services, transportation and storage, and accommodation continued to be affected by the prevailing travel and safe management measures. Nonetheless, unemployment rates for resident non-PMETs improved by 1.3 percentage points compared to 2020.
Read more: Labour Force in Singapore 2021
The SGUnited Jobs and Skills package supported Singaporean jobseekers during the pandemic.
As at April 2022, more than 203,000 jobseekers have been placed into jobs and skills opportunities.
The Jobs Growth Incentive complemented this by providing salary support to businesses to expand local hiring. About 709,000 Singaporeans benefitted from the incentive between September 2020 and February 2022.
The package helped local job seekers in various stages of their careers build up their skillsets and networks with industry-relevant experience, improving employment outcomes.
Read more: Assessment of the Impact of Key COVID-19 Budget Measures
Improving wages to achieve higher standards of living
Despite higher inflation dampening improvements in income growth, real median income grew in 2021 after a decline in 2020.
Together with unions and employers, we have made good progress in uplifting lower-wage workers. From 2016 to 2021, the real income growth of 20th percentile earners was 2.7% per annum, which was faster than the 2.1% per annum growth for median earners.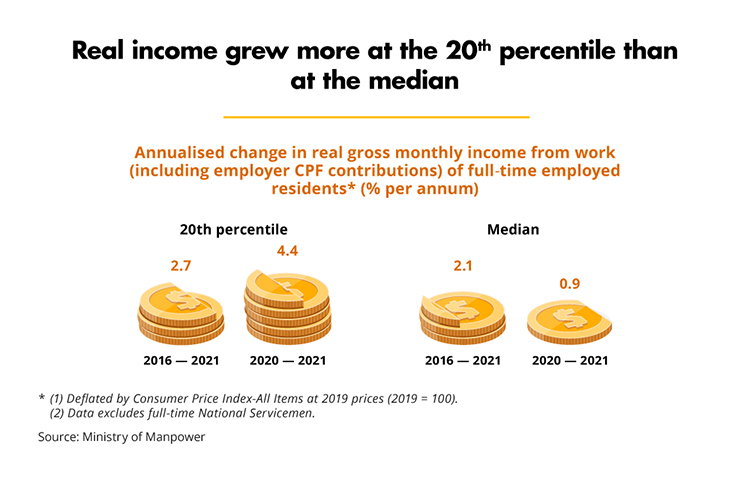 Since 2021, the Government has been in the process of implementing the 18 recommendations by the Tripartite Workgroup on Lower-Wage Workers to refresh the societal consensus on uplifting lower-wage workers. These include expanding Progressive Wage efforts to cover more than nine in 10 full-time lower-wage workers by 2023, up from one in 10 workers in 2021.
The Progressive Wage Credit Scheme was introduced in February 2022, providing government co-funding for the wage increases of lower-wage workers from 2022 to 2026. This supports sustained and better wage increases for lower-wage workers and helps to reduce the cost burden on employers. The scheme was enhanced in June 2022 with the Government taking on a larger proportion of the wage increase in 2022.
In 2021, 460,000 lower-wage workers benefitted from $850 million in Workfare Income Supplement (WIS) payouts. The payouts supplement their incomes and help them save for retirement. WIS will be enhanced from 2023 with a higher qualifying income cap of $2,500 per month and a higher maximum annual payout of $4,200.
Read more: Social Safety Nets
Enabling a skilled and future-ready workforce
With accelerating digitalisation and growing emphasis on environmental, social, and governance factors among businesses, we continue to invest significantly in Singaporeans to equip them with the necessary skills to seize these and other opportunities.
There is a wide range of programmes offered by Workforce Singapore, SkillsFuture Singapore (SSG), and the various sectoral agencies to help employers and workers upskill and reskill. For example:
From 2016 to 2021, over 1,500 individuals have benefitted from leadership development programmes under the SkillsFuture Leadership Development Initiative.
In 2021, 163,000 Singaporeans in their 40s and 50s benefitted from the SkillsFuture Mid-Career Enhanced Subsidy that provided higher subsidies of up to 90% of course fees for SSG-supported courses and at least 90% of the programme cost for Ministry of Education-subsidised full qualification programmes.
SkillsFuture Credit
Mr Jon Chan was developing education software for more than 10 years before the pandemic. He attempted to move into other fields but did not have the relevant skills or qualifications to secure a job.
To improve his employability, Jon tapped on the SkillsFuture Credit (Mid-Career Support) to sign up for the i.am-vitalize programme, a SGUnited Mid-career Pathways Programme – Company Training led by IBM. The programme exposed him to the current digital technologies and enabled him to apply his new skills.
With the additional support of the programme staff in his job search, he clinched a role as a Security Operations Center Analyst at IBM, where he deals with cybersecurity threats and supports enterprises by establishing global cybersecurity monitoring disciplines.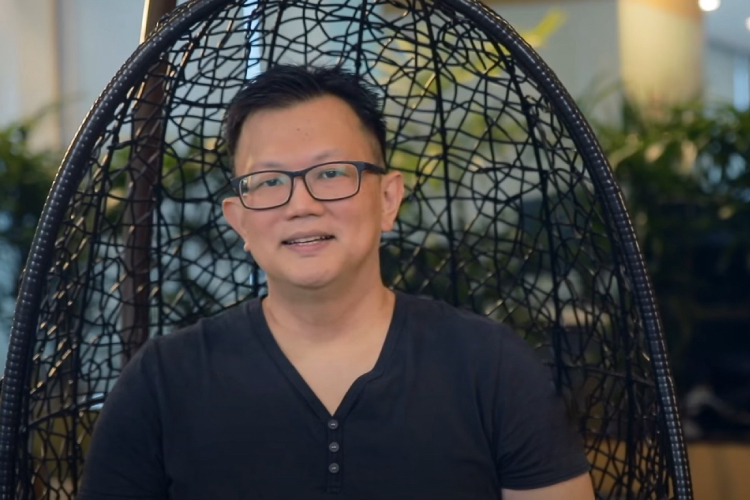 Building on the progress since 2016, the Future Economy Council is refreshing all 23 Industry Transformation Maps (ITMs), under ITM 2025, to meet the accelerated changes brought about by COVID-19, with a greater focus on jobs and skills.
Read more: Education | Economy and Labour Market
Nurturing progressive workplaces
It is important that employees and jobseekers have access to fair opportunities to succeed in the workplace. Through continuous efforts in education and enforcement, we have seen employment standards improve. Based on the Fair Employment Practices Survey 2021:
Workplace discrimination among resident employees fell sharply from 24% in 2018 to 8% in 2021.
The most common form of discrimination was by age (4.6%), followed by pregnancy status (3.7%), mental health condition (3.2%), race (2.8%), gender (2.1%), and disability (2.1%).
One in five employees who faced workplace discrimination sought help from avenues such as their organisation, union, friends and family, and the Government. Those who remained silent were more concerned over possible repercussions at work or in their careers, or felt that the issue was not severe enough to warrant a report.
We will continue with our efforts in strengthening workplace fairness, guided by the Tripartite Guidelines on Fair Employment Practices.
The Tripartite Alliance for Fair and Progressive Employment Practices (TAFEP) has been raising awareness on the importance of workplace fairness and available resources through mass media, collaborations with industry and community partners, and workshops. For example, the "Workplace Discrimination. Know it to end it." campaign was launched in March 2022, raising awareness of unconscious biases at the workplace through its multi-media approach.
Employees and jobseekers who face workplace discrimination are encouraged to approach TAFEP for advice and assistance. TAFEP received about 310 workplace discrimination complaints per year from 2017 to 2021 and investigated all complaints.
We are taking a stronger stance against unfair employment practices by introducing workplace fairness legislation. The Tripartite Committee on Workplace Fairness is working on the scope of legislation.
We are also mindful of growing risks from blurred work-life boundaries. Findings from iWorkHealth – a free online, company-administered psychosocial health assessment tool – showed that between March 2021 and July 2022, about 34% of employees experienced work stress and 33% of employees felt burnout from work.
Flexible Work Arrangements (FWAs) including telecommuting and staggered work hours, have become more prevalent. The proportion of employees who were working in establishments offering at least one FWA on a regular and sustained basis increased from 65% in 2015 to 86% in 2020. Among employees aged 25 to 64 years who required FWAs, nine in 10 had access to the FWA they needed in 2020, up from six in 10 in 2014.
Tripartite partners are encouraging the adoption of the voluntary Tripartite Standard on FWAs and equipping more employers to make FWAs more pervasive.
Tripartite Guidelines on FWAs will be introduced by 2024 to make it a requirement for employers to fairly and properly consider FWA requests.
Read more: Conditions of Employment 2020
Read more: Family | Health and Wellness | Retirement
Building a resilient workforce
Rising inflation, geopolitical tensions, and uneven economic recovery are challenges that employees and jobseekers will face. Some segments, including older jobseekers and those who have been out of the workforce for a while, need more support. The Government will continue to partner employers and jobseekers to grow, adapt, and build resilience, and to create opportunities at all levels of the workforce.