Connecting businesses physically and digitally
Singapore is one of the top countries in the world for physical and digital connectivity. With connections to 380 cities, OAG ranked Singapore Changi Airport as Asia-Pacific's most internationally connected airport in 2018 and 2019. The United Nations Conference on Trade and Development's Liner Shipping Connectivity Index ranked Singapore second for maritime connectivity in container shipping in both 2018 and 2019, with connections to 600 sea ports in over 120 countries. The connectivity of our air and sea hubs enables our businesses to remain plugged in for trade worldwide, contributing about 10% to our Gross Domestic Product. For the past five years, Singapore has also ranked in the top five of the Global Connectivity Index for our strengths in digital infrastructure and industry connectivity.
Accessing global opportunities through strong air connectivity
Our strong air connectivity anchors our trade and business hubs, enabling companies to conveniently access opportunities around the globe. In 2019, Changi Airport handled a record 68 million passenger movements and was the seventh busiest airport in the world for international air travel. Meanwhile, Changi Airport also welcomed seven new passenger airlines and established three new city links. Changi Airport was also one of the top 10 busiest airports for international airfreight in 2019, handling over two million tonnes of airfreight volume.

Facilitating operations for shipping companies calling at the Port of Singapore
Singapore's port is the top transhipment port in the world, handling 37.2 million 20-foot equivalent units (TEUs) in 2019. Our extensive sea connectivity enables our manufacturing, logistics, and wholesale trade sectors, and secures our supply chain resilience. We are a leading global international maritime centre, ranked first by the Xinhua-Baltic International Shipping Centre Development Index since 2014 due to our port throughput and infrastructure, breadth and depth of professional maritime support services, as well as general business environment.
We are streamlining port clearances to improve efficiency. We launched Phase 1 of digitalPORT@SGTM, which streamlines vessel, immigration, and port health clearances by consolidating 16 separate forms required by multiple agencies into a single application. Shipmasters and ship agents from more than 550 shipping companies can now submit, track, and receive approval for arriving and departing ships through the portal. As a result, the industry can save up to 100,000 man-hours per year.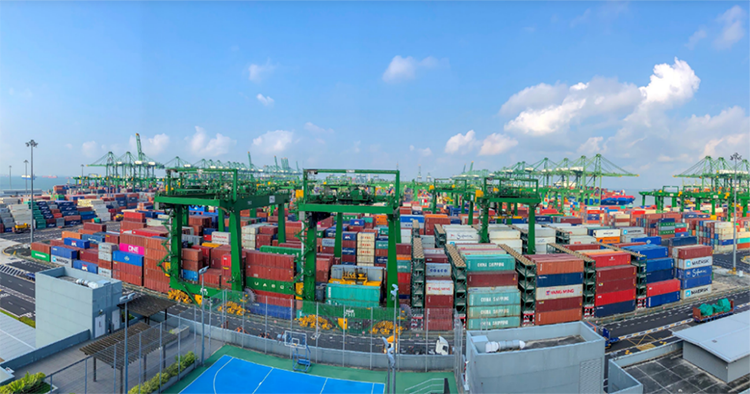 Read more: Business Environment
The COVID-19 pandemic has slowed world trade and disrupted the global supply chain. Air travel has also been severely impacted. Going forward, the Government will work with our industries to revive the Changi air hub, strengthen our status as a global hub port, and position our port to seize new opportunities.
Read more: Emerging Stronger as One
Enabling movement of data, goods and services through digital connectivity
Digital connectivity has become a key enabler for the cross-border movement of data, digital goods, and digital services. Ranked first in digital infrastructure in the Economist Intelligence Unit's Asian Digital Transformation Index 2018, Singapore has built a robust foundation of strong digital connectivity over the years. Our fast broadband speed and high penetration rate form the springboard for our businesses' digitalisation efforts, which have helped them to raise their productivity, scale up digitally, and strengthen their global positioning in the digital economy.
Our Networked Trade Platform (NTP) supports Singapore's physical connectivity by digitalising and streamlining end-to-end trade processes. Since the launch of NTP in 2018, it has seen its users for Business to Business services grow from the initial 200 to over 4,000 today. The number of value-added services offered has also increased from six in 2018 to over 50 today. These include the multi-bank trade finance application portal co-created with the private sector. On the Government to Government front, the NTP has onboarded initiatives to support cross-border trade declarations and achieve greater connectivity in trade regulatory processes, such as enabling the electronic submission of trade certificates and documents.
In the coming years, 5G will form the connectivity backbone of our digital economy. With speeds up to 100 times faster than that of 4G, 5G will fundamentally transform how our businesses operate given its capacity to handle many high-demand applications simultaneously, such as the connectivity of autonomous vehicles, industrial automation, the deployment of Internet-of-Things solutions, and the nationwide sensor networks. Through 5G trials with industry partners, some homegrown businesses are seeing early success:

PSA has successfully trialled the use of 5G technology to control its automated guided vehicles (AGVs) and automated cranes.

PSA's AGV operations reduce the need for manually operated prime movers. For AGV operators, 5G's reliability reduces the incidence of momentary stoppages due to connectivity disconnections. Such disconnections disrupt port operations and may require port operators to perform troubleshooting to restart the AGVs.
Crane operators can now operate the machines using a high-definition video feed enabled by 5G's higher bandwidth, lower latency, and enhanced reliability. This reduces the need for the operators to climb up the cranes to operate them, enhancing their productivity and improving worker safety.

Razer's 5G cloud gaming trial will assess a 5G network's ability to meet the demands of cloud gaming. The trial will also look into how to design low latency cloud gaming hardware, which will deliver quality performance for cloud gaming and a broader range of gaming experiences when implemented.
With stronger concerns about supply chain resilience amidst the COVID-19 pandemic, one of the focus areas for the Singapore Together Alliances for Action is supply chain digitalisation. They will study the opportunities for advancing digitalisation technology and usage for our supply chain ecosystem players.
Transforming last-mile delivery infrastructure to support e-commerce
E-commerce is rising and more businesses are expanding their operations online, especially since the onset of the COVID-19 pandemic. The Locker Alliance pilot, launched in December 2018, received active participation from e-commerce marketplaces, including Qoo10 and Zalora. There was also a four-fold increase in delivery efficiency among logistics service providers. When surveyed, three in four consumers on the pilot scheme were satisfied with the service. Building on the pilot's success, a nationwide parcel locker network, comprising 1,000 locker stations, will be deployed in Housing & Development Board estates, community centres, and transport nodes such as MRT stations by the end of 2021. With lockers sited around five minutes' walk from homes, the locker network will open up more delivery options and bring about greater convenience to consumers. On a productivity front, logistics service providers can derive efficiency gains and cost savings with the use of less manpower.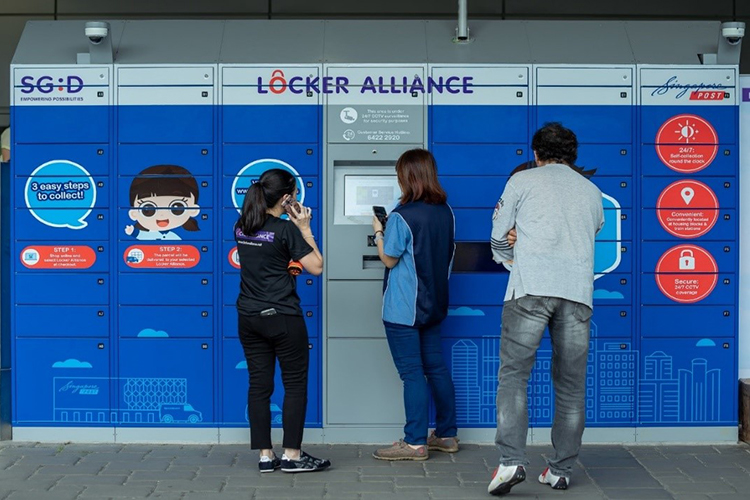 Read more: Economic Opportunities