Wage Credit Scheme
28 Feb 2013
The Minister for Finance announced on 25 February 2013 that the Government will introduce a Wage Credit Scheme (WCS) as part of the 3-Year Transition Support Package in Budget 2013.
2. The WCS aims to help businesses by co-funding the wage increases of their employees as they restructure in a tight labour market. The WCS also incentivises employers to share productivity gains with their employees. The WCS will cost the Government $3.6 billion over three years.
3. In response to queries, MOF will like to clarify the basis for the calculation of gross monthly wages for the calculation of the WCS payouts.
Calculation of gross monthly wage
4. The gross monthly wage of an employee is defined as the total wages paid by the employer to the employee in the calendar year, divided by the number of months in which CPF contributions were made.
5. Total wages include all allowances and payments for which contributions to CPF is required, including basic salary and additional wages such as overtime pay, commissions and bonuses[1]. In other words, both fixed and variable components of wages qualify.
6. WCS therefore does not require employers to switch from variable to fixed components of wages in order to qualify, as all these components are considered under WCS. This is in line with the flexible wage system.
7. For more details on which allowances and payments attract CPF contributions, please refer to the 'Employer's Guide to CPF' section of the CPF website. A pictorial illustration of the Gross Monthly Wage is as follows: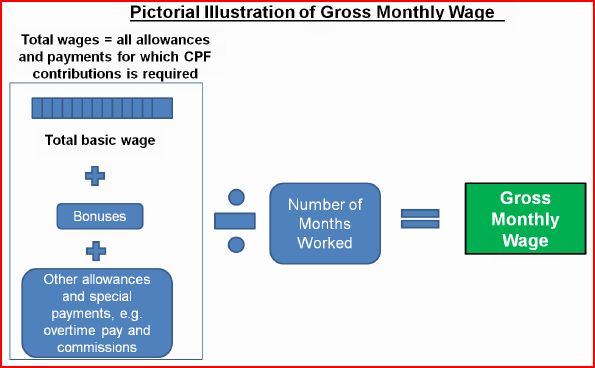 8. For further information and assistance on the WCS, please also refer to the "Frequently Asked Questions" on the IRAS website http://www.iras.gov.sg/irasHome/wcs.aspx) or call us on 1800-352-4727. Other details on the WCS are included in the Annex (

91 KB). As there may be employment scenarios that are peculiar to some companies, MOF is engaging relevant industry stakeholders on further operational details and will release these details by end March 2013.
Issued by Ministry of Finance
Singapore
28 February 2013
[1] Total wages excludes employer CPF contributions.