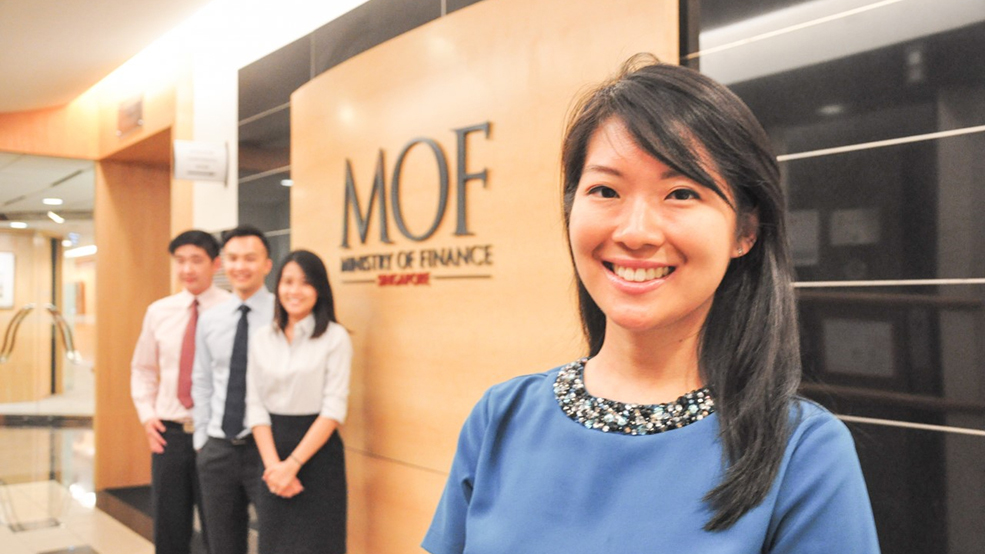 If you are looking for a rewarding career that allows you to make a positive difference in the lives of Singaporeans, MOF is the place to be.
As a valued employee within MOF, you will contribute to MOF's multi-faceted role as a centre-of-government within the public service.
We are responsible for the government's overall budget and management of reserves.
We provide resources (funds, products and expertise) to other government agencies for the implementation of national policies and programmes.
We bring agencies and/or other stakeholders together to achieve Whole-of-Government outcomes.
We seed innovation ideas and open up new terrain where others have not yet seen the potential for success.
Our Value Proposition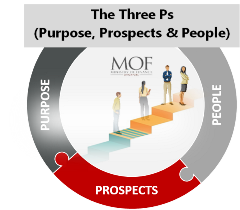 Our Purpose
We inspire and motivate officers to do their best by enabling them to contribute to Whole Of Government policies and the Singapore Agenda, and engaging them on the mission, vision and values of MOF and the Public Service.
Our Prospects
We provide officers with a fulfilling career and develop them to their fullest potential through multiple career pathways and robust training and development opportunities.
Our People
We invest in our people to be happy and engaged.
We value and recognize our officer's contribution.
Benefits of a career with MOF
Our greatest asset is our people. We seek to engage our employees, as we believe that motivated individuals contribute to and improve our working environment. We offer flexible programmes that promote a healthy work-life balance and reward our employees based on their performance. We review our HR policies regularly to ensure that our employees' well-being is looked after.
As a valued member of our family, you can look forward to enjoying a host of benefits such as:
Flexible Work Arrangements – We offer flexible work schedules and arrangements to help staff better manage their work and personal lives.
Health and Wellness Initiatives – We organise events and put in place programmes to keep our staff healthy, happy and engaged. Staff can also look forward to participating in a range of activities that will allow them to connect with fellow MOFers.
Learning & Development Opportunities – We groom our officers and help them grow in their careers by providing them with a range of learning and development opportunities.
Career Development and Growth
At MOF, we value our staff and believe that every officer has talent and ability that should be developed to the fullest. We offer a diverse portfolio of learning and development programmes to help officers stay ahead and accelerate at different phases of their career. Join the MOF Family, and you can look forward to a holistic and continuous learning culture!
Develop Your Potential and Grow Your Career at MOF
A. Career Development
Job Rotation & Secondments – There are opportunities for rotation within MOF and even across the public service for you to build expertise and gain exposure to the wide spectrum of work within and beyond MOF. You may be seconded to another ministry, statutory board or organisations for wider exposure. This gives you the opportunity to gain new insights and manage your own career.
Multiple Career Paths – MOF offers different career pathways to help you realise your potential and pursue a career that makes the best use of your skills, interests and knowledge. You can grow your career as a finance policy officer, a finance or procurement functional officer or even specialise in reserves management or tax policy work.
B. Capability Development
MOF Careers and Capability Development Plan – Guided by MOF's very own Careers and Capability Development Plan, you will be offered an array of learning and development opportunities to hone your skills systematically and enhance your career and professional competencies.
Sponsorship for Professional Certification Programmes – To encourage and support professional development, MOF officers can apply for sponsorship for professional certificates that are relevant to their work.
Sponsorship for Academic Programmes – To encourage and support lifelong learning, MOF officers who wish to take up local, part-time academic courses may also apply for sponsorship for Diploma, Bachelor's Degree, Post-graduate Diploma and Master Degrees that are relevant to their work.
C. Leadership Development
There are opportunities for you to participate in cross-functional project teams, mentoring and leadership courses to support your development as a leader and equip you with the knowledge to address key themes relevant to the Public Service's operating environment.