2023 Budget Statement to be delivered on Tuesday, 14 February 2023, at 3.30pm
06 Feb 2023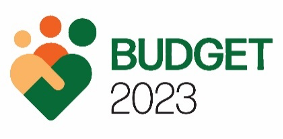 Singapore's FY2023 Budget Statement will be delivered by the Deputy Prime Minister and Minister for Finance, Mr Lawrence Wong, on Tuesday, 14 February 2023 at 3.30 pm in Parliament.
2. The Budget Statement will be broadcast 'live' on Channel 5, CNA, CNA938, Capital 958, CNA website (www.channelnewsasia.com), CNA YouTube, CNA FB, 8 World News (www.8world.com), 8 World News YouTube, 8 World News FB and on MediaCorp's meWATCH (www.mewatch.sg). Singapore Association for the Deaf (SADeaf) will also provide simultaneous sign language interpretation of the Budget Speech on Channel 5.
3. There will be updates of key announcements from the Budget Statement on MOF's social media platforms[1].
4. The public may visit the MOF website (www.mof.gov.sg/email-subscription) and subscribe to receive the full Budget Statement via email after it has been delivered. This service will be available for sign-up until 9am on Tuesday, 14 February 2023. The Budget statement will also be available on www.singaporebudget.gov.sg after the statement has been delivered.
Feedback on FY2023 Budget Statement
5. MOF and various agencies including REACH, PA, have been engaging the public in the run-up to Budget 2023 since December last year. Members of the public can continue to submit their views on Budget 2023 through various feedback channels. These channels include:
| | |
| --- | --- |
| Feedback Channel | Website Address |
| Singapore Budget Website | www.singaporebudget.gov.sg |
| REACH Budget Website | www.reach.gov.sg/budget2023 |
| REACH Singapore Facebook | www.facebook.com/REACHSingapore |
| REACH Singapore Instagram | www.instagram.com/reachsg |
6. REACH will hold two in-person Budget Conversations, in English and Mandarin, on 17 and 20 February 2023 respectively. Participants will be able to choose which Budget-related topics they would like to discuss at these dialogues. Senior Minister of State for Finance and Transport, Mr Chee Hong Tat, will also join the conversations and share his thoughts along with REACH Chairman, Mr Tan Kiat How (Senior Minister of State in the Ministry of Communications and Information, and National Development) on 17 February, and REACH Deputy Chairperson, Mr Eric Chua (Senior Parliamentary Secretary, Ministry of Culture, Community and Youth & Ministry of Social and Family Development) on 20 February.
7. In addition, REACH will organise a series of radio talk shows and a podcast episode featuring REACH Advisory Panel members discussing salient concerns about Budget 2023.
8. REACH will also have physical Listening Points set up at various high traffic nodes across Singapore to gather views on Budget 2023. Details of the REACH Listening Points can be found on the REACH Budget 2023 microsite. The public can also share their feedback about Budget 2023 via the REACH Budget 2023 microsite.
9. The People's Association (PA) and its grassroots organisations will be organising post-Budget dialogues to engage residents on Budget 2023 measures. Residents who are interested to attend can register their interest at https://go.gov.sg/postbudget23. The sign-ups will be available until 2.00pm on Tuesday, 28 February 2023.
Issued by:
Ministry of Finance, REACH and People's Association
Singapore
6 February 2023
---
[1]The social media platforms include facebook.com/MOFsg, instagram.com/mof_sg and twitter.com/MOFsg. The public can also receive updates on Budget 2023 via MOF's telegram channel at https://t.me/MOFSpore.