1.5 million Singaporeans to receive $1.2 billion in GST Voucher – Cash and MediSave Top-Ups in August 2023
04 Jul 2023
Eligible adults will receive up to $700 in cash and up to $450 in MediSave top-ups
1 Lower- to middle-income Singaporeans and households have been receiving help to defray their GST and other living expenses through the permanent GST Voucher scheme. This is on top of the benefits that all Singaporeans receive under the Assurance Package .
GSTV – Cash
2 In August 2023, 1.5 million Singaporeans will receive up to a total of $700 in cash, from the enhanced GSTV – Cash announced by Deputy Prime Minister Mr Lawrence Wong at Budget 2023. Eligible Singaporeans will get up to $300 more from the GSTV – Cash, compared to the previous year.
MediSave Top-ups
3 Also in August and as part of the GSTV – MediSave, about 624,000 eligible Singaporean adults aged 65 and above in 2023 will receive up to $450 credited to their CPF MediSave Accounts.
4 Singaporeans born on or before 31 December 1969 (aged 54 and above in 2023) who do not receive the Pioneer Generation or Merdeka Generation benefits will benefit from the 5-Year annual MediSave Top-up announced at Budget 2019. This is the fifth year where these eligible Singaporeans will be credited $100 to their CPF MediSave Account in end-August 2023.
Overview of Support for Singaporeans in 2023
5 The August GSTV – Cash and GSTV – MediSave payments are part of the Government's continuing support for lower-income to middle-income and senior Singaporeans, to help with their GST expenses and living expenses. Since the start of 2023, eligible Singaporeans would have already received the following:
CDC Vouchers in January;
AP MediSave and AP Seniors' Bonus in February;
Top-ups to children's education accounts (Edusave Account/Post-Secondary Education Account) in May;
2023 Cost-of-Living (COL) Special Payment and 2023 COL Seniors' Bonus in June; and
Two tranches of U-Save and S&CC rebates in January and April, and an upcoming one in July.
6 Singaporeans and their households can expect further support in the form of top-ups to the Child Development Account (CDA), U-Save and S&CC rebates, and the Assurance Package Cash in the second half of 2023. For more information on the summary of benefits disbursed throughout the year, please refer to the infographics in Annex A.
Eligibility
7 Eligible recipients of the GSTV – Cash will automatically receive the payment if they have signed up for Government disbursement schemes previously (see details on the various GSTV components in Annex B). Citizens may sign up for the GSTV Scheme and check their eligibility for the GSTV – Cash and MediSave benefits at the GSTV official website (gstvoucher.gov.sg) by logging in with their Singpass.
8 Those who have not previously signed up for the GSTV scheme can do so at the GSTV official website by 10 July 2023, to receive their payment in August 2023. Those who sign up after 10 July, but by August will receive their payment in September 2023. Subsequently, citizens who sign up will receive their payments by the end of the following month. The last day to sign up for the 2023 GSTV scheme is 30 April 2024. Those who have not signed up previously will also be notified by end August 2023 via the Singpass app, SMS, or hardcopy letters sent to their NRIC address if they do not have Singpass app or a Singpass-registered mobile number.
Modes Of Payment for the 2023 GSTV – Cash
9 Since 2021, the Ministry of Finance has been using PayNow-NRIC as the default payment mode for citizens who have linked their NRIC to PayNow. Citizens are encouraged to register for PayNow-NRIC by 21 July 2023 if they have accounts with the ten participating banks in Singapore. By doing so, eligible citizens will be able to receive their 2023 GSTV earlier from 1 August 2023. Please visit the GSTV official website for the list of participating banks.
10 Those without PayNow-NRIC linked bank accounts may also update their bank account information (with DBS/POSB, OCBC or UOB only) at the GSTV official website by 30 July 2023. Those receiving payments via direct bank crediting will be able to receive the payment from 11 August 2023.
GovCash to replace cheques as a Mode of Payment for GSTV – Cash
11 From 2022, GovCash has replaced cheques as the mode of payment to citizens who have not provided their bank accounts or linked their NRICs to PayNow. Citizens on GovCash may withdraw their GSTV – Cash at OCBC ATMs island wide by entering their 1) Payment Reference Number (PRN) that will be sent to them from 21 August, their 2) NRIC, and after passing the 3) facial verification. They do not require an OCBC bank account to withdraw the payment at the OCBC ATMs.
12 GovCash recipients may also use the LifeSG app to make payment to merchants by scanning their PayNow or NETS QR code, or transfer payments to their bank accounts via PayNow if they subsequently register for PayNow-NRIC.
Singpass App as a Mode of Notification
13 Eligible recipients will only be notified in August 2023 after their GSTV – Cash and/or GSTV – MediSave has/have been credited. Those who have downloaded and completed their one-time setup on the Singpass app will receive GSTV notifications in their app inbox. Those who have not downloaded nor completed their one-time setup on the Singpass app but have registered their mobile numbers with Singpass will receive SMS notifications.
14 To guard against scams, the SMS notification (sent by "GSTV") will only inform citizens of their benefits. Citizens will not be asked to reply to the SMS, click any links, or provide any information to the sender. No messages on GSTV will be sent via WhatsApp or other mobile app messaging platforms. Citizens are encouraged to download the Singpass app from the official app stores (e.g. App Store, Play Store or Huawei AppGallery; check that the app is developed by "Government Technology Agency") to receive secured notifications from the Government.
Contact Information
15 For more information on the above schemes, the contact details are as follows: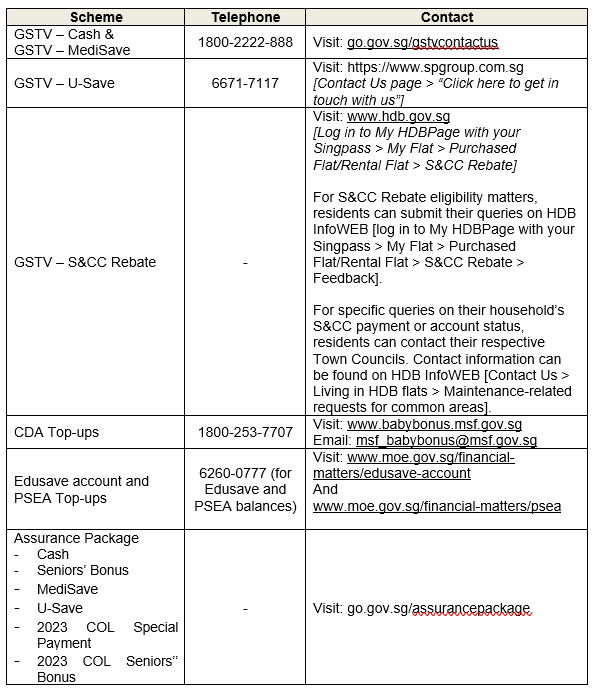 Issued by:
Ministry of Finance
Singapore
4 July 2023