Published in March 2020
Budget 2020: Portioning a slice for the "sandwich generation"
Supporting families with their needs for a caring and inclusive home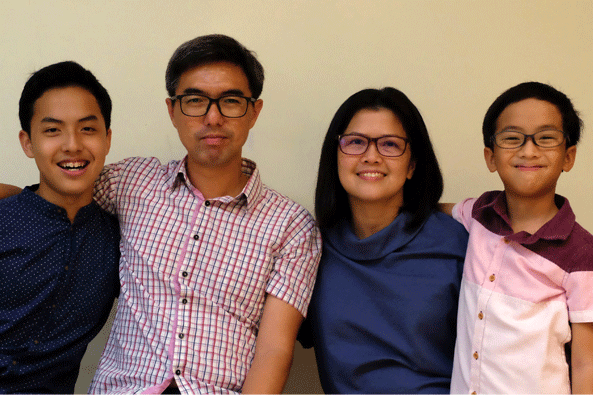 The Tan family poses for a family photo.
Many middle-aged Singaporeans identify with the label – "sandwich generation" – as they are wedged between providing for their ageing parents and young children.
It is an imminent concern for programme administrator Eric Tan and his wife Ong Pei Ling, a kindergarten teacher, who are both in their 40s.
"As my parents grow older and eventually stop work, we have to think about how to support them. Finance is one of the areas of concern," said Mr Tan. His dad, 72, is a logistics truck driver, while his mother, who is in her late 60s, is an office administrator.
Mr Tan also has two sons, Zhi Hang, 13, and Zhi Rui, 8, who are a bundle of energy. Mr Tan added with a laugh, "And their appetites are increasing."
"The boys are eating more as both of them are really growing. Zhi Rui is only in Primary 2, but he is eating adult portions. In the afternoon when he comes home from school, he will look for food. So we always have to stock up on food like apples, cereal, and yogurt at home."
This means spending more on grocery runs, which happen at least twice a week, Mr Tan added. "Cost of living is definitely a concern with increasing prices."
He recognises the need for self-reliance, and remains sanguine about the future. "Singapore is a country with no natural resources and we need to depend on ourselves to create opportunities. If you're able, you should be working for your future, especially for the kids' education," he said.
Pausing a minute, he continued: "Though, of course, any kind of financial support is also good."
Grooming the next generation
The development of his children is among the top of his priorities, and like any other parent, Mr Tan wishes to give them the best chance to succeed.
This was tougher a few years ago when he was the sole breadwinner, as Ms Ong stayed home to take care of the boys. "We could only choose one subject for Zhi Hang to be tutored in – Maths. For the rest, we depended on the school for help. If I had a choice, maybe we would have signed him up for classes in other subjects," said Mr Tan.
And of course, the Tans have an eye on the future and anticipate substantial costs when their sons enter tertiary education, which have seen yearly fee increases. To this end, they have invested in savings plans since Zhi Hang and Zhi Rui were born, and they still contribute to these funds monthly.
That is why Mr Tan was happy to see the introduction of enhanced bursaries for students in this year's Budget. Under the MOE Financial Assistance Scheme, enhanced in Budget 2020, the annual pre-university bursary quantum will be raised from $900 to $1000. Transport subsidies will be increased for all students, while secondary school students will enjoy increased school meals subsidies.
In addition, there will be higher bursaries starting from Academic Year 2020 for students enrolled in the polytechnics and autonomous universities. Full-time students at the Institute of Technical Education (ITE) will also get enhanced bursaries – an increase of up to $200 per year in the cash bursary quantum for those from lower- and middle-income homes.
These enhancements form part of an overall plan that will push bursary costs for higher education from $148 million per year to $198 million. "A lot of the kids' education will be subsidised, which is good. It's always great to have more support while they grow up," said Mr Tan.
Making everyday costs more affordable
In a world mired in unpredictability, caused partly by trade tensions and technological disruption and exacerbated by the emergence of new threats like COVID-19, Mr Tan feels that every bit of help is welcome.
His household of five – which includes his dad – lives in a four-room Toa Payoh flat and is due to receive about $800 worth of GST Vouchers (U-Save rebates) for the coming year. This will help offset their utility bills.
He and his wife will also receive $300 each under the Care and Support Package, introduced amid the uncertainties caused by the economic slowdown and COVID-19. The initiative is estimated to cost the Government about $1.6 billion.
On top of these, Mr Tan's household will also get 2.5 months' worth of Service and Conservancy Charges (S&CC) Rebate, which will amount to about $150.
Mr Tan is glad that these measures will free up more resources to spend on his children's enrichment, such as football or swimming classes, as well as a few more trips to the supermarket. "Whatever amount I save will also be spent on food," said Mr Tan with a chuckle.
But he added, "Any kind of financial support is good, but one cannot just depend on the Government." This is why another measure that heartens Mr Tan is the SkillsFuture Mid-Career Support Package, which provides an additional $500 SkillsFuture Credit top-up for Singaporeans aged between 40 and 60, in order to support them in upskilling and making career transitions.
Mr Tan took a specialist diploma in Sports Management and Marketing in Nanyang Polytechnic three years back, with the support of the SkillsFuture Movement. As a beneficiary himself, he believes that upgrading one's skills is important. "It provides options for people who have a career change in mind. But while it's easy to go for the course and training, you must still have the right skills to be attractive to employers," he said.
As the household head responsible for the generations before and after him, Mr Tan is glad that the Government is backing people like him. "They are taking care of the different generations – the Pioneer and Merdeka Generations, right to the young children. It eases the burden on those like us."
The Care and Support – Cash and Grocery Vouchers were enhanced during the Resilience Budget, and the Care and Support Package is estimated to cost the Government about $4.6 billion in total. In addition, as announced at the 17 August 2020 Ministerial Statement, the eligibility for the Workfare Special Payment (WSP) was widened to include lower-wage workers who received Workfare Income Supplement for work done in 2020, and who have not already qualified for WSP previously.