Singapore has maintained high liveability standards over the years, ranking ahead of global cities like London and New York, and being the highest ranked in Asia under Mercer's annual Quality of Living survey in 2019. This means a good city that is clean, safe, convenient, has plenty of greenery, and above all, gives everyone a sense of ownership for and pride in the city.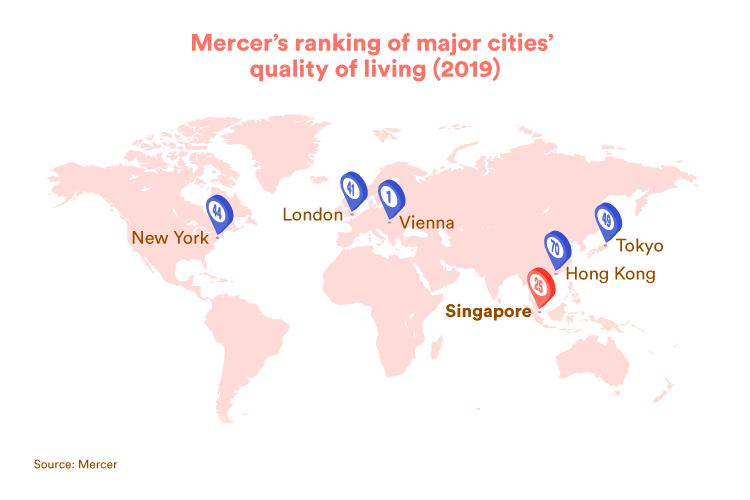 Read more: External and Homeland Security
Affordable and accessible quality public housing
80% of our resident households live in Housing & Development Board (HDB) flats, with 90% owning their homes. With the increase in the monthly household income ceiling to $14,000 in 2019, more than eight in 10 Singaporeans can purchase subsidised HDB flats.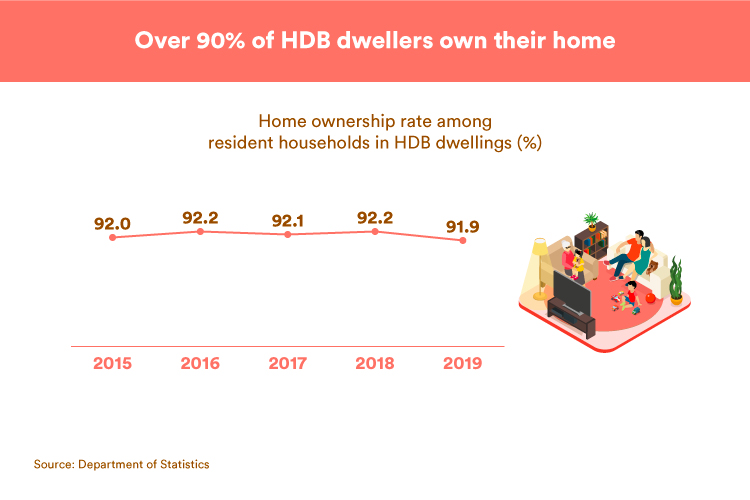 Housing remains affordable for Singaporeans. Families buying their first flat (new or resale) can enjoy the Enhanced CPF Housing Grant of up to $80,000, on top of the subsidised price of the flat. A first-timer family buying a resale flat can enjoy total housing grants of up to $160,000. Over the past five years, a median first-timer applicant household purchasing a new four-room flat in a non-mature estate would spend less than a quarter of their household monthly income on monthly instalment payments.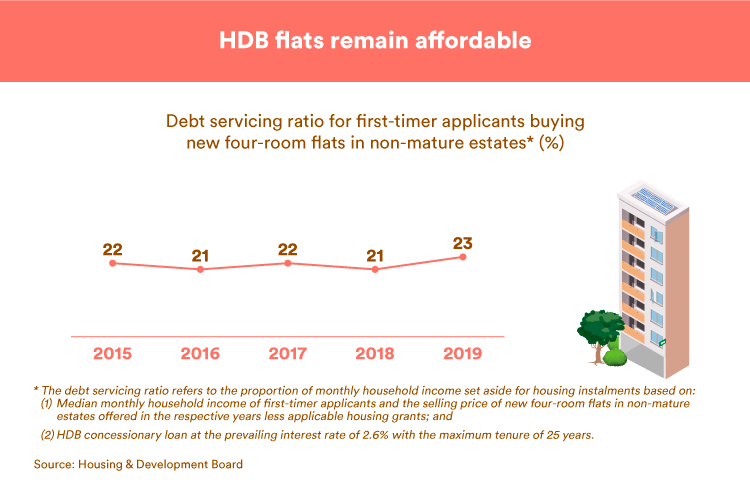 Lower-income families receive additional support in their housing needs. Around 50,000 households currently live in flats under the Public Rental Scheme and are assisted with heavily subsidised rents. Families with young children can also tap on the Fresh Start Housing Scheme in their transition to homeownership.
Read more: Social Safety Nets
Smart and sustainable HDB towns
Cooler living spaces, smart energy- and water-saving meters, smart lighting, and a green environment are some of the things that Singaporeans can look forward to in new towns like Tengah. These features will not only help to lower utility bills, but will also allow Singaporeans to contribute to sustainable living.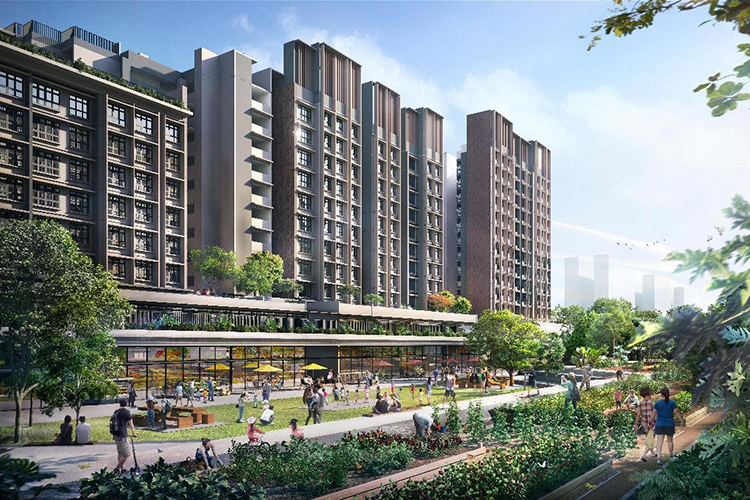 Vibrant growth centres closer to home
Singaporeans can look forward to more jobs in locations closer to home as we continue to develop new growth centres outside the Central Business District area. Over the last two years, major projects like Paya Lebar Quarter and Jewel Changi Airport have been completed. Jurong Lake District, Woodlands Regional Centre, and Punggol Digital District will be developed over the next 10 to 15 years. Public feedback has also been sought to shape the future redevelopment of the Greater Southern Waterfront and Paya Lebar Air Base.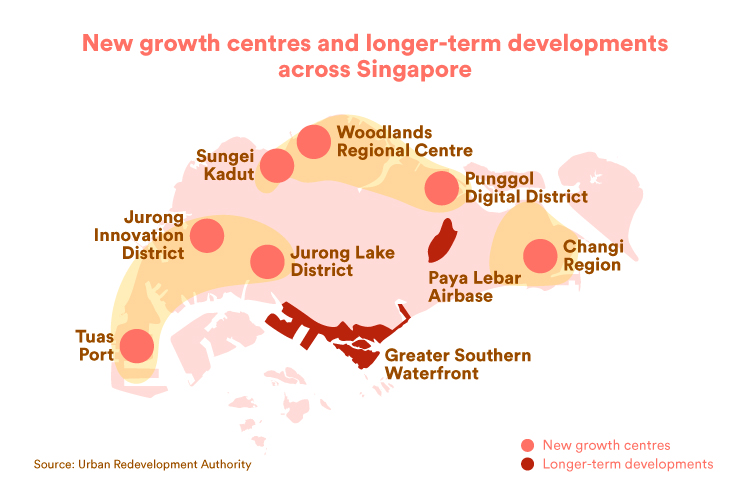 Read more: Quality Jobs | Transport
A greener and more liveable city
Singaporeans live in one of the greenest cities in the world with almost 8,000 hectares of green spaces comprising nature reserves, nature areas, parks, and park connectors. This is the size of about 20 Toa Payoh towns.
Singaporeans can now enjoy more nature-based recreational options in new and enhanced green spaces like Lakeside Garden, our third national garden and first in the heartlands, and the new Gallop Extension to the Singapore Botanic Gardens.
Green spaces are also more accessible to Singaporeans. Today, around 90% of our households live within a 10-minute walk from a park. Singaporeans can also walk, jog, or cycle across the island along the new 36 km Coast-to-Coast Trail between Jurong Lake Gardens and Coney Island, and along the Round Island Route, which is being implemented in phases.
One Million Trees!
Working with schools, communities, companies, and more, Singaporeans will help to plant and nurture one million trees across Singapore by 2030. With more trees along our roads and in our parks, estates, and green areas, Singaporeans can look forward to a cooler and greener environment and better air quality.
Singaporeans participating in a tree planting event at Rifle Range Nature Park in early 2019.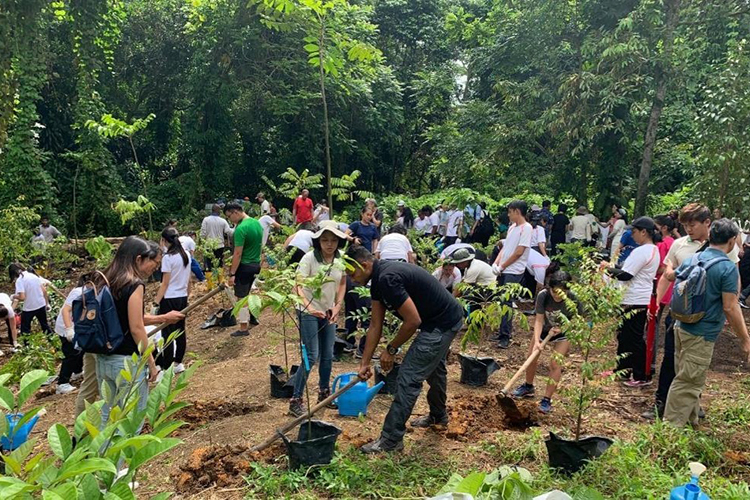 Singaporeans can also help to enhance our resilience to climate change by playing a part in the regeneration of the secondary forests in and around the Bukit Timah and Central Catchment Nature Reserves, through the Forest Restoration Action Plan (FRAP) announced in 2019. This, together with mangrove restoration projects at key sites such as Sungei Buloh Wetland Reserve, will increase the capacity of our native rainforest landscapes and coastal environments to store and sequester carbon.
Today, more than 30,000 native plants have been planted under FRAP. A total of 250,000 trees and shrubs will be planted by 2030.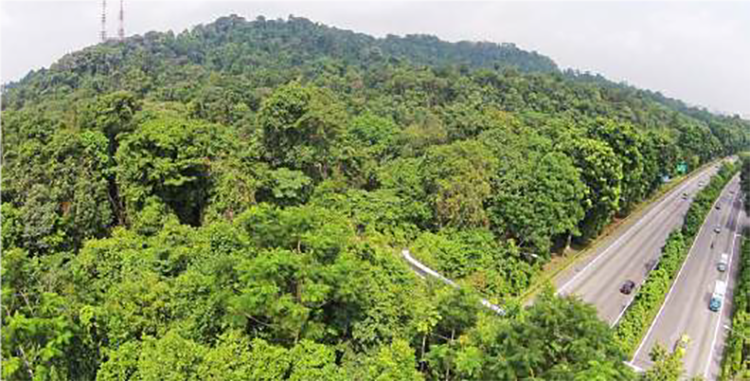 Read more: Environment and Sustainability
Improving our resilience to public health threats
Public cleanliness and hygiene are important defences against disease transmission. Satisfaction with the cleanliness of Singapore's public spaces was high at 93% in 2019, up from 84% in 2018. Notably, Singaporeans were more satisfied with the cleanliness of wet markets (85% in 2019, up from 73% in 2018), hawker centres (87% in 2019, up from 62% in 2018), and public spaces after events (88% in 2019, up from 74% in 2018).
Singaporeans can now enjoy a cleaner and safer environment at more than 27,000 premises that have been awarded the SG Clean quality mark under the SG Clean campaign launched in February 2020. More Singaporeans are also adopting good personal hygiene habits to do their part to reduce public health risks and ensure the well-being of our community.
Read more: Emerging Stronger as One