A sustainable, climate-resilient, and resource-efficient Singapore
Singapore has always balanced economic growth with environmental protection, so Singaporeans can enjoy a clean and green environment.
Climate change impacts our future and existence. Our contribution to the global fight against climate change and our long-term planning and investments aim to protect Singapore against its effects, especially sea level rise.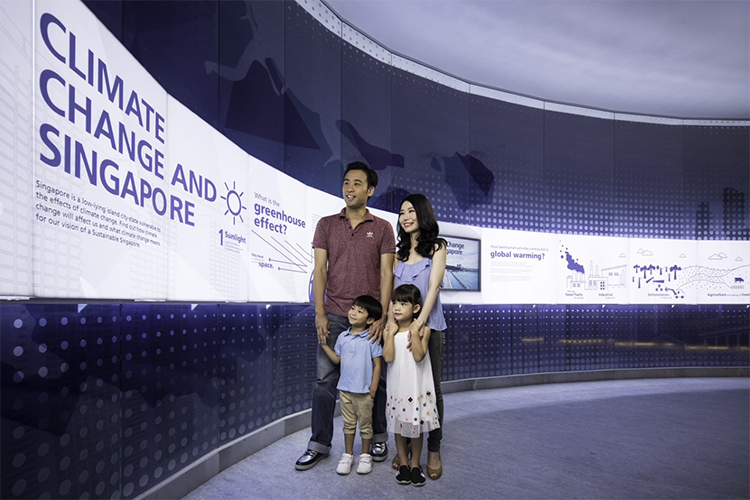 Enhanced commitment to reduce greenhouse gas emissions
Under the Paris Agreement, Singapore has committed to a peak emissions level of 65 million tonnes of carbon dioxide equivalent (MtCO2e) around 2030. We aspire to halve emissions to 33 MtCO2e by 2050 and achieve net-zero emissions as soon as viable after 2050. Singapore's emissions were around 52 MtCO2e in 2017 and we are among the 20 best performing countries in terms of carbon emissions per dollar of GDP today. The carbon tax, which came into effect on 1 January 2019, sends a critical economy-wide price signal on the need to reduce emissions.
Read more: Legal and Diplomacy
To support sustainable living, more is being done to improve our energy and carbon efficiency. For example, there are now more green buildings. They make up more than 40% of our buildings by gross floor area. Walk-Cycle-Ride transport nodes are also sprouting up around our country, allowing more Singaporeans to complete their journeys in a greener manner. Under the pilot phase of the "Switch and Save – Use LED" programme rolled out in 2018, around 8,700 households are saving about 27 kilowatt hours (kWh) of electricity annually by switching to more energy-efficient LED bulbs. This has helped to reduce more than 0.105 thousand tonnes of carbon dioxide equivalent (ktCO2e) per year. We are also enabling companies to reduce their carbon footprint and enjoy cost savings from lower electricity consumption. Through close collaboration with industry stakeholders, Singapore phased out the sale of inefficient motors in 2018. This is projected to yield savings of 30 ktCO2e annually.
Read more: Transport
Coastal protection and flood resilience
Our island is low-lying. To protect our homes, $2 billion in drainage improvement works have been carried out since 2011 to bolster our flood resilience. Coastal protection work has also been initiated. Coastal defences help to address both coastal and inland flooding, and safeguard Singaporeans from the impact of a projected sea level rise of one metre by 2100 as well as more intense rainfall.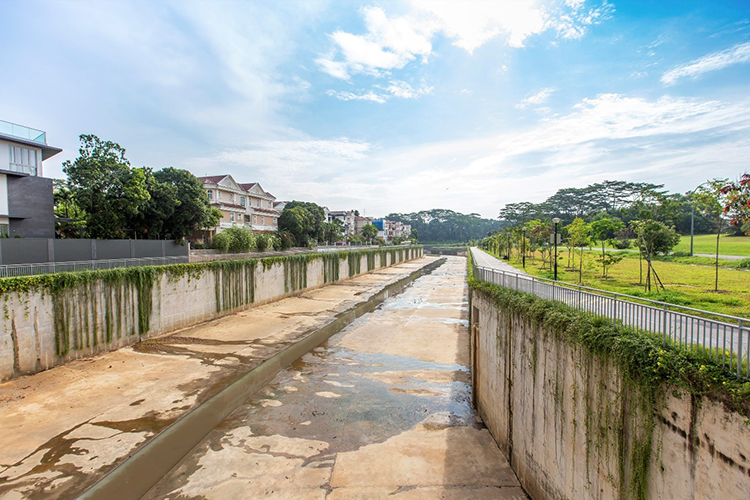 Fight against dengue
Warmer temperatures from climate change can accelerate mosquito population growth and the spread of the dengue virus, heightening the risk of dengue. Apart from stepping up inspections and public education, technology such as deploying gravitraps to monitor the mosquito population and using drones for inspection are helping to protect Singaporeans. Field trials of Project Wolbachia in Tampines and Yishun have shown up to 90% suppression of mosquito populations at 284 residential blocks.
Climate change will threaten our supply of essential resources like food and water. Securing these resources requires novel solutions, even as we pursue a circular economy where resources are reused for as long as possible.
Strengthening water resilience
Households have reduced their water consumption over the past five years from 149 to 141 litres per person per day.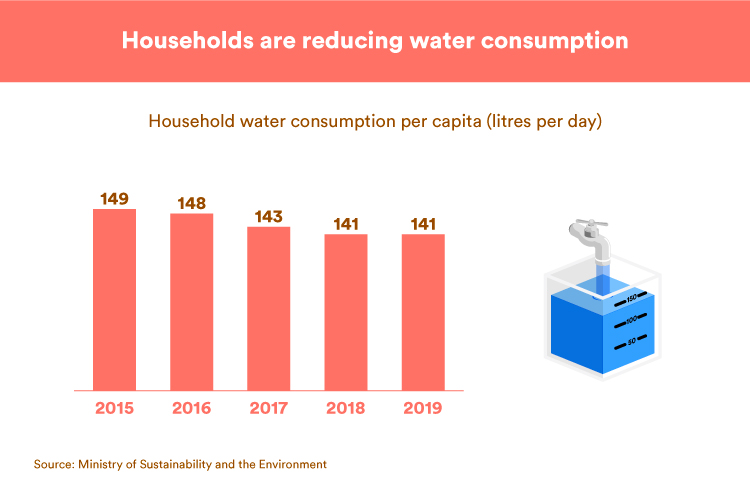 Up to 300,000 households will have smart meters installed by 2023 under the Smart Water Meter Programme, which will help them to detect leaks early and save water, thus saving on their water bills.
Read more: Housing and Amenities
Our water supply will increasingly rely on weather-resilient sources. Apart from the existing four desalination plants, including the new Marina East plant which began operation in June 2020, another one in Jurong Island is nearing completion. The upcoming NEWater factory at Tuas Nexus and the expanded Changi NEWater Factory will further increase NEWater capacity to meet our water demand.
Towards a zero waste nation
In 2019, more than 670,000 people took part in over 2,000 community activities to raise awareness of the Year Towards Zero Waste campaign. These activities were focused on encouraging people to actively practise the 3Rs: Reduce, Reuse, and Recycle. Members of the public also co-created solutions with the Government through the #RecycleRight Citizens' Workgroup.
Read more: Singapore Together
We are designing wastefulness out of the economy to conserve resources and reduce waste sent to Semakau Landfill, to extend its lifespan beyond 2035. Today, 99% of our metal, construction, and demolition waste are recycled. The next step is to address e-waste, food waste, and packaging waste, including plastics. We launched our first Zero Waste Masterplan and passed the Resource Sustainability Act in 2019. This will put in place a systems-level approach to reuse and recycle our resources, turn trash into treasure, and produce and consume more sustainably.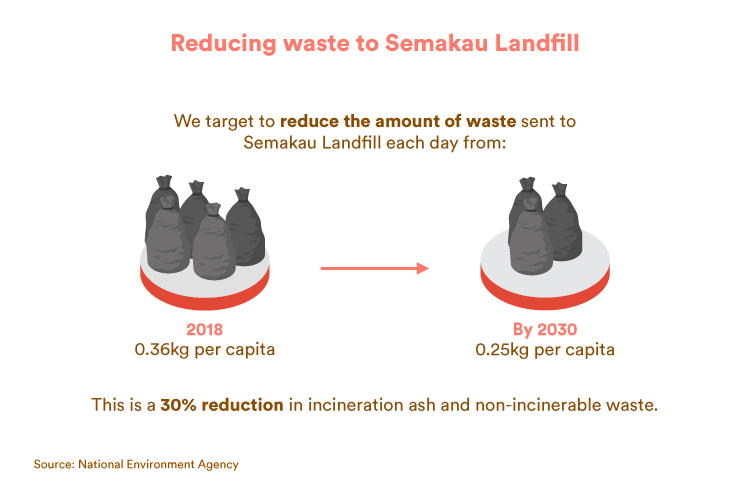 Food resilience
Singapore has topped the Global Food Security Index for the past two years. However, climate change and resource scarcity threaten our food security, as we import over 90% of our food. To enhance our food security, we imported food from over 170 countries and regions in 2019, compared to 140 in 2004.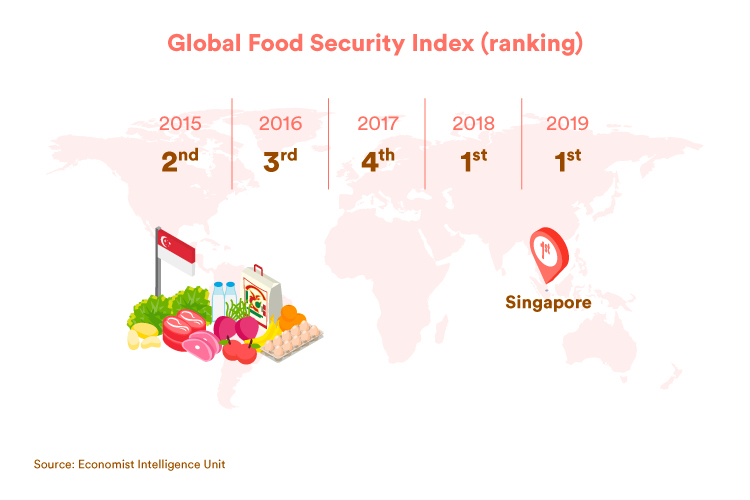 Singaporeans can also enjoy fresher and reliable produce that is grown nearer their homes. Local food production is being increased to meet 30% of our nutritional needs by 2030 – this is our "30 by 30" goal. $237 million has been set aside to ramp up local food production by helping local farmers raise productivity and by investing in research and development. Over the past five years, local production has doubled to about 200 tonnes of produce per hectare per year. By developing more productive and climate-resilient food production methods, Singaporeans can be more assured of our food security.