We are supported by an effective and trusted Government to safeguard our way of life, especially in times of change and uncertainty. Singapore continues to be highly regarded internationally in terms of government effectiveness and the delivery of e-services to citizens. We maintained our top ranking for government effectiveness by the World Bank in 2019, and ranked 11th overall for e-Government and fifth for online services on the United Nations' E-Government Development Index and Online Services Index respectively in 2020.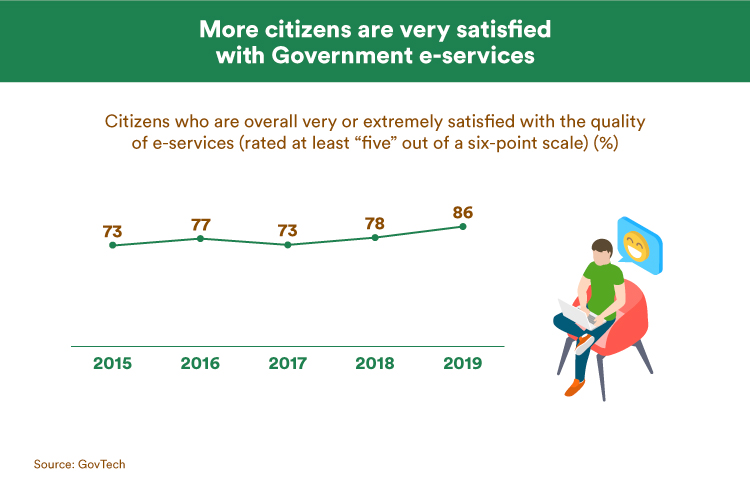 Singaporeans now enjoy a more seamless and hassle-free experience with the digitisation of once-manual processes like paying for parking using parking coupons and borrowing library books via a manned counter. Key e-services, such as tax filing, Central Provident Fund (CPF) balance checking, and applying for a Housing & Development Board flat, are now accessible via SingPass Mobile. Singaporeans who are overseas can use the same app to transact digitally with the Government and businesses, without needing a physical token.
Read more: Business Environment
Based on an annual survey of a wide range of Singaporeans, about eight in 10 expressed their confidence in the Government.
Singapore is among a select group of countries with a triple-A credit rating. Our fiscal discipline has put us in a good position to meet current and future needs. We have sufficient resources to meet the spending needs of current and future generations, and also the ability to tap into our reserves to protect Singaporeans and our businesses during crises. During crucial times like the COVID-19 pandemic, we were able to draw $52 billion from past reserves to finance part of the support schemes for Singaporeans and businesses.
Singaporeans and businesses can also work and operate knowing that Singapore's corruption situation is firmly under control. The number of public sector corruption cases has remained low over the years. Transparency International's Corruption Perceptions Index 2019 ranked Singapore the fourth least corrupt country out of 180 countries.
Read more: Legal and Diplomacy | External and Homeland Security
Delivering public services with greater citizen-centricity
Integrated Public Service Centre
Since May 2019, Singaporeans could access over 150 services from six agencies consolidated under the Integrated Public Service Centre (IPSC) at Our Tampines Hub. As at September 2020, this has been expanded to 260 services from 17 agencies. On top of greater convenience from one-stop service, essential transactions like CPF nominations and ComCare applications can also be conducted at IPSC. The average transaction at IPSC is completed within 11 minutes, less than half the time taken one year ago.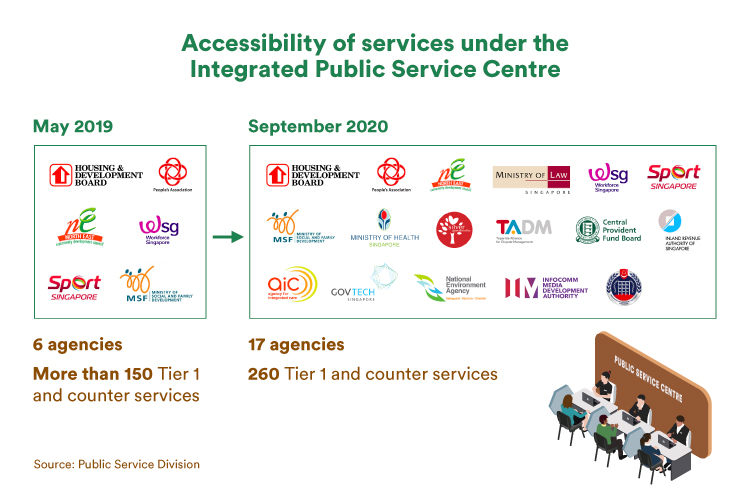 Singaporeans who wish to give feedback on municipal issues can do so via the OneService app without having to know which agency is in charge. As at December 2019, over 200,000 users have registered and 460,000 cases have been reported since the app was launched in January 2015. The average time taken to close complex cases that involve multiple stakeholders has reduced by one-third since 2015, from 8.5 days to 6 days.
Read more: Housing and Amenities | Social Safety Nets
LifeSG
Singaporeans may be familiar with the Moments of Life app which offers users more ready access to digital government services through the consolidation of personalised content. The app, newly rebranded as LifeSG, includes a new user interface with improved navigation, topical guides, and other new features:
Citizens can easily access more than 40 services, up from the 12 previously featured on the app. The information displayed is grouped according to topics of interest, such as family and parenting, work and employment, healthcare, and housing and property.


Parents can register the birth of their newborn, navigate childcare options, and apply for the Baby Bonus. As at June 2020, seven of 10 eligible births were registered via the app. This takes only 15 minutes, compared to 60 minutes at birth registration counters. Parents can also access their child's upcoming medical and school appointments, and get reminders to complete important applications such as birth registration, baby bonus application, and primary school registration.
Seniors can use their Merdeka Generation e-card embedded in the app to enjoy discounts at select merchants, find out the latest active ageing programmes near them, and learn about the government benefits they qualify for.
Working adults can access employment guides to support their job search, upgrade their skills, and know more about their retrenchment rights.

Citizens can use the personalised dashboard to discover recommended content and access guides that simplify processes such as job and preschool searches. They can also discover government benefits through features such as the Family Support Calculator.
So far, more than 167,000 users have downloaded the app. There are plans to integrate more services to support Singaporeans' key life stages and to expand the digital services available to different user groups.
Read more: Family | Retirement | Quality Jobs
Outreach during crisis
The Government continues to be effective during the COVID-19 crisis:

Public agencies proactively reached out to vulnerable citizens to render assistance. For example, the Silver Generation Office conducted regular telephone calls for about 20,000 seniors to monitor their well-being and worked with the Senior Activity Centres to physically check in on uncontactable seniors. Seniors were connected to relevant support services, such as regular meal support and befriending, buying of food and groceries, and delivery of masks and TraceTogether tokens.
To ensure timely, accessible, and inclusive public communications to the diverse groups of our population, the Government leveraged an extensive range of traditional and digital media platforms in multiple languages. These included new communications channels across various Gov.sg platforms such as WhatsApp and Telegram, as well as collaborations with content creators to engage specific audiences such as e-Getai for seniors.
Overall, these efforts have been effective as shown by recent Government pulse surveys. Around 80% of respondents agreed that the Government provided sufficient information on the COVID-19 situation.
Read more: Emerging Stronger as One | Singapore Together