Overcoming adversity through partnerships
The COVID-19 pandemic has caused severe disruptions to our economy, livelihoods, and way of life. However, it has also fostered a strong spirit of care, cohesion, and active citizenry in our society. Individuals, households, businesses, and the community have stepped forward to partner the Government in national response efforts, with some going a step further to organise their own ground-up initiatives to assist those in need.
Stepping up to support national needs
Many Singaporeans have stepped forward to partner our public agencies and support national campaigns in the fight against COVID-19:
A strong gotong royong spirit was present when more than 28,000 grassroots, public service, and citizen volunteers stepped forward to assist in the nationwide mask collection exercises. A total of 13.2 million masks were distributed to residents at the Community Clubs and Centres (CCs) as well as the Residents' Committee Centres, with masks delivered to vulnerable residents who were frail or immobile.
Grassroots leaders and volunteers also supported the distribution of sanitisers, Singapore flags, and Singapore Together Packs – consisting items that enhance the NDP@Home experience – to rally Singaporeans in the shared story of fighting COVID-19 together. They also provided assistance to over 3,500 persons under quarantine, persons under Stay-Home Notice, and persons on five-day MCs, including the facilitation of non-emergency medical assistance as well as meal and essential item deliveries.
More than 1,600 citizens volunteered as SG Clean Ambassadors and over 1,500 grassroots leaders and volunteers have taken on roles as Safe Distancing Ambassadors. These ambassadors were deployed islandwide to encourage individuals and businesses to adopt good personal hygiene habits and adhere to safe distancing requirements, to reduce the community transmission of COVID-19.
Individuals took personal responsibility to abide by the national public health measures, such as minding personal hygiene, wearing masks, and participating in the TraceTogether programme in support of national contact tracing efforts. TraceTogether covers more than 50% of the population, with more than 2.9 million app and token users as at November 2020. Grassroot leaders and volunteers also assisted with the distribution of TraceTogether tokens to the community.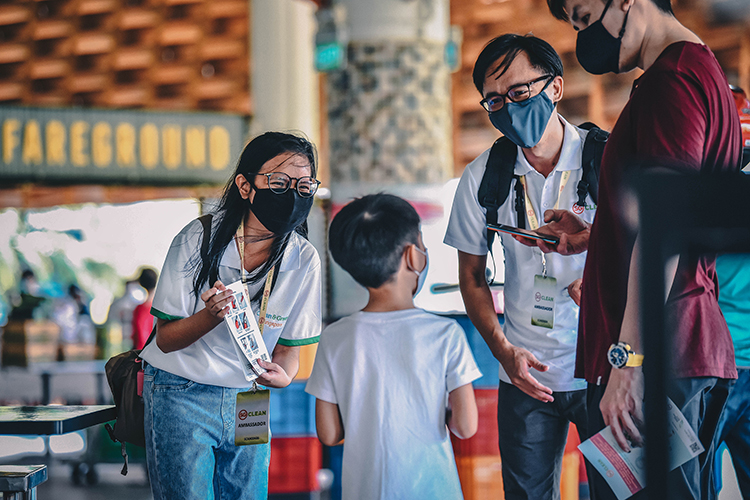 In addition to individuals, many organisations and businesses have also stepped up as one community to work with the Government and support national efforts during the COVID-19 pandemic:
Hundreds of general practitioner clinics partnered the Government through the Public Health Preparedness Clinics scheme to identify infected cases and provide subsidised treatment for patients with respiratory symptoms.
The National CARE Hotline (NCH) provided psychological first aid and emotional support to those in distress during the COVID-19 period, managing over 30,000 calls since NCH commenced in April 2020. About 700 counsellors, psychologists, and social workers from public agencies, social service agencies, and private practice, stepped forward as Duty CARE Officers to support 12,000 incoming calls that required psychological first aid.
The aviation industry worked closely with public agencies to contribute to the nationwide response, including operating flights to bring Singaporeans home, keeping supply chains open, and facilitating the movement of foreign nationals who were stranded.
Over 1,800 workers from companies in the aviation sector took up roles in the community, including serving as Care Ambassadors in hospitals and Transport Ambassadors to promote socially responsible commuting norms on our public transport network.
More than 500 private hire car and taxi drivers volunteered to convey clinically well people suspected of having COVID-19 to hospitals.
Companies also worked with the Government to house healthy foreign workers at floating accommodation facilities berthed at Tanjong Pagar Terminal.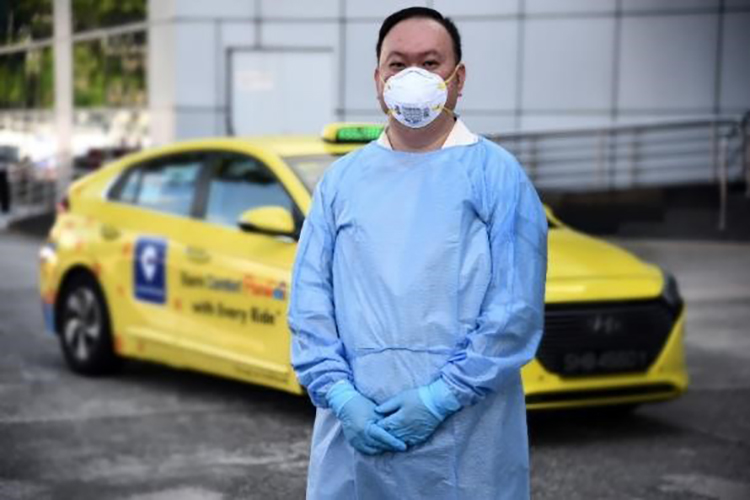 Read more: Health and Wellness | Singapore Together
Showing everyday acts of care
Beyond supporting large-scale national efforts, Singaporeans have also taken the initiative to show everyday acts of care to their neighbours and stepped up to take care of vulnerable groups:
Many have done so through SGUnited, a movement and one-stop digital portal for Singaporeans to contribute toward the national response to COVID-19, through donations, volunteering, and joining community-led efforts. $90 million was donated to the Community Chest, the Community Foundation of Singapore's Sayang Sayang Fund, as well as through the SG Cares app and the Giving.sg donation platform from January to May 2020. This amount was about equal to the overall donations received by the Community Chest and Giving.sg throughout the whole of 2019.
More than 13,000 Singaporeans signed up as volunteers, demonstrating that many in the community cared about Singapore and were willing to help others amidst adversity. For example, the SG Cares Volunteer Centres tapped on close to 1,000 volunteers from corporate and community partners to ensure that the well-being of seniors and vulnerable residents were looked after. This included the delivery of care packs and meals to seniors, virtual befriending through phones, and giving home-based exercises tips to seniors to help them stay healthy at home.
Others have shown appreciation to frontline workers through their own initiatives and ground-up movements:
The COVID-19 crisis has led to uncertainty in terms of job searching and has placed stress on the mental well-being of our youths. It was heartening to see so many youths step forward to fight COVID-19, from showing appreciation to frontline workers to volunteering their time and energy to provide mentorship and guidance to those in need. The Youth Corps Singapore volunteers also organised food distribution drives and the delivery of meals to seniors living alone.
Despite experiencing revenue loss with some not being able to operate due to the circuit breaker measures, businesses big and small including start-ups, food manufacturing companies, and homegrown brands, came forward to donate care packs and food products. Beneficiaries included vulnerable individuals and communities, healthcare workers in hospitals, community healthcare facilities and nursing homes, and other frontline workers such as hawker stallholders.
Various ground-up movements emerged to rally Singaporeans to show their appreciation and stand in solidarity with frontline workers. These included the production of music videos by various artistes as tributes to frontline workers, rallying Singaporeans to display the national flag as a show of support, and initiatives such as those by the Families for Life movement to encourage families to spend meaningful time together by packing care baskets for the unsung heroes in the community.
Beyond helping fellow citizens, we saw Singaporeans extending care to the foreign workers in our midst:
Messages of appreciation and encouragement for the migrant workers were shared with them via the Changi Exhibition Centre (CEC) Integrated Community Care and Recovery Facility Telegram channel. These included video clips recorded by students and teachers of the Fairfield Methodist Primary and Secondary Schools, the Global Indian International School, the Singapore Management University (SMU), the United World College (South East Asia), and the Yuvabarathi Indian School, as well as an electronic poster produced by members of NTUC's Women Committee. Six SMU student volunteers also stepped forward to provide engaging and uplifting content in Bengali, English, Tamil, and various Chinese dialects for the migrant workers.
"Thank you for taking care of us like your own family" – Letter of Appreciation from a Migrant Worker
Mr Naresh Palla, a migrant worker from India, expressed his gratitude towards the medical and management teams at the CEC Integrated Community Care and Recovery Facility through a letter of appreciation.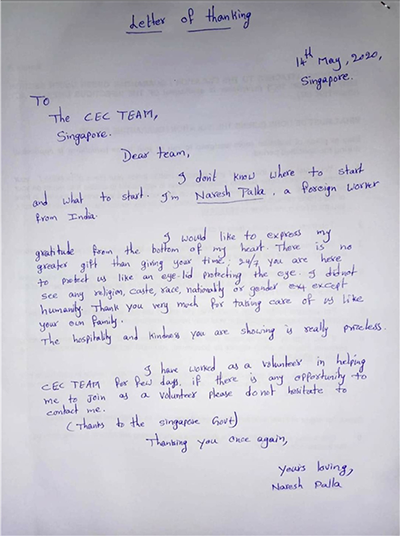 Mr Palla thanked the CEC staff for their patience in understanding the needs of the migrant workers and ensuring that the workers settled in well at CEC, despite the language barriers between the two groups. In addition, moved by the hospitality shown to the migrant workers at CEC, Mr Palla volunteered at CEC for several days before he was discharged to a recovery facility.
Read more: Family | Social Safety Nets | Singapore Together
Providing further support to affected Singaporeans and businesses
The COVID-19 pandemic has impacted many Singaporeans. Through the Unity, Resilience, Solidarity, and Fortitude Budgets, close to $100 billion – almost 20% of our Gross Domestic Product – was dedicated to our COVID-19 response to help businesses, save jobs and support workers, and strengthen social and economic resilience.
Support for workers and jobseekers
To preserve jobs:
Up to 75% of eligible local employees' wages were co-funded by the Government under the Jobs Support Scheme.
About 190,000 self-employed persons (SEPs) benefitted from the Self-Employed Person Income Relief Scheme (SIRS). Eligible SEPs received cash payouts totalling $9,000 each.
Around 450,000 individuals, whose jobs or incomes were affected by COVID-19, received one-off assistance of $500 for their basic living expenses from the Temporary Relief Fund in April 2020. In addition, lower- to middle-income employees who lost their jobs, were placed on involuntary no-pay leave, or experienced significant salary reduction for at least three months, can apply for the COVID-19 Support Grant.
Around 400,000 lower-wage Singaporean employees and SEPs who received the Workfare Income Supplement (WIS) payment for Work Year (WY) 2019, benefitted from a Workfare Special Payment (WSP) of $3,000. Lower-wage Singaporeans who were not on WIS for WY2019 but have received or will be receiving WIS for WY2020, will also benefit from the WSP of $3,000.
The SGUnited Jobs and Skills Package was introduced to expand job, traineeship, and skills training opportunities. As at August 2020, 117,500 opportunities had been made available, with more than 33,000 placed. SGUnited Jobs and Skills Centres, job fairs, and career coaching workshops were also set up at convenient touchpoints such as CCs, where jobseekers could also obtain assistance from grassroots leaders trained as Volunteer Career Navigators.
Read more: Economy and Labour Market | Quality Jobs
Support for businesses and charities
To help businesses and charities tide over the difficult period caused by the COVID-19 pandemic, support was provided in three areas – cashflow, costs, and credit:
Besides co-funding part of local employees' wages, rental relief and waivers of up to five months were provided to help businesses ease their operating costs and cashflow.
As at August 2020, about 16,400 businesses have taken up the Temporary Bridging Loan Programme and the Enterprise Financing Scheme. Since their announcement in this year's Budgets, $13.7 billion in loans have been catalysed – more than ten times the amount of loans catalysed for the whole of 2019.
As at April 2020, more than 2,700 small and medium enterprises (SMEs) have obtained approval to defer payments on their secured loans up till end of the year, helping them maintain their access to credit while easing their financial strain.
Read more: Economic Opportunities
Support for citizens and businesses through digital platforms
Digital platforms were also created or enhanced to make it convenient for citizens and businesses to access government schemes and services:
For citizens, the LifeSG app and website provide convenient access to a wide range of relevant services. This includes finding out which assistance schemes they are eligible for by filling in a simple questionnaire. To increase accessibility, the site was translated into our four official languages. Users can also search for information such as support hotlines, health advisories, and other COVID-19 related resources on the COVID-19 Guide in the app. In addition, the app provides working adults with employment guides to support their job search, upgrade their skills, and learn more about their retrenchment rights.
For businesses, the one-stop portal GoBusiness allowed them to apply for permission to continue operations during the circuit breaker period and submit a list of essential workers returning to the workplace. They can also navigate government schemes, safe management practices, and other business-related information on COVID-19.
Read more: Government and Regulations | Business Environment
Support for households
A Care and Support Package was introduced to provide more assurance and support to Singaporeans who may be concerned about coping with their household expenses during the challenging COVID-19 period. All adult Singaporeans received $600 to $1,200 from the Solidarity Payment and Care and Support – Cash.
Support for vulnerable groups
For vulnerable groups and those who were more badly hit, additional support was provided to help them tide over the crisis. For example:
Self-Help Groups will receive grants of $20 million over two years to enhance support to the community, while the Community Development Councils (CDCs) will receive $75 million to address local needs.
Existing ComCare beneficiaries whose assistance ended between May and July 2020 had their ComCare assistance automatically extended for an additional six months, while new ComCare clients generally received at least six months of assistance.
A $20 million CDC Vouchers Scheme was rolled out to assist 400,000 lower-income households in defraying the cost of living and to support local businesses in the heartlands. To date, more than 8,000 heartland merchant shops and hawker stalls have signed up for the scheme. In addition, CDCs worked with corporate and community partners to raise more than $8 million, in cash and in kind, to help over 670,000 beneficiaries meet their emergency needs.
Beyond government assistance schemes, individuals and community partners came forward to help vulnerable groups through charities, community outreach, and donations:
In June 2020, the SG Cares Community Networks, comprising public agencies, SG Cares Volunteer Centres, community partners, and volunteers, began reaching out to the lower-income and vulnerable in every town through posters, text messages, and phone calls. This included families under the Community Link, KidSTART, and UPLIFT (Uplifting Pupils in Life and Inspiring Families Taskforce) initiatives. The objective was to offer proactive and early support to individuals and families who might be in need. The outreach was done progressively, beginning with around 50,000 rental households.
When schools transited into full Home-Based Learning (HBL) in April 2020, vulnerable and at-risk students were proactively identified for closer monitoring and engagement, through online and face-to-face interactions. To ensure all students could continue learning at home, schools also loaned out more than 20,000 computing devices and 1,600 internet-enabling devices to support students who lacked adequate access to digital devices and/or connectivity at home. The schools' efforts were complemented by companies and the community such as our Self-Help Groups. Initiatives included refurbishing donated laptops for distribution to lower-income families and providing meal subsidies to students from lower-income families during the full HBL period and the school holidays in May.
There was a surge in support for the homeless during the circuit breaker period. Existing partners of the Partners Engaging and Empowering Rough Sleepers (PEERS) Network operating Safe Sound Sleeping Places (S3Ps) expanded their capacity and operation hours to shelter more. Many new organisations also answered the call to action and opened their premises as S3Ps. In total, 46 organisations provided a capacity of about 700 spaces for the homeless. For those admitted into S3Ps, efforts were made to link them to social service agencies for assistance, including longer-term housing arrangements.
Many also donated generously to initiatives such as the Courage and Invictus Funds. The Courage Fund (TCF) provides support to dependants of those who have succumbed to COVID-19 as well as healthcare and frontline workers who have contracted COVID-19 in the line of duty. It also provides additional financial support to lower-income households who were affected by COVID-19. The Invictus Fund (TIF) was established to marshal private donations to support social service agencies in digital transformation and other efforts to help serve clients safely and effectively in the new normal. The Government has contributed $18 million to top up TIF. Donations raised for TCF and TIF will also be matched through the Bicentennial Community Fund and the Tote Board Enhanced Fundraising scheme.
The private and people sectors stepped forward to collaborate with the Government to support charities which have been impacted by the COVID-19 pandemic. For instance, to aid charities in their fund-raising efforts, the Commissioner of Charities worked with various partners to remove fees charged by crowdfunding platforms and conducted webinars to train charities on ways to fund-raise online effectively. There were also collaborations with various professional bodies and firms to conduct a series of free webinars to uplift charities' capabilities and equip them on how to manage the challenges amidst COVID-19. These webinars were attended by more than 1,000 participants.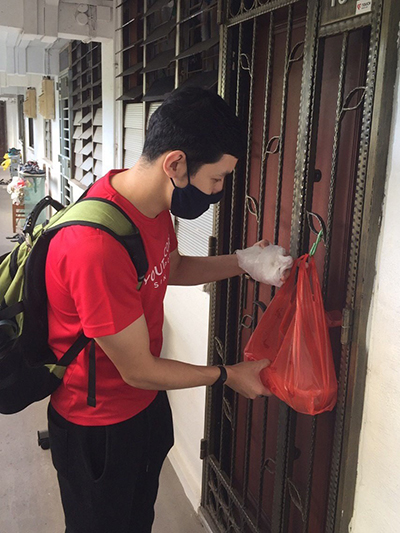 Read more: Social Safety Nets | Singapore Together
Partnerships and collective action are more critical than ever to help Singapore emerge stronger from COVID-19. Under the Singapore Together movement, the work to build a stronger and more resilient Singapore has started on two fronts – emerging stronger as an economy and as a society.
Emerging Stronger Taskforce
The Emerging Stronger Taskforce (EST) taskforce was set up under the Future Economy Council in May 2020 to recommend how Singapore should refresh, reimagine, and reset its economic strategies, to stay economically resilient and build new sources of dynamism in the post-COVID-19 world. It aims to do so by working closely with tripartite representation across diverse sectors and business segments, with stakeholders including academics, trade associations and chambers, unionists, as well as SME and multinational corporation representatives.
In addition, the EST has convened the Singapore Together Alliances for Action ("Alliances"), which are industry-led coalitions set up to quickly prototype and execute ideas to seize growth opportunities. As at June 2020, seven Alliances have been formed in the following areas: (i) Digitalising the Built Environment, (ii) EduTech, (iii) Enabling Safe and Innovative Visitor Experiences, (iv) Facilitating Smart Commerce in Singapore, (v) Robotics, (vi) Supply Chain Digitalisation, and (vii) Sustainability. They will share their preliminary results and next steps when ready, before selecting ideas that can be scaled up.
Emerging Stronger Conversations
A crisis gives rise to a natural desire to reflect on what is happening, what we are learning, and to reimagine the society we want to move towards. Hence, the Emerging Stronger Conversations (ESCs) were launched in June 2020 for Singaporeans to collectively share reflections on their COVID-19 experiences and express hope for Singapore as we emerge from COVID-19 crisis. As key themes salient to Singaporeans emerge from the ESCs, Singapore Together Action Networks will be formed around them to translate ideas into concrete action and partnerships.
Read more: Singapore Together
Overcoming future challenges as one
The road to recovery will be long and bumpy. However, the solidarity and strong spirit of contribution and partnership we have witnessed will ensure we remain resilient and continue to look after one another in the journey ahead.
Singapore will no doubt face further challenges in the future. During the COVID-19 pandemic, Singaporeans demonstrated that we are a democracy of deeds, with everyone playing a part in building our future Singapore. By continuing to work together, we can transform our challenges into opportunities to build a stronger, better society.