As a small and open economy, Singapore has always strived to be connected with the world, particularly Asia.

Singapore was the ninth largest exporter and 10th largest importer of goods in the world in 2019, accounting for almost 4% of the world's total merchandise trade. For commercial services, Singapore was the 10th largest exporter and ninth largest importer in 2019, accounting for more than 6% of global services trade.
Our network of 25 Free Trade Agreements (FTAs) collectively covers trade partners which account for more than 85% of global Gross Domestic Product (GDP) and more than 90% of Singapore's trade. This network allows our businesses to enjoy greater access to other markets. For instance, Singapore's FTA with the Eurasian Economic Union, signed in 2019, enables businesses to reach the combined Eurasian market of more than 180 million people with enhanced networks and reduced tariffs.
To stay competitive, our businesses have been looking beyond immediate challenges and preparing to seize longer-term opportunities that remain relevant despite COVID-19, particularly by harnessing growth in Asia, going digital, and promoting innovation.
Singapore can be an important node in linking Asia and the world as the global economic weight continues to shift towards Asia. In particular, Southeast Asia (SEA) is projected to be the fourth largest economy in the world by 2030 and is estimated to grow by 4.9% between 2020 and 2024. This provides growth opportunities for our businesses as they continue building deeper ties with SEA:
Direct investment abroad by Singapore-based companies into SEA has increased by 37% over five years, from $120 billion in 2014 to about $165 billion in 2018.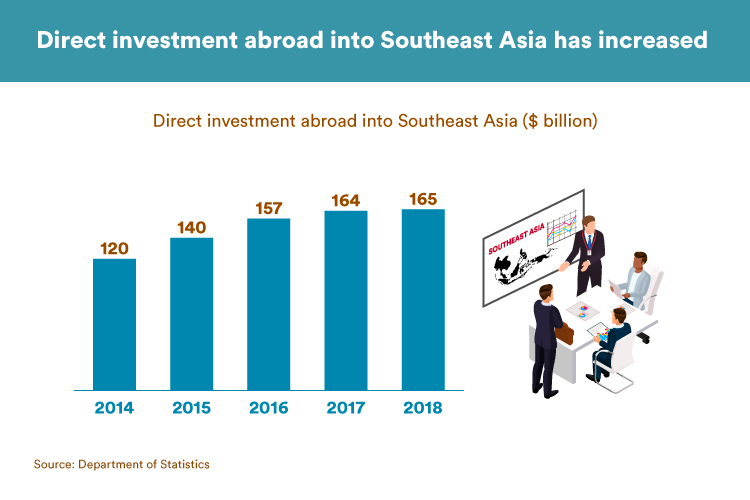 In 2019, most of the 600 projects that Enterprise Singapore facilitated globally were in China and SEA.
Sourcesage
Sourcesage, a Singaporean data and technology company, aims to disrupt the world of physical commodities trading by improving business efficiency and price transparency. It received support for its expansion into Vietnam through the Market Readiness Assistance Grant. Sourcesage also received help to set up its Vietnam operations and to connect to a Singapore bank operating there.
The Regional Comprehensive Economic Partnership (RCEP) agreement was signed in November 2020. It is the largest FTA in the world to date, covering one third of the world's GDP and population. Businesses can benefit from enhanced integration of our regional trade networks and take advantage of new regional opportunities. Amidst the COVID-19 pandemic, Singapore has continued to partner like-minded countries, including the Association of Southeast Asian Nations member states, in maintaining supply chain connectivity and facilitating the flow of goods and essential supplies.
Aquaculture Collaboration with India
Singapore's traders and researchers from Singapore's Aquaculture Innovation Centre have introduced technology, standards, and processes in collaboration with Indian farmers and exporters to grow their soft-shell crab industry and enable the export of live prawns to various markets. The new trade flows created have strengthened Singapore's position as a centre of innovation and a global trading hub.
Read more: Infrastructure and Logistics
The digital economy has become a source of economic growth. Riding on the momentum due to COVID-19, more businesses are digitalising and at an even faster pace, to capitalise on opportunities brought about by the crisis:
As at September 2020, small and medium enterprises (SMEs) have benefitted from curated digital solutions and training for different stages of growth with the 13 Industry Digital Plans (IDPs). More IDPs or sectoral digitalisation roadmaps will be developed to cover all 23 sectors of the Industry Transformation Maps.

Over 40,000 SMEs have embarked on their digitalisation journey through the SMEs Go Digital programme since its launch in April 2017. More than half of them have taken up the Start Digital Pack to adopt foundational and competitively priced digital solutions in areas including accounting, digital marketing, and cybersecurity.
2,700 new stallholders adopted e-payment under the Hawkers Go Digital programme within two months of its launch in June 2020, bringing the total number of stallholders offering e-payment to about 6,200.

216,000 businesses have registered for PayNow Corporate and are now able to send and receive e-payments instantly.
More than 20,000 businesses have joined the nationwide e-invoicing network. Businesses can tap on the E-invoicing Registration Grant to adopt e-invoicing, which facilitates work-from-home plans by eliminating the need to handle paper invoices.
We now have more than 1,000 FinTech firms in Singapore. For the first half of 2020, despite COVID-19, the FinTech sector continued to attract equity funding as well as mergers and acquisitions amounting to $650 million. Singapore also hosts more than 40 FinTech innovation labs, set up by global banks and insurers, which have embarked on close to 500 innovation projects.
Since its launch in April 2020, more than 350 financial institutions and FinTech firms have applied for the Digital Acceleration Grant to adopt digital solutions to strengthen operational resilience, improve productivity, better manage risks, and better engage customers.
Businesses can also develop their next bound of growth beyond Singapore:
The signing of the Digital Economy Agreements with Australia, Chile, and New Zealand this year are landmark achievements. Talks are also ongoing with the Republic of Korea. Through these agreements, businesses can enjoy greater time and cost efficiencies through secure data flows and seamless digital payments with interoperable systems.
TradeTrust, which comprises a set of globally accepted standards and frameworks that support the exchange of electronic trade documents, will reduce trade friction for our businesses and trading partners, and lower operating costs and fraud risks.
Research, innovation, and enterprise are cornerstones of Singapore's knowledge-based and innovation-driven economy. Public investment in research and innovation has grown over the last 25 years. Affirmation also comes from Singapore's ranking as eighth in the world by the Global Innovation Index 2020.
Under the Research, Innovation and Enterprise (RIE) 2020 Plan, the Government has committed to invest $19 billion from 2016 to 2020 to support innovation activities and to translate research into commercially viable solutions.
The private sector responded positively, spending $1.55 for every dollar that the Government spent on research and development (R&D) in 2018.
Business expenditure on R&D increased at a compound annual growth rate (CAGR) of 3% from 2014 to 2018. In the same period, sales revenue from the commercialisation of R&D performed by businesses in Singapore rose from $25.2 billion per annum to $31.8 billion per annum.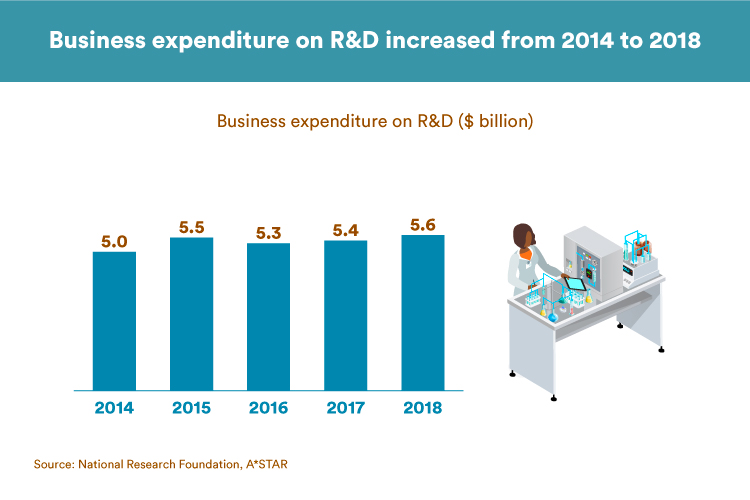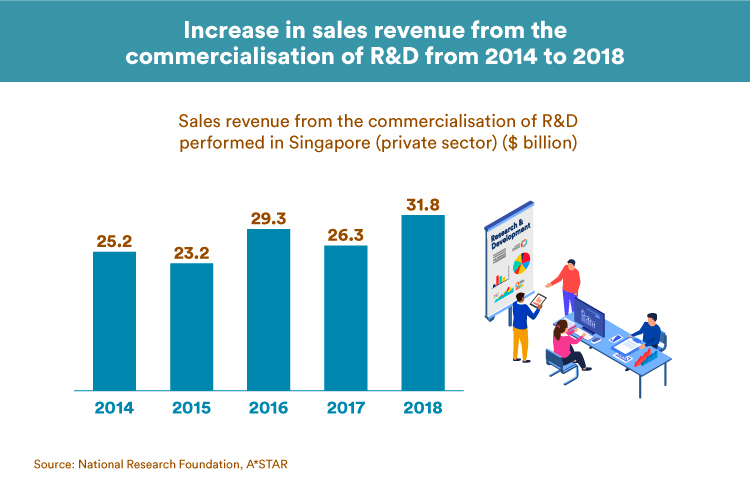 Westcom Solutions
Under the RIE2020 Plan, Westcom Solutions Pte Ltd, a local food waste management SME, collaborated with the Institute of Chemical and Engineering Sciences to develop a unique microbial treatment which degrades local food waste in a safe, pathogen-free manner.
Through the T-Up scheme, Westcom scaled up its production with the help of two A*STAR researchers. As a whole, Westcom reduced the volume of food waste by up to 90% and its operating costs by 30%.
Startups are important to our innovation ecosystem by bringing new value to the economy. There were more than 3,600 technology startups in Singapore as at 2019. The Startup SG umbrella of schemes provides a range of support, including Startup SG Founder which offers mentorship and capital grants to first-time entrepreneurs. Co-investment schemes including Startup SG Equity have helped to catalyse over $560 million in private sector funding for Singapore start-ups over the last four years.
Businesses are also accelerating their growth through internationalisation and co-innovation. The Global Innovation Alliance (GIA) enables start-ups and tech SMEs to connect with overseas markets. As at May 2020, close to 500 companies have participated in innovation launchpad activities across 13 cities in 10 countries. To grow the pool of successful entrepreneurs and innovators in Singapore, more than 850 students have participated in overseas internships in either start-ups or companies' innovation arms, under GIA's Innovators Academy.
Read more: Economy and Labour Market | Business Environment